Here's Your First Look at the 'Beauty and the Beast' Set
They're already done filming!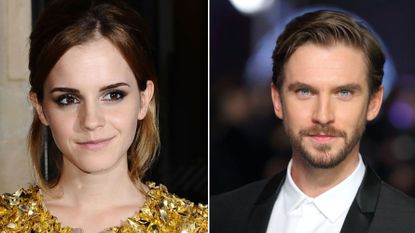 (Image credit: Getty)
Update, 7/31: That went by so fast, but yay! We're just a little bit closer to getting to watch Beauty and the Beast, which, if you've forgotten, has the *most* killer ensemble.
To commemorate their last day shooting, Josh Gad/Gaston's sidekick posted this cute Instagram with Luke Evans.
Then Gaston himself upped the bromance with a hashtag that launched a thousand fan fics.
But keep your eyes on the prize—the snowy, swirly staircase—okay? Did they make it winter so the stabbing would be more dramatic? Or did they film the learning-how-to-read-while-falling-in-love sequence last? Sigh. We'll find out in AN ETERNITY, AKA March 2017.
Update, 4/22: Is Beauty and the Beast the most well-cast movie of all time? Can they give out an award for that?
According to Variety, Stanley Tucci has closed a deal to play the neurotic grand piano Cadenza. If you're racking your brain right now trying to remember an anxious Bösendorfer from the animated version, relax—there wasn't one. Cadenza is a new character created especially for the live-action BATB who will probably be temperamental and hilarious and kind of like Nigel from the Devil Wears Prada.
In other, less exciting news: The film has set a release date of March 17, 2017. There will surely be loads more updates before then, but that's such a long way away. :(
Update, 4/21: When will the madness end?!!!! Hopefully never because, TBH, it's Beauty and the Beast news that keeps me going.
In the latest casting development, Ewan McGregor is reportedly in final talks to join the awesome people below as Lumiere, according to the Hollywood Reporter. Because Cogsworth/Ian McKellen already confirmed this will be a movie musical extravaganza like no other, we can expect McGregor will have some songs and dance routines to learn. But Moulin Rouge, guys! And that one movie with Renee Zellwegger! So he's all set to play a smooth-operator candelabra who might be French or Scottish depending on how homogenous they want the accents to be. Yay!
Update, 4/16: Ian McKellan wasn't holding court over the cast of Beauty and Beast after all—he was busy writing a touching description of their first table read together, which he published on Facebook late Wednesday.
There was apparently dancing, singing, white roses, Alan Menken songs, crying, and a standing ovation at the end. Most magical set atmosphere ever? You bet.
BEAUTY AND THE BEAST starts!The first read-through of a film-script gathers together the cast to meet 'round a table...Posted by Ian McKellen on Wednesday, April 15, 2015
Update 2, 4/14: My typing on this might be a bit weird because I'm trying to pack all my worldly possessions right now so I can go creep on the cast of Beauty and the Beast, which is already hanging out and looking super excited!!
There's Josh Gad (Le Fou), Dan Stevens (the Beast), Emma Watson (duh), Luke Evans (Gaston), and Kevin Kline (Maurice). But where's Emma T.? And Ian? HAVE THEY STARTED A SUPER EXCLUSIVE CLIQUE ALREADY?! So many questions, yet so, so happy about this.
Update, 4/14: It pains me to refer to Sir Ian McKellen as "a Lord of the Rings star," but that's probably how most people know him, right?
The ultra, ultra accomplished and venerable English actor has signed on as Cogsworth, according to the Hollywood Reporter and confirmed by Gandalf himself with some adorable word play:
Excited to make @DisneyPictures debut w/ director Bill Condon & cast including @EmWatson, @TheRealLukevans. Hoping all goes like clockwork!April 13, 2015
See more
As usual, Emma/Belle tweeted a gracious response:
@IanMcKellen there couldn't be a better person for Cogsworth. Welcome! X pic.twitter.com/Nn8w6MwKyrApril 11, 2015
See more
Also super exciting: 1) Gugu Mbatha-Raw, known for Belle (fitting) and Beyond the Lights, has been cast as the feather duster Plumette, reports Variety. And 2) I am quitting my job so I can go hang out on set with these people. Bye.
Update, 3/16: Calling it now: Beauty and the Beast for Best Motion Picture of All Time because the cast is just that good.
In a statement to People, Disney announced that Emma Thompson will be playing Mrs. Potts, den mother of the Beast's sentient kitchen utensils and literal mother of Chip, who will no doubt be played by an adorable, unknown child actor. Also joining the two Emmas, Dan Stevens, and Luke Evans are Kevin Kline as Maurice, Belle's father and madcap inventor, and Josh Gad as Gaston's minion Le Fou.
What's next? Helen Mirren as the wardrobe? Léa Seydoux as the saucy feather duster? ANYTHING IS POSSIBLE.
Oh, and you might want to keep March 17, 2017 free.
Update, 3/5: There's nothing else to say about this but, "AHHHHHHHHH!!!"
Dan Stevens, the guy who left Downton too soon, will be playing the Beast to Emma Watson's Belle in the live-action remake of the classic movie. He teased the news on Twitter on Wednesday, which Watson confirmed herself Thursday.
Could not be more happy that this man will be Beast!!! Welcome aboard @thatdanstevens #beautyandthebeast pic.twitter.com/F1ghG3pvcUMarch 5, 2015
See more
Watson also welcomed Luke Evans from The Hobbit: The Desolation of Smaug as the villain Gaston earlier today.
Bonjour Gaston! ❤️ Welcome! #BeautyAndTheBeast pic.twitter.com/oerhe1ilGsMarch 5, 2015
See more
This is going to be so good, right? Can't wait, can't wait, CAN'T WAIT!
Original post, 1/26: By "princess synchronicity," we mean the simple fact that Emma Watson not only looks like a princess, but she acts like one too. (See: not one but two moving speeches on gender equality, calling for a higher representation of women in politics, etc.)
Now, she'll play Belle in Disney's live-action adaptation of Beauty and the Beast, a casting decision she announced minutes ago on Facebook:
Post by Emma Watson.
Emma Watson singing! "Be Our Guest!" Our hearts can't take it.
You should also check out:
Celebrity news, beauty, fashion advice, and fascinating features, delivered straight to your inbox!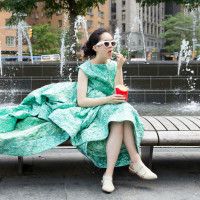 Chelsea Peng is a writer and editor who was formerly the assistant editor at MarieClaire.com. She's also worked for The Strategist and Refinery29, and is a graduate of Northwestern University. On her tombstone, she would like a GIF of herself that's better than the one that already exists on the Internet and a free fro-yo machine. Besides frozen dairy products, she's into pirates, carbs, Balzac, and snacking so hard she has to go lie down.