8 Photos That Prove Jennifer Aniston Had Way More Fun Than Anyone Else at the Oscars
Oscars shmoscars. Where's the gin?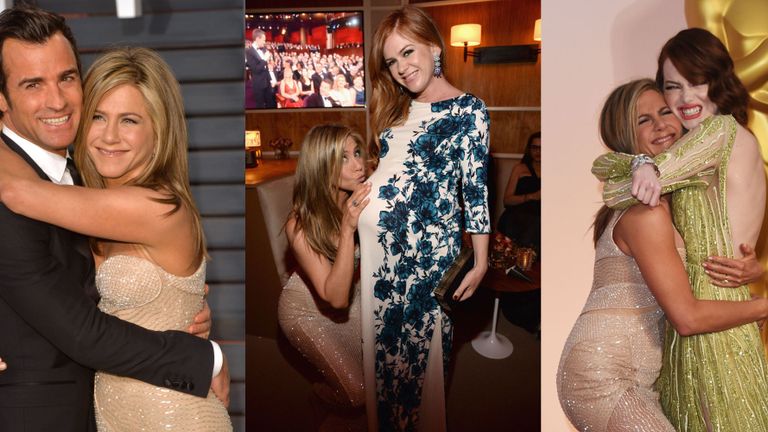 (Image credit: Archives)
Jennifer Aniston is widely acknowledged for being, as she herself put it, "number-one snubbed" at the Oscars this year for not being nominated for her critically-acclaimed performance in Cake. But that sure as hell didn't keep her from having a good time.
Instead of sitting in her seat sporting a grumpy face, or skipping the ceremony entirely as some predicted, Jen showed up looking absolutely stunning and put all the other supposedly fun-having Oscars guests to shame. Just look at the evidence.
Here she is engaged in some aggressively affectionate lady love with Emma Stone:
Getting her butt grabbed by Reese Witherspoon:
Sharing some awww-inducing moments with Justin Theroux:
Doing a little "I never age" dance:
"@SBTVonline: Jennifer Aniston doesn't age! 😂😂😂 https://t.co/tBzOZIxBLj"Jennifer's bum flat like 3 week old pepsi 😂February 23, 2015
See more
Photobombing J.Lo:
Hugging the life out of everyone, including Selena Gomez:
And, of course, kissing Isla Fisher's baby bump at the Vanity Fair after-party:
You should also check out:
The Oscars in GIFs: The Best, Funniest, Weirdest Moments from Last Night's Show
See Every Look from the 2015 Oscars Red Carpet
There Were Some...Bizarre Things Happening on the Oscars Red Carpet