The Oscars in GIFs: The Best, Funniest, Weirdest Moments from This Year's Show
Why have feelings unless you can express them using moving pictures?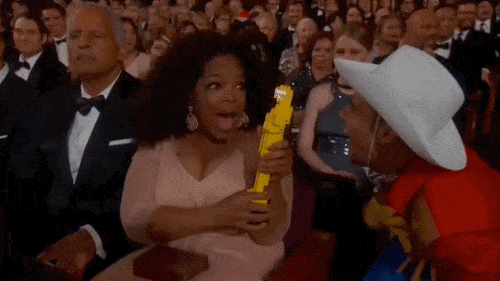 (Image credit: Giphy)
1. When Benedict Cumberbatch took a swig from a flask even if it was just for the opening number:
And we were like, "We're with you, buddy."
2. When John Travolta finally got his comeuppance:
But it wasn't enough to derail his World Creepiness Tour:
3. When NPH got locked out of his dressing room:
And Octavia Spencer took her eyes off the briefcase and said what we were all thinking:
4. When Chris Pine cried photogenically during John Legend and Common's performance:
And we were there for him:
5. When Patricia Arquette called for equal pay and equal rights for women:
And Meryl Streep and we were one:
6. When this adorable geekery from Eddie Redmayne occurred:
And we...needed a moment:
7. When Oprah was all of us if we were presented with LEGO Oscars:
And we were one part the dude in the cowboy hat jumping up and down...
And two parts Channing Tatum.
You should also check out:
Idina Menzel Got Back at John Travolta for That Whole "Adele Dazeem" Thing
Anna Kendrick Already Stole the Show at This Year's Oscars
There Were Some...Bizarre Things Happening on the Oscars Red Carpet Tonight