8 Movies That Made Us Rethink Women and Sex
No, 'What's Your Number?' doesn't make the list.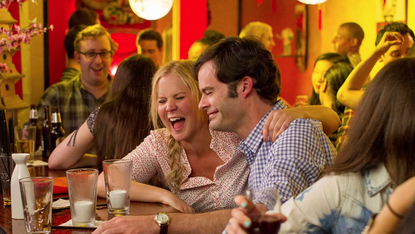 (Image credit: Universal Pictures)
For many years, women were relegated to one of two categories when it came to sex: the one having it (the slut) and the one not having it (AKA the one you marry). In fact, many of the characters we see and the language we hear still points to the idea that a fully realized woman who also has sexual desires is an anomaly and/or not culturally acceptable.
But some of our favorite movies remind the world that women (gasp!) like sex. And that it's a normal, everyday, not-a-big-deal part of life. Like...
Trainwreck (2015)
Amy Schumer, our favorite doll-faced comedian with the mouth of a sailor, is hitting the big screen this July in Trainwreck. The comedy was written by Schumer (so it's guaranteed to be funny) and was directed and produced by Judd Apatow (so it's definitely going to be a hit). The premise is compelling, too: Amy was told by her father growing up that monogamy was a joke—so the magazine writer has stuck to one-night stands and no strings-attached sex ever since. But when she meets a sports doctor (played by Bill Hader) she starts to fall in love for the first time. Not only do we adore that Amy plays a hilarious, successful woman who starts a relationship with a man after a couple of drinks and a hook-up, but the whole thing destroys the myth that sleeping together on the first date means nothing can come next.
When Harry Met Sally (1989)
Faking it. One of the reasons this movie is so legendary comes down to just that—that it's done, is easy to do, and that men should, well, try a little harder. When Sally (played by Meg Ryan) so easily fakes an orgasm in a deli while eating with Harry (Billy Crystal), audiences laughed—while men took notes and women nodded their heads in camaraderie and appreciation. THAT, ladies and gents, is the beauty of this film. It took a taboo topic and had America's sweetheart tackle it in a hilariously resonant way.
The To Do List (2013)
This sleeper of a comedy, which features a high school senior named Brandy (played by Aubrey Plaza) who creates a to-do list of sexual acts to achieve before heading to college, is notable for a couple of reasons: 1) It's a sexual comedy with a female protagonist 2) The protagonist ends up understanding that sex can be just a pleasurable act or something emotionally deeper, and that the two are neither inherently bad nor mutually exclusive. But the best part of the movie is summed up by Village Voice's Alen Scherstuhl, who says, "Unlike for the female characters in previous sex comedies, sex for her is a straight-up choice, something she offers or refuses according to no agenda but her own." Amen.
Something's Gotta Give (2003)/It's Complicated (2009)
Something's Gotta Give and It's Complicated (both written by Nancy Meyers) work to defy sexual conventions by creating a main character who is accomplished and middle-aged, and yes, who still enjoys sex, and yes, who was still desirable. A+.
Turn Me On, Dammit (2012)
Awarded "Best Screenplay" at the Tribeca Film Festival in 2011, the Norwegian indie film is one of the more spot-on treatments of teenage sexuality. Alma, 15, is sexually curious—and can't stop fantasizing about everyone she lays her eyes on. The movie doesn't layer judgment on top of her desires and choices, which means (hopefully) audiences don't either.
Clueless (1995)

Hear us out: The movie was one of the first of its generation to a) be marketed to young women and b) talk about sex in explicit terms. Hell, they actually have autonomy over their own sexual choices! That scene where Tai, Dionne, and Cher talk about their experiences? That's a conversation that actually happens. In real life. I know, I know, it's crazy.
Obvious Child (2014)
A woman has sex and ends up needing to get an abortion. The fact that this movie is a rom-com is genre-bending—and awesome. Seriously, what else is there to say? You need to see it.
While the films centers on teenage guys finally getting some action, it actually had bigger implications for its female counterparts. The character that comes to mind: Michelle (played by Alyson Hannigan)—a dorky band member who loves to masturbate and is just as horny as any of the guys in the group, and who has first-hand sexual experience to boot (unlike Jim).
You should also check out:
10 Erotic Movies You Don't Need to be Ashamed to Watch
Top 50 Movies to Put You in the Mood
15 Casting Decisions That Could Have Altered Hollywood as We Know It
Samantha Leal is the Deputy Editor at Well+Good, where she spends most of her day thinking of new ideas across platforms, bringing on new writers, overseeing the day-to-day of the website, and working with the awesome team to produce the best stories and packages. Before W+G, she was the Senior Web Editor for Marie Claire and the Deputy Editor for Latina.com, with bylines all over the internet. Graduating from the Medill School of Journalism at Northwestern University with a minor in African history, she's written everything from travel guides to political op-eds to wine explainers (currently enrolled in the WSET program) to celebrity profiles. Find her online pretty much everywhere @samanthajoleal.