Amy Schumer's Best Jokes from the MTV Movie Awards
Girlfriend did not disappoint.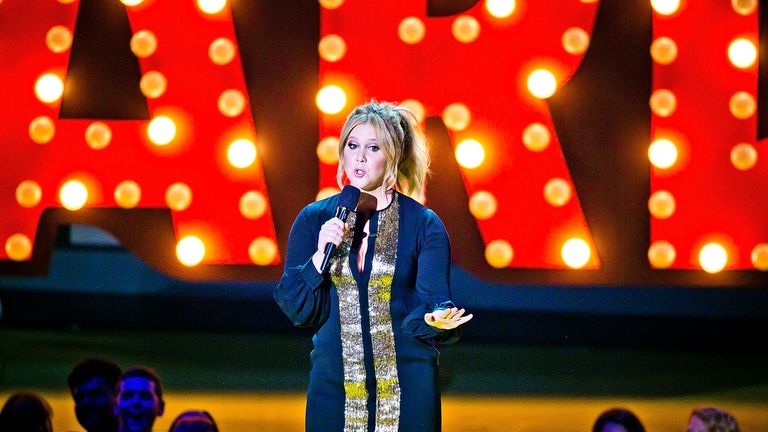 (Image credit: Archive)
From the moment that Amy Schumer rose, Hunger Games-style, through the air at the MTV Movie Awards on Sunday night, it was pretty clear that she was going to slay the show, and not only because she literally used a bow and arrow to accidentally impale Jimmy Kimmel.
The 33-year-old comedian brought her famous brand of witty, edgy humor to the show, and between roasting Kevin Hart and poking fun at Hillary Clinton, she did not hold anything back. Not to mention, as usual, she championed female sexuality by being the total Queen of Vagina Jokes. The following are some of our personal favorite zingers from the evening:
1. "Half the people here don't know me, and the other half think I'm Meghan Trainor."
2. "The big news today. After months of speculation Hillary Clinton finally announced she's taking Zayn's spot in One Direction. A woman in One Direction! I never thought I'd live to see the day."

3. To Kevin Hart: "How are you the same height as your kids? What's going on down there?" To the audience: "Did you see Boyhood? He's the boy aged 8 to 9. He was the fake baby in American Sniper."


4. In a Divergent sketch: "Nice try. I lost my Diverginity when I was like 17."

5. "Snooki and her husband have a TV show on MTV. I watched it for like 20 minutes thinking I was watching Little People, Big World."
6."Guess who brought a bottomless popcorn, hello! Mr. Grey will see me now!"
7. "I don't want the winners to worry about their speeches going too long, because MTV is the one network that refuses to play music."
8. In a The Fault in Our Stars sketch: "My 'cancer' is that I'm really nervous about missing the MTV Movie Awards. Is anyone else not getting high on this [oxygen machine]?"
9. "Magic Mike XXL. It really is magic. Anytime I watch those guys, at least two of my fingers disappear. It's so weird."
10. "Gone Girl is the story of what one crazed white woman, or all Latinas, do if you cheat on them."
You should also check out:
Amy Schumer Gets Real About Feminism: "I Don't Think People Know What the Word Means"
Amy Schumer Is One of the Best Comedians Out There, and This Set Is Proof
Amy Schumer Responds to a Critic Who Called Her "Chubby" in the Best Way Ever
Half of you don't know who I am and half of you think I'm Meghan Trainor."Read More: Amy Schumer Hilariously Opens the 2015 MTV Movie Awards | http://popcrush.com/amy-schumer-open-2015-mtv-movie-awards-monologue/?trackback=tsmclip
Half of you don't know who I am and half of you think I'm Meghan Trainor."Read More: Amy Schumer Hilariously Opens the 2015 MTV Movie Awards | http://popcrush.com/amy-schumer-open-2015-mtv-movie-awards-monologue/?trackback=tsmclip