28 Times Blake Lively Dressed Like Serena van der Woodsen in Real Life
'Gossip Girl' prep will never go out of style.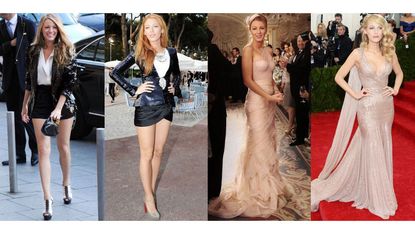 (Image credit: Unknown)
The California girl has come a long way since her days of ripped hip-huggers and graphic tees on the red carpet. Blake Lively has blossomed into a veritable style icon, with much credit owed to her role as the ever-styish Upper East-Sider, Serena van der Woodsen, in the TV series Gossip Girl. We're taking a look back at her best on-screen ensembles and the off-screen looks they inspired.
1/27
Purple Haze Twins
2/27
Oxford Shirting Twins
3/27
LBR (Little Black Romper) Twins
4/27
Citron Pop Twins
5/27
Cognac Leather Twins
6/27
Graphic Tribe Twins
7/27
Waterfall Blue Dress Twins
8/27
Preppy Shirt and Vest Twins
9/27
Red Alert Twins
10/27
Chiffon Tiers Twins
11/27
White Blazer Twins
12/27
Monochrome Maxi Twins
13/27
Sheer Lace Dress Twins
14/27
Liquid Gold Twins
15/27
Sequins and Shorts Twins
16/27
Red and Black Cloak Twins
17/27
Black Booty Shorts Twins
18/27
Embellished Topper Twins
19/27
Tank and Sequin Skirt Twins
20/27
Ruffled Blooms Twins
21/27
Grecian Goddess Twins
22/27
Black Lace Bodysuit Twins
23/27
Pretty in Pink Twins
24/27
Mellow Yellow Twins
25/27
Oxblood Bondage Neckline Twins
26/27
Fringe Twins
27/27
Fur Stole Twins
I am an experienced editor, writer, and creative strategist, specializing in fashion, beauty, and lifestyle content for digital media outlets, as well as video and social platforms. While I currently operate as a freelance contributor/consultant, with such clients as The Zoe Report, my 10+-year background in the industry was cultivated at the dot-coms of elite publications, including Harper's BAZAAR, ELLE, and Marie Claire.