Taylor Swift May or May Not Have the Hottest Ex-Boyfriend History of All Ex-Boyfriend Histories
*Takes notes*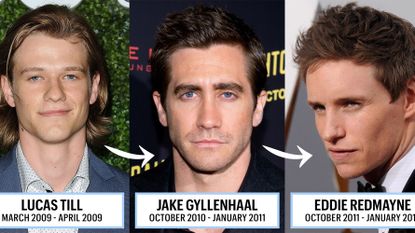 (Image credit: Future)
While we've been using Taylor Swift's weirdly-similar-to-our-own-life breakup songs to get over the short but significant list of Average Joes we've dated, she has successfully dated what is arguably the hottest batch of bachelors ever. So here's a look, in reverse chronological order, at all the mind-bendingly attractive reasons Taylor wrote those songs in the first place.
1/17
Tom Hiddleston and Taylor Swift, better known as Hiddleswift, was the love story that spanned the globe. The couple met in New York, and then took their romance on the road (Rhode Island, Italy, Australia, and England to name a few stops), because their love knew no bounds. But sadly, all good things must come to an end.
Two months after the world witnessed the legendary "I Heart T.S." tank and just before they had the chance to make their red carpet appearance at the Emmys, Hiddleswift ended. And many tears were shed.
2/17
After a year plus some of adorably-romantic Instagrams and PDA-filled award shows, Tayvin just recently called it quits. Multiple reports claim that it was Calvin who wanted to breakup.
Though this came as a *shock* heard 'round the world, I have a good feeling this is a "We are never ever ever getting back together" breakup.
3/17
Although this relationship was short-lived, it's a personal favorite of mine (and many others). In a month the couple shared paper airplane necklaces, strolled through Central Park, and unfortunately got in a snowmobile accident. "I Knew You Were Trouble" is supposedly about this gorgeous British heartthrob.
"1989" is also filled with subtle references to Harry, especially "Out of the Woods" with its lyrical references to their December romance and the snowmobile accident, and "Style" which, well, you can probably guess the relation there.
4/17
Taylor dated Robert F. Kennedy's grandson Conor Kennedy during the summer of 2012. She did receive some criticism for the age difference in this relationship, being that she was 22 and Conor was an 18-year-old high school senior. However, Taylor purchased a house near the Kennedy compound in Hyannis Port, Massachusetts, during this relationship.
"Begin Again" has been linked to Conor, especially the line " I think it's strange that you think I'm funny 'cause he never did."
5/17
Once Disney's High School Musical teenage stud, Zac has been making our hearts skip a beat for quite some time now. The two reportedly started dating for a few months while promoting their movie The Lorax. However the two have both denied the relationship.
The pair even went as far as to write a song together rejecting the dating rumors through a parody of Foster the People's "Pumped Up Kicks" on The Ellen DeGeneres Show.
6/17
It is rumored that Taylor and Eddie started dating when she auditioned for the part of Eponine in Les Miserables. They were seen together a lot in New York while the auditions were taking place.
Nevertheless, those captivating eyes and undeniably cute freckles didn't appear to make enough of an impact to earn a song.
7/17
Taylor's very quick, if even at all, relationship with this handsome actor started after a stream of constant emails led to a date. Not one of Taylor's *verified* boyfriends, but he's still nice to look at for the rest of us single souls.
8/17
So TBH this may actually have just been *one* date, but there's pictures from the date and he's REALLY good-looking so he should be included. The two sat side-by-side at a Los Angeles Kings hockey game, looking cute as ever.
9/17
Owl City's Adam Young was starstruck when he met Taylor backstage at one of his shows in New York. Unfortunately things never escalated past some emails and that one face-to-face meeting.
Although Adam did release a cover version of Taylor's song "Enchanted" on Valentine's Day that year after he realized the song was about him.
10/17
Arguably Taylor's most public relationship besides Tayvin, the two were seen out on dates often. Unfortunately rumor has it that the 10 year age gap just wasn't working so Jake called it off.
"The Last Time" with lyrics "Put my name at the top of your list" is said to be about this highs-and-lows relationship. And obviously, "All Too Well", which talks about that infamous scarf situation.
11/17
Similar to Hedlund, her Hemingway relationship, if there was one, was short-lived. He starred as her beau in her music video "Mine" and it's *possible* the two dated for a bit after the shoot.
Maybe at the time he was Taylor's "best thing that's ever been mine."
12/17
Though Taylor and the Glee star never *officially* confirmed they were dating, the two were photographed together on many occasions. Taylor also clearly blushed when asked if the two had dated on The Ellen DeGeneres Show.
On the day of Cory's tragic death in July 2013, Taylor tweeted: "Speechless. And for the worst reason."
13/17
Possibly Taylor's most remembered boyfriend due to her very sad, but very poetic, breakup song "Dear John." The lyrics "I see it all now that you're gone" suggest that John initiated the break up, possibly because of the 15-year age difference between the two. Mayer responded musically with his song "Paper Dolls" on his 2013 album "Paradise Valley."
"Don't you think I was too young to be messed with? The girl in the dress, cried the whole way home, I should've known." If I could guess from these lyrics, this qualifies as one of the worst, if not the worst, heartbreaks for Taylor up to that point.
14/17
Maybe it's a good thing this one didn't last since Taylor and Taylor could get very confusing (or lead to a ridiculously-fun collection of celebrity nicknames)! The two met when they co-starred as high-school sweethearts in the romantic comedy Valentine's Day.
"Your tanned skin, your sweet smile" inarguably describe Lautner's charming self. These lyrics from Taylor's song "Back To December," on top of the apology she makes to an ex for a rough night in December, are most likely about the night she dumped Lautner. Honestly, I think the title alone really gives it away for this one.
15/17
Another co-star gone boyfriend, Lucas played the next-door neighbor in Taylor's "You Belong With Me" music video. Lucas later spoke out about the two's brief attempt at dating, stating that at the end of the day, they were better at friends.
16/17
Saved the best for last... well actually first...ugh whatever. Jo-Bro Joe, now lead singer of DNCE, was Taylor's first love interest almost a decade ago (seriously, where has time gone?!). Though this was Tay's first breakup, it may have also been the most insensitive, being that Joe decided to do the heartbreaking over a 27-second phone call. (Uh, nice one, Joe.)
"Last Kiss" and "Forever and Always" were said to be her initial reactions to the breakup, while "Holy Ground" was a later, more positive, perspective.
17/17
Marie Claire email subscribers get intel on fashion and beauty trends, hot-off-the-press celebrity news, and more. Sign up here.