Mondo Guerra, Fashion's Newest Superhero
Between a new online campaign for HIV education and a new gig at our favorite TV show, Mondo Guerra is having his biggest year yet.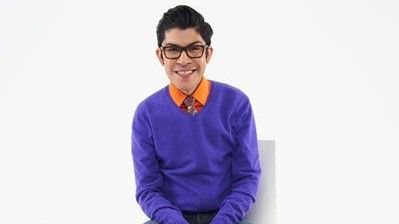 (Image credit: COHN & WOLFE)
Fresh off a win on last season's Project Runway All Stars, superstar Mondo Guerra is having his biggest year yet. For one, he just launched a brand-new online HIV-education campaign, sponsored by Merck, called I Design, in which users can design a digital textile. Your own, customized textile represents the importance of working with doctors to create your own, customized HIV treatment plan. Mondo has also kept himself busy with Project Runway's Season 10, beginning tonight at 9/8c on Lifetime, but this time on the judging panel.
We spoke to the designer about both I Design and Project Runway, leaving us with only one thought: We're absolutely and positively obsessed with him.
What is it like being on the "other side" of Project Runway and helping to select Season 10 contestants?
First off, it's very difficult. I feel more nervous than actually competing being on the other side and "judging." I hate that word. It's really, really difficult, but coming from the show I try to be unbiased. We saw more than 800 people, and not even people who send in apps, but people who come in and audition. I try to get into the emotional and what they're doing and their creative work. As in, their design is on the surface, but let's look inward and see what's going on with this designer.
What were you looking for in those 800 contestants?
I was looking for integrity and who wanted to be there. I would ask, "Why do you want to be on the show?" "Because I want to be a designer." No. I want them to come in there and say, "Let me show you my work." You have to already be there before you get on that show.
Did you see any differences between being on Season 8 and then on All Stars?
We were all on our different seasons, and since we've had some visibility, but that builds some self-esteem and an ego. When we all go back on All Stars, we have our own agenda. They designed the show to be insanely difficult and that's what they wanted; they wanted to push the designers. The reason I went back to All Stars was because I wanted the opportunity to do my best work. I went into Season 8 with no expectations, and when I went into All Stars I gave myself that same headspace. Once you're on that set, you have to really dig within yourself for emotion and attachment to your work. Being a successful designer is bringing those feelings to the surface and applying them, and a lot of times that's the only thing you have. You have to be honest and truthful.
You just launched a new online education campaign this week, called I Design, and it's to help those who live with HIV. Tell us a little bit about it! Why is it important now?
I Design allows people to take a tailored approach to their treatment plan. Personally from my experience, the key message of the campaign is to really be prepared and know what you're talking about, like side effects you might be having from your treatment. To live a longer, healthier, better life, you have to be concerned about other health issues like cholesterol; we get so involved with our HIV that we push away other health concerns when they have to be a real concern. As an artist, the reason why I'm so passionate about this campaign is checking in with your involvement. It's all relative, with a very simple message: Talk to your doctor. You have to participate in own well being, and health should be your number one. Visit the website! It's very easy, very straightforward, and very colorful and fun.
I know it's still early, but what has been your favorite part of this campaign so far?
This campaign allows me to travel the country and meet so many people affected by and infected by this disease. They share these stories and I feel loved and so good that these people are comfortable with me, that they can put a face to the disease and they can talk about it. They might not have a support system and not be able to talk to anybody. It's so amazing how people are so willing to talk about the bigger picture. I've also been looking at a lot of artwork that's really studying social conflict. That's what I'm working on next; it's going to be good.
Please visit I Design at projectidesign.com.