Meghan Markle Uses "Secret Signal" to Get Prince Harry's Attention, Says Expert
Have you noticed it?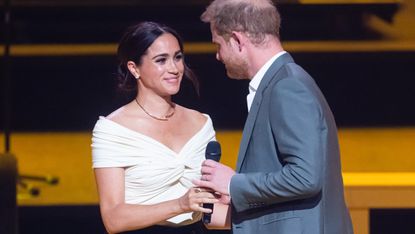 (Image credit: Getty)
Marie Claire Newsletter
Celebrity news, beauty, fashion advice, and fascinating features, delivered straight to your inbox!
Thank you for signing up to Marie Claire. You will receive a verification email shortly.
There was a problem. Please refresh the page and try again.
Meghan Markle and Prince Harry speak their own language! According to an expert, the Duchess of Sussex has her own "secret signal" to get her husband's attention when they're out in public.
Fans can keep an eye out for it in the coming weeks as Meghan and Harry make a joint public appearance at the 2023 Invictus Games, which were founded by the Duke of Sussex, for injured servicemen and women. The Invictus Games will take place in Germany, beginning September 9.
If you pay attention, you'll notice that the couple are usually holding hands or touching when out together. "When we see Meghan and Harry together we see prolonged eye contact, holding hands, physical contact - all signs of a genuine connection and deep rapport between them," body language expert Darren Stanton, speaking on behalf of Betfair Slots told Mirror UK. "As much as Harry is protective over Meghan, we see Meghan acting as a source of reassurance for Harry."
Stanton continued, "She'll often be seen placing her hand on his lower back when they are out together - a comforting gesture and a move she makes to show Harry her support. They tend to have secret signs with each other to signal actions. The first one is that Meghan will put her hand on his elbow if she wants to leave a certain situation. If Harry is talking, when Meghan does this, his foot position will change, indicating he is stepping away from the conversation and moving direction."
The couple is clearly in sync with each other to be able to communicate without words. "The main one between the two is eye contact. There is a certain look that Meghan gives him when she wants to show her support and check in to see how Harry is feeling," Stanton said, adding that Harry's body language is different when he's out with Meghan versus when he is out alone.
"There is a notable distinction in his non-verbal communication when Harry is on his own compared to when he is with Meghan. He almost feels like he needs to be on duty when he is with Meghan," Stanton said. "He seems a little bit more aware of his surroundings like he has to present a certain brand."
He continued, "His body language isn't as open, and he'll often be more reserved. When he is on his own, Harry has a sense of openness that we rarely see. Otherwise, he is very authentic in his emotions, and his confidence increases as he doesn't need to take on a protective role."
Celebrity news, beauty, fashion advice, and fascinating features, delivered straight to your inbox!
Paulina is the Weekend Editor at Cosmopolitan.com. When she isn't covering celeb and pop culture news, she can be found listening to Taylor Swift, watching a teen drama (One Tree Hill is her favorite), or perfecting her skincare routine.