Prince Harry Is Heading to Scotland to Be With the Queen While Meghan Markle Remains in London
The monarch's family are rushing to her side.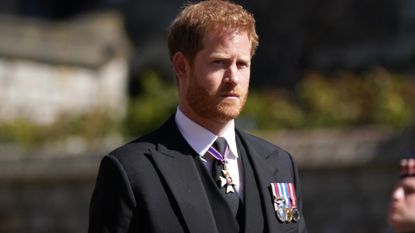 (Image credit: Getty)
Update, 9/8: The Queen has passed away peacefully at her home in Balmoral at the age of 96. Following her death, her eldest son, Charles, automatically ascended to the throne. Prince Harry arrived at Balmoral shortly after Buckingham Palace made the announcement.
Original story: Prince Harry is traveling to Scotland to be with his grandmother, Queen Elizabeth II, at Balmoral Castle amid her health concerns. However, Meghan Markle will not be joining him but may head to Scotland at a later date, per the BBC.
In a statement released on Sept. 8, Buckingham Palace said, "Following further evaluation this morning, The Queen's doctors are concerned for Her Majesty's health and have recommended she remain under medical supervision. The Queen remains comfortable and at Balmoral."
The Sussexes have been in Europe over the last week for a series of engagements. Just two days ago, the pair was in Dusseldorf, Germany to mark a year until the next Invictus Games are held. They were also scheduled to be at the WellChild Awards in London on Sept. 8. Now, Prince Harry is traveling solo from Germany to Scotland to be with his grandmother.
The Duke of Sussex will be joining the other members of the royal family at Balmoral to be by the queen's side. Prince Charles and his wife Camilla were in Scotland on Wednesday for a royal visit and have already arrived at Balmoral. Princess Anne was also already in Scotland and staying with the queen. Meanwhile, the queen's other sons, Prince Andrew and Prince Edward, and her grandson, Prince William, have all just landed in Scotland after traveling together, per the BBC. Kate Middleton is staying at home in Windsor, as her children are on their first full day of school.
The queen was last seen at Balmoral welcoming the new British prime minister, Liz Truss, on Sept. 6. On her Twitter account, Truss shared a message of support for the queen. She wrote, "The whole country will be deeply concerned by the news from Buckingham Palace this lunchtime. My thoughts - and the thoughts of people across our United Kingdom - are with Her Majesty The Queen and her family at this time."
Brooke Knappenberger is the Editorial Fellow at Marie Claire, where she writes across the board from fashion and beauty to books and celebrities. As a pop culture junkie, Brooke obsessively consumes and writes about the latest movie releases, streaming TV shows, and celebrity scandals. She has over three years of experience writing on fashion, beauty, and entertainment and her work has appeared on Looper, NickiSwift, The Sun US, and Vox Magazine of Columbia, Missouri. Brooke obtained her Bachelor's Degree in Journalism from the University of Missouri's School of Journalism with an emphasis on Magazine Editing and has a minor in Textile and Apparel Management.