The Palace Is Scrambling to Broker Peace Between Brothers Prince William and Prince Harry Before the Coronation
If the Sussexes do attend, their role will be strictly controlled, a royal expert says.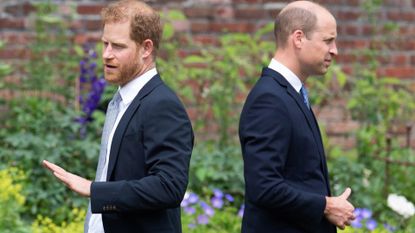 (Image credit: Getty)
The Palace is scrambling to come up with solutions to ease tensions between brothers Prince William and Prince Harry ahead of the Coronation, and pressure is mounting with the event just under three months away, Us Weekly reports.
"The longer the feud continues, the less likely there'll be a reconciliation," an insider tells the outlet. "With the Coronation just a few months away, appropriate actions need to be taken immediately."
The Palace is currently trying to figure out whether it's possible at all for William and Harry to repair their relationship before the ceremony, which will take place May 6 at Westminster Abbey in London.
"The Palace is trying to come up with solutions to keep the peace and form some kind of reconnection and unity between William and Harry," the source says. "It's now or never. The Coronation is a time to celebrate, and no one wants this dark cloud hanging over the festivities on such a significant occasion."
William, the source says, "feels that Harry is all smoke and mirrors and is not to be trusted," adding that Harry's memoir, Spare, was "a massive breach of trust" because of the "leaking" of certain stories (of which there are many aimed directly at William, who one could argue gets the lion's share of the criticism in the tell-all).
"He's trying to move on with his life," the insider says of William.
If Harry and wife Meghan Markle do opt to attend the Coronation—as of yet, they are reportedly undecided—The Daily Express reports that they will be strictly controlled due to a lack of trust across the board. Royal expert Richard Fitzwilliams tells the outlet that The Firm "can't trust the Sussexes for a moment," and the couple also won't have much of a role in the proceedings, much like during Her late Majesty's Platinum Jubilee celebrations last June.
"We do know they are going to be invited—that does seem to be so," Fitzwilliams says. "As to whether or not they'll come, the answer is probably yes, because, remember, they only get their work because they're royals. As a result, they have to be seen to be involved in some form. I would think other members of the family will keep discussions with them to the weather. We know the background to this, and it is not a happy one."
Fitzwilliams adds that "Exactly like at the Platinum Jubilee, their role will be strictly controlled, and they won't have much of a role. The Palace know what they are dealing with and who they are dealing with—there's no chance at all that they will overshadow the event."
King Charles does want his younger son and daughter-in-law there, as unity is central to the Coronation, Fitzwilliams says.
"Unity at the time of the Coronation will be paramount," he says. "The royals couldn't hit back to the various allegations and so forth. It's a matter of saying nothing and letting comments, however outrageous, pass."
Contributing Royal Editor
Rachel Burchfield is a writer whose primary interests are fashion and beauty, society and culture, and, most especially, the British Royal Family. In addition to serving as the royal editor at Marie Claire, she has worked with publications like Vogue, Vanity Fair, ELLE, Harper's Bazaar, and more. She cohosts Podcast Royal, a show that provides candid commentary on the biggest royal family headlines and offers segments on fashion, beauty, health and wellness, and lifestyle.