Royal Family Would "Collapse" Without Catherine, Princess of Wales, As the "Future Rests on Her"
No pressure!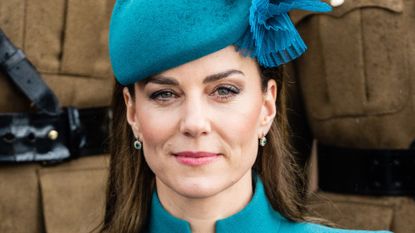 (Image credit: Getty)
Paul Burrell was once the butler of Diana, Princess of Wales, and, according to The Mirror, he has much to say about the current Princess of Wales—a daughter-in-law that Diana unfortunately never got to know. Burrell heartily sings Kate's praises, saying the royal family would "collapse" without her, and that its "future rests on her." (Which, yes, is a compliment, but also sounds like a ton of pressure.)
Burrell says Kate is in an "incredible" position, and that everything is "pinned up" by her. In September, following Her late Majesty's death at age 96, Prince William and Kate became the new Prince and Princess of Wales; though technically through her marriage to King Charles—who was the longest-serving Prince of Wales in history—Queen Consort Camilla was the Princess of Wales, she did not go by that title publicly. She opted to go by her secondary title of the Duchess of Cornwall because of Diana's close association with the Princess of Wales title—and few knew Diana better than Burrell, who says he finds similarities between Diana and Kate.
"Kate is in such an incredible position because it all rests on her, really," he said. "The future rests on Kate and that's an enormous responsibility, because if she decided that she didn't want to be a part of her marriage anymore, then I think the royal family would collapse."
Next month, Kate will have been married to William for 12 years, and they share three children, Prince George, Princess Charlotte, and Prince Louis, all pictured with her in an adorable photo released today to mark Mother's Day in the U.K.
"Everything is pinned up by Kate," Burrell said. "The future is underpinned by Catherine Middleton, and that's incredible. Back in my day, the future seemed to be pinned on Diana Spencer, our future queen. Now we're looking at another Princess of Wales who is in the same role that Diana had, married to a Prince of Wales, and the future of the monarchy is down to her. It's not an enviable position to be in."
We saw Kate at work this past week at the Commonwealth Day service at Westminster Abbey—Charles' first as monarch. And, to Burrell's point about if Kate didn't want to be part of her marriage anymore, the whole ship would sink, it doesn't seem that's an issue—according to a body language expert speaking to Kate's behavior at the Commonwealth Day service, William and Kate seem more connected than ever.
"The Prince and Princess of Wales were spotted exchanging some grins that were bordering on the flirtatious during the service," Judi James says. "At one point, Kate leant over to point to the place William should have been on his song sheet, and he replied with a rather sweet, suppressed smile, followed by a small bounce on his heels to signal a moment of happiness. Kate was also seen chatting to William during one of the musical numbers, and his grin in reply looked equally cheeky."
And who can forget—sorry, taking every opportunity to bring this up—the cheeky bum pat at the BAFTAs a few weeks ago? Kate looks happy and not going anywhere anytime soon (or ever, hopefully), and, despite the pressure of apparently holding the whole operation together, seems to be handling it all in stride.
Contributing Royal Editor
Rachel Burchfield is a writer whose primary interests are fashion and beauty, society and culture, and, most especially, the British Royal Family. In addition to serving as the royal editor at Marie Claire, she has worked with publications like Vogue, Vanity Fair, ELLE, Harper's Bazaar, and more. She cohosts Podcast Royal, a show that provides candid commentary on the biggest royal family headlines and offers segments on fashion, beauty, health and wellness, and lifestyle.