The 69 Best Porn Movies of All Time
When it comes to porn, you deserve the best.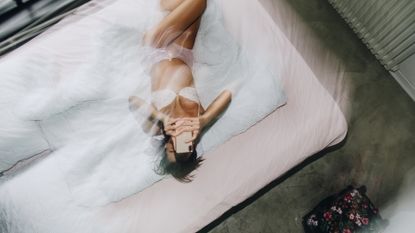 (Image credit: Getty Images)
You may be surprised to learn that porn has a lot to say about society. Sexual expression can tell us about what a culture is concerned with at any given time, especially as it relates to women. For that reason, Marie Claire's list of the best porn movies of all time serves as more than just a guide for your viewing pleasure (though it is that!), but also a deep dive into the history of the pornography genre through the last half-century. It's a celebration of where erotic filmmaking has been, where it's going, and how it's shifted the conversation.
You'll find several categories of female-friendly pornography below, depending on what you're interested in. (And if you're not that into porn for porn's sake, it makes for an interesting read, even if you don't watch the films themselves.) Up top, you'll find some of the all-time pornographic classics, like Aphrodesia's Diary and The Devil in Miss Jones. There's also a section for artsy porn films that go hot and heavy on…well, plot, among other things. Then we've included some of the best softcore porn movies, which have always held a special place for viewers who may feel cautious about hardcore scenes. And, of course, what list of the best porn films would be complete without looking at some of the more out-there parodies too? (Don't sleep on the porn-heist movie hybrid Tonight for Sure, or the somewhat self-explanatory A Dirty Western.)
Without further ado, the best porn movies of all time, for your viewing pleasure.
The Best Classic Porn Movies
Emmanuelle
This 1974 French drama was actually the first in a series of softcore porn films all based on the erotic novel Emmanuelle, which was published in 1967. The plot follows a young woman named Emmanuelle who lives with her older husband in Bangkok, where he's serving as a French diplomat in the country. While abroad, Emmanuelle embarks on a journey of sexual discovery (because would it even be a proper softcore classic without a woman embarking on a journey of sexual discovery?).
WATCH IT: KinoNow (USA) | Amazon Prime Video (UK)
Black Emmanuelle
In 1975, the Black Emmanuelle series, Laura Gemser, kicked off. The movies focus on Mae Jordan, an investigative journalist and photographer who publishes under the pseudonym Emmanuelle, and her erotic adventures around the world. The first installment was set in Africa and filmed mostly in Kenya.
WATCH IT: Brown Sugar (US)
Score
This '70s porn classic is actually based on an off-Broadway play that ran for several weeks in 1971. It follows a tennis match that gets very sexy, and is actually considered as "erotic romance." Bonus points for the theater beginnings, because it's not just porn—it's culture. Plus, keep an eye out for Sylvester Stallone in a pre-fame camera as a repairman (of course).
WATCH IT: Mubi (US / CAN) | Amazon (UK)
Mona the Virgin Nymph
Also known simply as Mona, this 1970 pornographic film was the second porn movie, after Blue Movie (below), to receive wide release in the United States. It's considered to be the first mainstream pornographic movie with a real plot focused on action, whereas Blue Movie was more of a slice-of-life movie (with sex, of course). Granted, the "action" of plot of Mona is mostly the movement it takes for characters to get to another sexual partner, but still.
Aphrodesia's Diary
Another 1970s classic from porn's high-ish budget heyday, this one follows the tale of a woman who is rereading her diary and reliving all of the very sexy exploits she's experienced while in a hotel room.
The Cheerleaders
This 1973 movie deals is all about the school spirit. A group of enterprising cheerleaders takes it on themselves to secure a win for their team's football team by exhausting the opposing side the night before the big game. You can guess what ensues.
Bijou
Bill Harrison stars in this 1972 classic as a construction worker who witnesses a car accident and then goes through the victim's purse (you know, as you do), where he discovers an invitation to a club called Bijou. As you might expect, this sets him out on a sexy adventure.
Reel People
In 1984, Reel People hit the porn world and changed the game as the first major pornographic film to feature sex between professional porn stars and amateurs. This led to the launch of the "Pro-Am" genre; the film is seen as paving the way for the reality porn genre, too.
The Devil in Miss Jones
There are porn movies with "plots" and then there are porn movies with actual PLOTS. For the record, 1973's The Devil in Miss Jones is the latter. The movie is about a depressed woman who commits suicide, only to be told in the afterlife that even though she lived a good life, her suicide excludes her from entering heaven. Faced with an eternity in limbo, Miss Jones requests to be sent back to earth as the embodiment of lust so she can earn her place in Hell instead.
9 Lives of a Wet Pussy
This 1976 porn has a very 1976 porn plot: A wealthy, married New York heiress named Pauline sets out on an adventure of sexual discovery and exploration involving ~sexy~ times with several different people. Classic.
The Grafenberg Spot
In this 1985 movie, a couple visits a sex therapist for help finding the elusive and magical (in 1985, at least) G-spot. The movie stars Ginger Lynn, Harry Reems, and Annette Haven and is considered a classic among porn aficionados.
Babylon Pink
This smoking hot classic takes viewers inside the sexual fantasies of several women, from a bored housewife and a lady boss businesswoman to an older woman and a curious teenager, touching on as many parts of the female sexual spectrum as you could expect a movie from 1979 to do.
The Ultimate Pleasure
Here's another '70s classic from back when plot and porn were much more linked than they are today. In The Ultimate Pleasure, an unhappily married couple jet to Vegas to indulge in their hedonistic sides when the husband finds a suitcase full of money in the back of his taxi.
Pink Velvet 3: A Lesbian Odyssey
The final installment in the Pink Velvet trilogy is widely considered one of the best lesbian films of recent years in the adult genre and is praised for its sensual love scenes, which feature real female orgasms.
Sex Pursuits
This classic is basically a who's who of early '70s porn actresses. The movie is a series of sexy, sexy vignettes and the film's narrator acts as our tour guide on the erotic adventure quest. Yes, please.
Deep Throat
Perhaps the best-known pornographic film of all time, this 1972 classic helped to usher in the Golden Age of Porn and tells the story of Linda Lovelace (played by the actress of the same name), a woman who discovers that her clitoris is located in her throat. Despite its iconic status, however, Deep Throat has now become something of a controversial watch, as Lovelace would ultimately go on to amend her original claims that making the film was a liberating experience, writing later on that in fact she'd been violently coerced into performing many of the sexual acts depicted in the film.
Talk Dirty to Me
Not only has this 1980 film been hailed as one of the best of porn's so-called Golden Age, but it also spawned a series of 14 spinoffs and sequels in the decades after. It has a simple premise, with a suave ladies' man (John Leslie) making moves to seduce a beautiful woman (Jesie St. James) while his dimwitted best friend (Richard Pacheco) looks on. It took home four trophies at the Adult Film Association of America's annual awards ceremony, including Best Film and both Best Actor and Best Supporting Actor for Leslie and Pacheco.
The Best Artsy Porn Movies
The Bite
This Japanese film from 1966 follows a somewhat classic plot: A beautiful young man is paid by wealthy older women to act as a gigolo who seduces young women so that his clients can watch their encounters from behind a two-way mirror. It's a "pink film," a designation given in Japan to films that received a theatrical release but contained nudity and sex.
XConfessions
You can't go wrong with any of Erika Lust films. The director takes on women-centered porn, and the XConfessions films are the result of her requesting subject matter from viewers who want to see their erotic fantasies played out on the little screen. The cinematography is gorgeous, the actors have real chemistry, and the resulting films are as beautiful as they are super hot.
Sex Stories
Follow dinner party guests on an otherwise civilized evening, where the couples present recount—and relive—their twisting romantic and sexy adventures. The sex is told from the points of view of both parties, and the reactions from the guests vary in surprising ways. It's a sexy movie in a very French way.
The Dreamers
This 2003 film may star some big names like Eva Green and Michael Pitt, but it is pure erotic artistry. It follows the story of an American studying in Paris who gets in too deep with a pair of siblings—yes, it's extremely taboo—who help him to explore all of his sexual fantasies.
WATCH IT: Max (USA)
Cabaret Desire
Another Erika Lust film (she's simply the best!), this one won the 2012 Film of the Year award at the Feminist Porn Film Festival, and for good reason—it's a female gaze-centered exploration of erotic fantasy told through a "Poetry Brothel" where patrons come to hear sexy stories. Each story is played out in beautifully shot sequences that are individually worth the subscription to Lust Cinema.
Blue Movie
Andy Warhol's Blue Movie was a game-changer: The 1969 movie was the first pornographic movie depicting explicit sex to get a wide theatrical release in the United States, kicking off the Golden Age of Porn. For when you're like "porn, but make it critically-acclaimed."
This movie is not readily available to stream online.
Infidelity: Sex Stories 2
Infidelity is a French film that deals with, well, infidelity. Three couples each have a problem: The men have been unfaithful. But they all handle these revelations in different, very sexy ways. It's got a real story, where the acting doesn't feel rote and the relationships have a sense of realism, and even humor, to them. That's just an added bonus to the very sexy sex scenes, though, of course.
Xana and Dax: When Opposites Attract
If the sex in this one feels especially realistic (though still very coordinated), there's a reason for that: Xana and Dax are a real-life couple, and the documentary approach is a hallmark of Comstock Films, who make sure to include interviews prior to any action so that viewers can get to know the couple in a way that makes the real sex scenes feel even more authentic and emotionally fulfilling.
Perspective
This movie absolutely cleaned up at AVN (American Adult News) when it came out. This feature film is the definition of erotic art. A story of cheating, intense passion, and the ways people react when their fundamental views of the world are challenged, this takes everything you love about drama mixed with the sensuality of a great porn movie.
A Taste of Joy
From feminist porn director Petra Joy, A Taste of Joy features a series of three vignettes that turn, in her words, "existing porn stereotypes upside down." The cinematography is gorgeous and the sex is steamy/female-focused—what more could you want?
Last Tango
Loosely based on Last Tango in Paris, this flick is about a woman who rents out a secret apartment to escape her fiancé, and ends up having an affair. The movie won The Feminist Porn Awards' 2012 prize for "Most Arousing Adaptation," and was lauded for its "haunting, explicit sex scenes" and "emotionally rich performances." A must-watch for people who like a lot of romance and plot with their porn.
The Good Girl
The Good Girl is a 2004 short film by Erika Lust that flips the "delivery guy comes over with a pizza" trope seen in many cheesy porn films on its head, thanks to a female lens. Even better, you can rest assured that this movie was filmed on a safe set with safe conditions for the actors involved, because Lust is a marquee name in the feminist film industry, herself the recipient of several Feminist Porn Awards.
Snapshot