​Nikolaj Coster-Waldau​ and Gwendoline Christie​ Want to Star in a 'Game of Thrones' Spin-Off Called 'The Bramie Bunch'
The stars of HBO's hit show pitch MarieClaire.com their best spin-off ideas.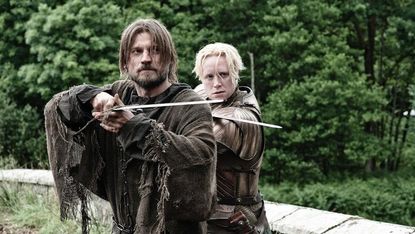 (Image credit: HBO)
How are you going to get your weekly Westeros fix now that Game of Thrones might not be back until...gulp...2019? By obsessing over the five spin-offs in development from HBO, of course. While the network has yet to confirm the subject matter of the proposed shows, the GOT cast have some ideas of what they should be about. We asked everyone from Kit Harington to Nikolaj Coster-Waldau to pitch the spin-offs they'd like to see, and were treated to a special brainstorming session between two cast members who seem ripe for a comedy.
Kit Harington (Jon Snow)
"Game of Thrones the therapy session! I'll mention it to David Benioff and Dan Weiss: In Treatment: Game of Thrones. It's already forming in my head. It'll be a great little comedy."
Liam Cunningham (Davos)
"Let me stop you right there. I've already done that, and I've got the finest minds in Hollywood working on it with my lawyers, just discussing the details—and my bank manager is delighted. It's going to be called Better Call Davos. It'll work!"
John Bradley (Sam Tarly)
"I'd definitely like to see Robert's Rebellion, just because it's something that's affected the course of everything we've seen. It was the turning point, and I'd like to be able to visualize it. It's an incredible testament to George R.R. Martin and his scope of imagination. He doesn't just create the completely independent universe of Game of Thrones, he's also created this event 500 years back—so it's all contextualized, and it all makes sense. It all ties together! And it all comes out of one mind! It makes you think, 'God, he must be some kind of different species, this bloke!' It's an extraordinary achievement."
Hannah Murray (Gilly)
"I'd like to see Varys as a merman!" [Edit note: praying HBO gets on this, because amazing.]
Conleth Hill (Varys)
"I'd like to see the beginning of the White Walkers: How they became the White Walkers, and why they became the White Walkers. And all of that Children of the Forest stuff, and the ancient history within that. The show talks about what happened centuries before—things like the Doom of Valyria, and how the Valyrians made their steel. You only get snippets, but you go, 'Wow. That's interesting.'"
Gemma Whelan (Yara Greyjoy)
"I'd like a spin-off about the Greyjoys, set in a little fishing town in Cornwall. And David Hasselhoff would be in it. Why not?"
Nikolaj Coster-Waldau (Jaime Lannister) and Gwendoline Christie (Brienne of Tarth)
Coster-Waldau: "I want to see the Brienne-Jaime household. How will they raise their seven children?"

Christie: "Seven? I think they have horses that sleep in the house, too."
Coster-Waldau: "Yes, seven."
Christie: "I could do seven. Yeah, no problem. But what kind of show would it be like?"
Coster-Waldau: "It's a sitcom."
Christie: "Like The Brady Bunch? Something like that?"
Coster-Waldau: "Yes! It's a Brady Bunch/Modern Family. That kind of family. Captain Fantastic."
Christie: "The Braime Bunch."
Coster-Waldau: "Yes! I'm going to get down with Brienne."
Christie: "That is disgusting. That shows absolutely no respect whatsoever. How many seasons have we been rolling along, and that's what you choose to say? That really is very cheap. A cheap way for someone to speak."
Coster-Waldau: "They're both very honorable and they've grown to love and appreciate each other, and I think that's the beautiful foundation of real love. They should get down."
Christie: "Ugh!"
Coster-Waldau: "Because I'm a foreigner, I don't speak your language very well. They should get intimate. Is that better? But can you see yourself in the sitcom? Should we do it?"
Christie: "Yeah, I'll do it! It's work!"
Coster-Waldau: "I'm out of a job very soon, so let's get it out there!"
😍 😍 😍. Also, us right now at anyone who isn't completely and utterly obsessed with this friendship:
RELATED STORY
Marie Claire email subscribers get intel on fashion and beauty trends, hot-off-the-press celebrity news, and more. Sign up here.