E.L. James Is Finally Done with Her Christian Grey Book Sequel, and It's Coming Really, Really Soon
Get your loins ready for Darker: Fifty Shades Darker as Told by Christian.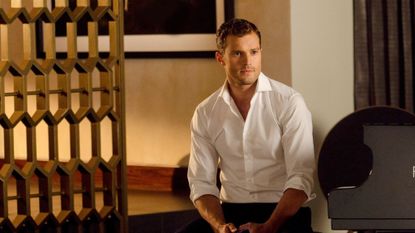 (Image credit: Universal Pictures)
Here's some excellent Fifty Shades news to whet your appetite until the release of Fifty Shades Freed in February: E.L. James has finished writing her Christian Grey POV sequel! The new book is called Darker: Fifty Shades Darker as Told by Christian, and will be on bookshelves November 28, according to a press release obtained by E! News. The new book is a follow-up to 2015's Grey: Fifty Shades of Grey as Told by Christian, and will "go deeper, into his most painful memories and the encounters that made him the damaged, demanding man Ana falls in love with," James said in a statement, which unfortunately did not include any details on whether or not the book will take an equally deep dive into Christian's pommel horse skills.
Last September, in honor of Ana's birthday, James released two pages from the book. The excerpt detailed Christian's thoughts as he sat in the car and waited for Ana to get off work.
Fifty Shades Freed opens in theaters February 9, 2018.

Peggy is Cosmopolitan.com's entertainment writer, specializing in Leonardo DiCaprio, This Is Us, and the royals. She's also a proud Canadian and pug lover. When Peggy's not obsessing over Leo's latest lover or gut size, she can be found watching old episodes of Friends or Gilmore Girls. Her dream is to one day live on a pug farm and write children's books, with illustrations by her very talented husband Greg.