10 Erotic Movies You Don't Need to Be Ashamed to Watch
They're even sexier than Fifty Shades.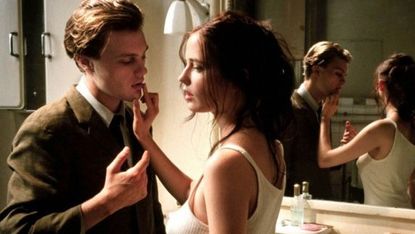 (Image credit: Getty)
Newsflash: Fifty Shades of Grey was definitely not the first hormone-tingling film ever made. There are tons of erotically-charged movies that are just as hot, even without the BDSM.
Belle de Jour (1967)
This French film directed by Luis Buñuel is a consummate example of a sexy movie that's embedded in a particular cultural context. Did you know it was originally a novel written by Joseph Kessel? Many of the great erotic films were once books. Perhaps this is because they were able to catch the visual imagination of a director, unshakeable in his own projections. This is the story of a woman played by Catherine Deneuve married to the perfect man, who can't help her desire to play prostitute.
Watch on Hulu Plus (opens in new tab), iTunes (opens in new tab), or Amazon Instant (opens in new tab)
Trans-Europ-Express (1966)
While it's not based on a novel per se, the writer and director of this erotic thriller is none other than Alain Robbe-Grillet, the father of nouveau roman literature. This movie is evidence that playing games and riddles can be the most erotic pursuit of all. Robbe-Grillet's other films are also worth a look.
Order on Amazon (opens in new tab)
Crash (1996)
This is the story of a couple in an open marriage and the pleasure and danger of extreme fetish. It has become synonymous with director David Cronenberg, but, like Belle de Jour, it was a novelist's creation (J.G. Ballard). It's about a form of paraphilia that causes people to take erotic delight in car crashes, just so you know.
Watch on YouTube (opens in new tab)
Henry & June (1990)
Based on the book by erotica expert Anaïs Nin, this movie tells the onscreen version of Henry Miller's psychosexual love triangle. Again, mind games are often paramount for the suggestive rather than the explicit.
Watch on YouTube (opens in new tab)
Betty Blue or 37° 2 le matin (1986)
The French title refers to the temperature of a woman with child. The story, based on the novel by Philippe Djian, involves Zorg, one half of a passionate love affair finding himself as a writer, after Betty has a miscarriage, mental breakdown, and he supposedly suffocates her out of compassion. Twisted, award-winning stuff.
Watch on Hulu (opens in new tab)
Emmanuelle (1974)
This film, based on the book by the same name, is of a sexier, softcore sort, and went on to spawn a veritable empire of spinoffs. The book itself was written under a pseudonym, Emmanuelle Arsan, to protect the identity of a French diplomat. If a codename was necessary, it must be good.
Watch on Amazon Instant (opens in new tab)
The Lover (1992)
Jean-Jacques Annaud created this version of Marguerite Duras's beloved book about a young girl's first romance with an older man playing out across continents.
Watch on Amazon Instant (opens in new tab)
The Dreamers (2003)
Bernardo Bertolucci's drama based on Gilbert Adair's The Holy Innocents. A young American abroad in Paris in the late '60s might be enough of a draw, but there's also a steamy threesome scene.
Rent on Netflix (opens in new tab)
Angel Heart (1987)
Written and directed by Alan Parker, this thriller based on William Hjortsberg's Falling Angel includes appearances by Charlotte Rampling and Lisa Bonet. Parker's commitment to visual acuity brought him to places including New Orleans, the site of a decrepit hotel room where drops of blood fall on depraved lovers in bed.
Watch on iTunes (opens in new tab)
La Reine Margot (1994)
A seminal work by the late Patrice Chéreau inspired by the Alexandre Dumas novel. Here is Isabelle Adjani at her most beautiful with Vincent Perez. It is the story of a passionate affair between a soldier and his queen.
Watch on Amazon Instant (opens in new tab)
You should also check out:
An Inside Look at 'Fifty Shades of Grey's Stunts (opens in new tab)
Amy Schumer: What I've Learned (opens in new tab)