13 New Things You Can Do with Your iPhone Right Now
iOS 9 is here and it's got *features*, guys.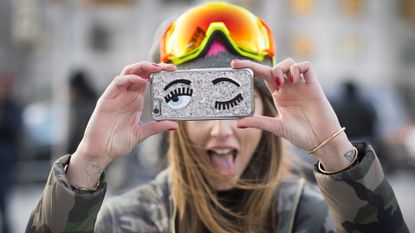 (Image credit: Getty Images)
Marie Claire newsletter
Celebrity news, beauty, fashion advice, and fascinating features, delivered straight to your inbox!
Thank you for signing up to . You will receive a verification email shortly.
There was a problem. Please refresh the page and try again.
1. Get public transit directions.
It's about time! Now we no longer need to ask subway rats for directions to the nearest Chipotle; civilization is finally realized. (Please note: This is only available in major cities like New York city and London, so far. But it will be expanded and the entire world will finally know happiness/when their train is delayed because someone decided to take a dump on the platform.)
2. Hide photos.
You can go to the Share menu and use the fabulous new "Hide" option. The photos are still in your album view, but at least your dad won't come face-to-phone with your forgotten sexts when sliding through photos of your new kitten.
3. Select multiple photos.
Hallelujah! Praise Be! Someone cares for us, after all! Now you just go into "Select" in the photos app and you can tap and drag to pick the images you want—no more individually tapping on them until your fingers want to fall off. Amen.
4. Low Power Mode is a savior.
When you're getting into the red (you know, every day around 3 p.m. when you forget your battery pack), you can now go into the battery menu in "Settings" and switch to "Low Power Mode." It switches a few things off to help conserve my precious until you can get home and power up.
5. Siri will be your everything.
This awesome feature will now work even when you're not plugged in. Just go to Siri (under "General" in "Settings") and turn your new best friend on. Now she can never ignore you!
6. Take selfies more easily.
Pictures taken with the front-facing camera will now automatically go into their own folder in the photos app. Voila! An entire folder of your beautiful face, ready to share to Instagram. Screenshots also get their own folder for those of us who like to capture excellent moments in YouTube dog videos.
7. Jot down all your thoughts on Notes.
You can now add web links, photos, checklists and drawings to your notes and so it might be something you use now.
8. Switch between apps faster.
iOS 9 lets you use a back button to jump between apps quickly. This is helpful for toggling between important items—like Chipotle menu and directions to the nearest Chipotle. (Just kidding, you have that memorized.)
9. Zoom in on videos.
Pinch and zoom and you can get a better look at any part of a video.
10. Write on email attachments.
Not sure when this will be helpful but if you want to draw hearts around Channing Tatum's abs on the photo of Channing Tatum's abs that your friend just sent you, that's an entirely noble and worthy decision. Make it so.
11. Abandon Wi-Fi if it sucks.
This is cool. If your phone is having trouble opening up a simple Safari page because the Wi-Fi you're using is slow, you can now go to Settings then Cellular and tap on the Wi-Fi Assist toggle switch and your phone will switch to LTE so you can keep cruising.
12. Manage music playlists according to your listening tastes.
When you plug your headphones in, your phone will automatically show you what music app you last listened to Taylor Swift! Handy.
13. Update your calendar automatically.
iOS 9 is now set to identify events in your email messages and automatically add them to your calendar. Apple cares about you double booking brunch and will make sure you know to plan one brunch for 10am and the other for 12 p.m. because double brunch is the best.
Follow Marie Claire on Instagram (opens in new tab) for the latest celeb news, pretty pics, funny stuff, and insider POV.
I write on Fox's THE GREAT NORTH. Before that, I wrote and edited for Cosmopolitan (opens in new tab) magazine and the Jezebel (opens in new tab) blog. My writing has also appeared in the New York Times, The New Yorker, Esquire, VICE, Marie Claire, McSweeney's, California Sunday, BUST, Elle, Village Voice, Harper's Bazaar, LA Weekly, Eater, Fast Company, Mic, Atlas Obscura, and more. I co-host/co-produce a comedy/storytelling (opens in new tab) show on the first Friday of every month at Stories in LA. I have a degree in Film and TV from NYU's Tisch School of the Arts.