Bookmark This Now: This Shop Lets You Purchase High-Fashion Art for Your Home
I'll take every piece, please.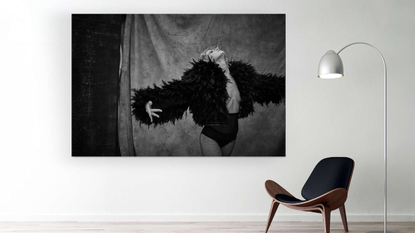 (Image credit: Sylvie Castioni)
Remember your (hopefully not as awkward as mine) pre-teen years, when you cut out magazine pages, made collages, and plastered them to your bedroom wall for fashion inspiration? Well, that idea just got way, way chicer.
The Selects Gallery, which launched this month, lets you purchase high-quality, exclusive wall art without ever stepping foot in a swanky downtown NYC gallery. The online shop pulls prints from the magazine archives of world-class photographers, and repurposes the images as home décor. The images are packaged in customizable frames and shipped right to your door.
The project is the brainchild of fashion and beauty veteran Marie Audier D'Alessandris, who couldn't stand to see unused prints wasting away.
D'Alessandris, who formerly held executive positions at big-name brands such as Coach and L'Oréal, knew she was taking a risk leaving her corporate job to pursue her artistic vision. "It's nerve-racking, but it's a project that was dear to my heart, always, for 15 years," she says. "I felt that if I never got to do it, I would regret."

"I love being surrounded by beautiful photographs, I've always been that way," she continues. "And I figured I was not the only one. This is a fantastic opportunity to give a second life to the images."
She advises other entrepreneurs getting ready to take the leap to do it, but with a side of practicality. "Listen to your inner voice and what the voice tells you. But at the same time be strategic, and plan so that you do it at the best time for you, and when the market makes sense."
For D'Alessandris, waiting for 15 years has paid off—big time. Throughout her experience in the industry, she has recruited an army of amazing photographers and artists, thrilled to see their archived photos take new residence on the walls of your home. Celebrity and fashion photographers such as Kenneth Willardt and Greg Lotus have already signed on to the project, and D'Alessandris is adding more powerhouse players to the archives each week.
She describes the carefully curated collection of images as both maximalist and minimalist in style. The images themselves are bold and couture, so much so that they can—and should—be displayed in your abode with little surrounding distraction.
"The way we curate the images are striking, and visually powerful," says Marie Audier D'Alessandris. "They are the type of images that make you stop in your tracks."
Head to TheSelectsGallery.com to view the entire collection.
Marie Claire email subscribers get intel on fashion and beauty trends, hot-off-the-press celebrity news, and more. Sign up here.
Megan DiTrolio is the editor of features and special projects at Marie Claire, where she oversees all career coverage and writes and edits stories on women's issues, politics, cultural trends, and more. In addition to editing feature stories, she programs Marie Claire's annual Power Trip conference and Marie Claire's Getting Down To Business Instagram Live franchise.