A Wrinkle in Time Isn't a Great Movie, But That's Completely Irrelevant
This film is more than its reviews—good or bad.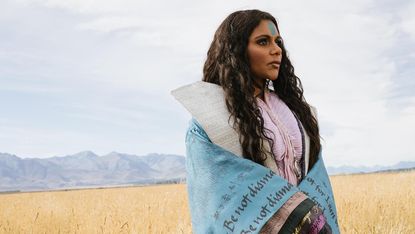 (Image credit: Walt Disney)
Marie Claire Newsletter
Celebrity news, beauty, fashion advice, and fascinating features, delivered straight to your inbox!
Thank you for signing up to Marie Claire. You will receive a verification email shortly.
There was a problem. Please refresh the page and try again.
Honestly, at first I didn't understand A Wrinkle in Time. As an adult and a woman of color living in the U.S., my view of the world has become jaded. When confronted with any hero story, my first instinct is to detach from it. The reason is relatively simple: Hollywood has made it clear that the vast majority of hero movies aren't for me, and aren't about people like me.
When I think back to watching movies as a kid in the 1980s, there's a huge distance between who I was and who my heroes—or rather, the heroes Hollywood told me to look up to—were. I was a brown girl from Lincoln Heights, Los Angeles, and they—the heroes of Legend, Time Bandits, Dragonslayer, The Neverending Story, and Willow—were white males. I can think of maybe one or two movies with female heroines, and they were white women.
Even the films I still hold very dear to my heart (Goonies never say die!!!) sent the message that I could only be a background player in my own adventure. Sure, these same movies gave me a chance to dream of worlds beyond my own life, but I was never given a chance to believe I could be the hero of my own story. Ava DuVernay's A Wrinkle In Time is here to change that.
A Wrinkle In Time centers on an insecure, awkward, adolescent girl named Meg Murry (played by Storm Reid), whose scientist father disappears without a trace after discovering a way to travel through worlds and time. After being introduced to three ethereal beings named Mrs. Whatsit, Mrs. Who, and Mrs. Which, Meg learns that her father is trapped by a dangerous void of darkness somewhere in the universe. Together with her brother and a friend, Meg ventures on a journey to rescue her dad.
During one particular scene in which Meg must choose whether to leave someone behind or save them, I glanced at my daughter—herself a bi-racial tween, just a few months shy of middle school—and she was mesmerized. That's the moment I understood. This film is more than a film. It's more than it's reviews—good or bad.
Because of this film, my daughter will never question that she can be strong (even in her most vulnerable moments) and, more importantly, she'll never question whether or not she's meant to be the hero of her own story. A Wrinkle in Time has given children the gift of inclusivity, where nothing—not their gender, not their family history, not their hometown, and not their skin color—is a limitation to who they can become.
Parents don't always make the best decisions (don't tell my daughter I said that), and unfortunately we've become a society that's failed to listen to our children. For that, we are paying the price. Though the timing wasn't planned, the children's revolution we find ourselves in the midst of gives this movie even greater significance. I'm reminded of the Parkland High School students—most notably, Emma Gonzales—who are challenging lawmakers to lead the fight for gun control. I'm reminded of young women like Malala, who after being shot in the head by the Taliban for trying to pursue an education, began advocating for equality and peace at just 15.
While Meg Murray lives in a fictional universe, she represents the boundless possibilities of the heroic children and teens in the news today. Even if it wasn't perfect, A Wrinkle In Time is giving leaders of tomorrow permission to say, "Like Meg, I can be anything I want."
RELATED STORY
Celebrity news, beauty, fashion advice, and fascinating features, delivered straight to your inbox!
Yolanda Machado is a Los Angeles based award winning blogger (SassyMamainLA), critic and freelance entertainment journalist with bylines at Broadly, Moviefone, Remezcla and more. She is a Latina mother of one daughter, and has an obsession for pop culture and Broadway musicals.