Is "Saturn Return" Real? An Astrological Investigation
In your late 20s and feel like your life is falling apart? This might be why.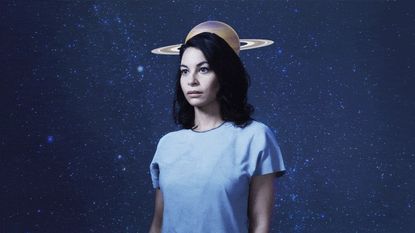 (Image credit: Katja Cho)
Marie Claire Newsletter
Celebrity news, beauty, fashion advice, and fascinating features, delivered straight to your inbox!
Thank you for signing up to Marie Claire. You will receive a verification email shortly.
There was a problem. Please refresh the page and try again.
At the farewell party from my last job—my first magazine gig, the job that had taught me how to be a grown-up—I was a tearful wreck, crying into multiple margaritas as I explained how emotional the last few days had been. Not only was I packing up the desk that held six years worth of blood, sweat, and memories, but I was also packing up my apartment at the same time. The sublet at my dream place overlooking Central Park (AKA the Manhattan Holy Grail) had ended unexpectedly early, and as fate would have it, I found myself starting a new job and moving to a new borough all within three days.
One co-worker—the kind of otherworldly woman who has a soothing solution to every problem—smiled at me knowingly. "You're in your Saturn Return," she said.
"My what?" At this point, I was on margarita number four.
"It's when the planet returns to the position it was in when you were born," she said. "It takes about 28 years, so once you hit that age, you experience major changes in your life. Maybe you'll have a new boyfriend soon!"
"Oh, no," I replied, relieved. "I've been in a relationship for years. That's the one thing I know for sure won't change."
"astrologists believe that alignment forces your life to make adjustments, whether you're ready for them or not."
Fast-forward a few months to me, suddenly single and shattered. I was no longer with the person to whom I had devoted the majority of my 20s—and there I was, trying to pick up the pieces in a brand new bathtub in a brand new borough after a day spent holding back tears at my brand new job. I felt more untethered than I had since college; how was it that, in just six months, my entire life could transform into something I didn't recognize? And suddenly, I heard the echo of those three words: your Saturn Return. I banged my head against the tiles, letting out a few expletives. The cosmic calculation had come true.
And so began my descent into a full-on Saturn Return investigation.
Google confirmed what my colleague had told me: The planet Saturn takes about 28.5 years to make one full orbit around the sun, and astrologists believe that alignment forces your life to make adjustments, whether you're ready for them or not.
Tali Edut, one half of the AstroTwins astrology team, gave me more insight: "This is a cosmic rite of passage," she said. "The return happens at 28.5 years, but most people feel the effects between ages 27 and 29. So currently, anyone who was born between November 16, 1985 and February 13, 1988 is in their Saturn Return." The cosmic craziness doesn't end there. "We have returns all the time. Venus comes around once a year, and Jupiter finishes its orbit about every 12 years. But because Saturn takes the longest, it has the biggest effect. It's like your best and worst friend, pushing you to get out of that terrible relationship or forcing you to end up on the path you're truly meant for." Her advice for someone—like me—who is throwing their hands up at the universe yelling "Why me, why now?" "Remember that Saturn is getting rid of anything that doesn't truly align with you. If something leaves, let it go. Maybe it will come back around, and maybe it won't, but it's out of your life now for a reason."
How this manifests in the late 20-something crowd can vary, but it all boils down to life-altering change coupled with a deep sense of feeling unmoored.
"Sometimes I feel like I've regressed," says D.C.-based Leah Parker, who just turned 27. "After college, I had a stable boyfriend and knew exactly what I wanted to do with my life. Now I'm single, waiting to get texts back from guys and searching for meaning in listicles and Instagram quotes." Abbe Wright, a web editor in New York, concurred. "I'm 30 now, and when I look back, I experienced every possible life change after 27," she says. "I broke up with my long-term boyfriend, moved into my own apartment, was laid off from my job, and dated women for a year—all while taking care of my father, who I watched bravely battle cancer." Wright says she wasn't alone in her years of uncertainty: "Things have calmed down a little, but once me and my friends turned 27, we were all spinning frantically like whirling dervishes."
"It's like your best and worst friend, forcing you to end up on the path you're truly meant for."
But how do we know whether these emotional and life changes are caused by the cosmos, too many hangovers, pre-30th-birthday freakouts, or just plain coincidence? New York psychotherapist Alena Gerst Dailey said she wouldn't quite chalk it up to the stars, but she does see the most unrest in her clients of this age range. "This is usually the time where people start to think about settling down," Dailey said. "For some people that means focusing on marriage and kids, but for others, they just want to be more responsible, treat their bodies better, and feel like an adult. That pressure can cause a lot of ambiguity." Dr. Lynn Glasman, also in Manhattan, agreed. "The majority of new patients start seeing me at this age," she said. "I mainly see two groups at the end of their 20s: People who were acting like they were still in college all this time and suddenly feel something that makes them want to grow up, and then people who made decisions early in their 20s that they are now beginning to question."
After hours of red-wine-induced Googling of horoscope websites and long conversations with the pros, I've determined that the end of our 20s simply = change. For whatever reason, we make adjustments, consciously or not. It *can* be comforting, though, to believe there's a bigger reason for all these fluctuations, which, for me, have been tough.
But while I miss my old job and apartment, I'm now meeting new people (some might even call it dating!), eating well and working out (and looking pretty damn good, if I do say so myself), and spending more time with my friends, exploring my new neighborhood, and appreciating life beyond Manhattan. Change, it turns out, ain't so bad after all.
Follow Marie Claire on Instagram for the latest celeb news, pretty pics, funny stuff, and an insider POV.
Celebrity news, beauty, fashion advice, and fascinating features, delivered straight to your inbox!
As Senior Director of Editorial & Strategy, I oversee all of Oprah Daily's digital content, from editorial to video to social media. I was previously the Digital Director of OprahMag.com, and before that, Senior Features Writer at Refinery29, where I also served as a video host and on-camera entertainment expert. Fun fact: I got my start in journalism as an intern at _O, The Oprah Magazine, so my role overseeing Oprah Daily's website is a major full-circle moment! On the weekends, I'm probably either having a margarita, adding new books I don't need to my TBR pile, or playing with my puppy, Leo.