Cynthia Nixon's 'Unqualified Lesbian' Campaign Merch Is Iconic
It's the new 'Nasty Woman.'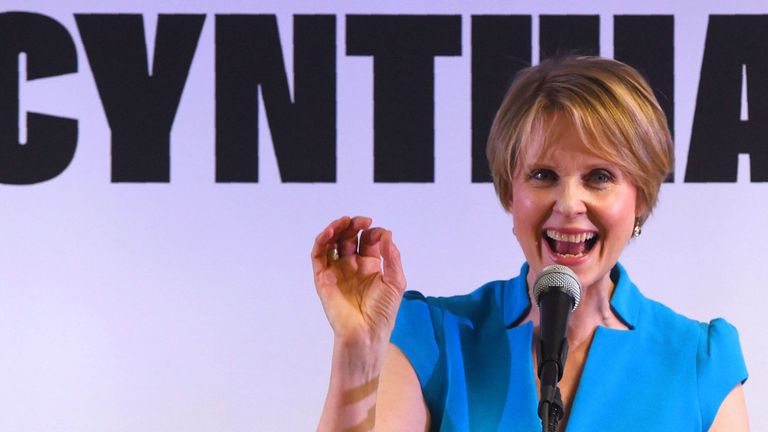 (Image credit: Getty Images)
Proving that Cynthia Nixon doesn't give up easily, you can now buy new merchandise to support her campaign that features the hilarious slogan, "Unqualified Lesbian."
RELATED STORY
In an interview with The Post, former City Council speaker Christine Quinn defended Andrew Cuomo, and said of Nixon's run for governor, "Cynthia Nixon was opposed to having a qualified lesbian become mayor of New York City. Now she wants an unqualified lesbian to be the governor of New York. You have to be qualified and have experience."
But rather than taking this as the insult it was intended to be, Nixon has spun the offensive phrase into a positive. Much in the same way that "Nasty Woman" was co-opted by feminists and Clinton supporters everywhere, "Unqualified Lesbian" is fast becoming Nixon's calling card.
Cynthia was called an "unqualified lesbian." In her defense there's a lot of paperwork required. Grab your button to support our campaign today.https://t.co/WPUKXqZpl3March 27, 2018
See more
For now, Nixon's campaign is selling buttons with the phrase on, but the internet has already suggested that she needs to start making t-shirts. Clearly, there's a market for them, and Quinn's phrase has struck a chord with people everywhere. The blue and white buttons are available for $5 each.
The former Sex and the City star announced that she was running for governor of New York earlier in March, when she posted an emotive campaign video. Of her run, Nixon said:
Nixon has already responded to Quinn's remarks, at her campaign launch, by saying, "Welcome, unqualified lesbians. And qualified ones, too."
RELATED STORY