The Best Jokes About Politics from the 2018 Emmys
Ah, 2018. We won't miss you (but you had some good TV).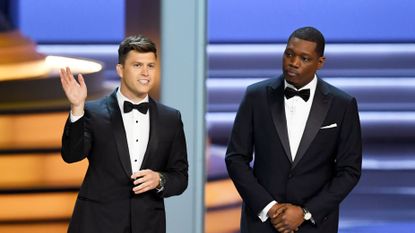 (Image credit: Kevin Winter)
If you wanted to get political, you could do a lot worse than the year 2018. Gone are last year's Emmy jokes about the horror of the Trump presidency. Now we've all jelled into a kind of surreal calm, where we can laugh at everything, enjoy ourselves, and remain constantly, quietly horrified. Fortunately, TV is what many of us have been turning to in times of great moral crisis, and TV might just help get us through.
Here were the best political jokes of the 2018 Emmy's.
"We solved it!"
Kate McKinnon and Kenan Thompson were the first faces we saw this Emmys—despite the fact that their SNL costars Colin Jost and Michael Che hosted—and they were singing an ode to the most diverse Emmys of all time. They were here to tell us that, yup! Diversity! No more racism! We fixed it!
Along for the musical interlude were cameos from Kristen Bell, Sterling K. Brown, Titus Burgess, Andy Samberg, and the "One of Each" Dancers, who ushered in RuPaul with a phone call for Kenan telling him that, actually, no it wasn't solved. Oh. Well, okay. John Legend, sing us off!
"We all agreed Nazis were bad."
In their opening monologue, host Colin Jost made a joke about how it was the 70th Emmy Awards. The first Emmys were in 1949, when "houses were $7,000" and "everyone could agree that Nazis were bad." Womp womp.
The Obamas producing The Apprentice
Another good Colin Jost joke: "The Obamas now even have their own production deal at Netflix. And my dream is that the only thing they produce is their own version of The Apprentice and it gets way higher ratings."
That's all of our dreams, Colin. That's all of our dreams.
"Bring a friend to the polls."
Upon accepting her award for Outstanding Lead Actress in a Comedy for The Marvelous Mrs. Maisel, Rachel Brosnahan pivoted from adorably heartfelt to political. "One of the things I love about this show is that it's about women finding their voices anew, and that's happening all over the country right now." She then told people to go vote, "bring a friend to the polls," and show up. Not really a joke except that she's naturally funny, but way to use the platform, Rachel, and congrats on the well deserved win!
"The Reparation Emmys."
A genuinely good short about Michael Che giving Emmys to all the best Black actors over the last several decades—Jaleel White (Family Matters), Jimmy Walker (What's Happening), and John Witherspoon. In addition to being a solid political bit, it was genuinely nice to see such important actors in the history of television get recognized. Even if it was fake-recognized. With awards that he "stole from Bill Cosby." A meme was born.
"I've been watching this very shocking, dystopian drama called the news."
Now presenting… The Reparation #Emmys pic.twitter.com/BrBRxazAyISeptember 18, 2018
See more
Samantha Bee and Taraji P. Henson introduced Best Supporting Actor in a Drama Series (yay Peter Dinklage!) with an hilarious aside about the state of the world. Samantha Bee is on season approximately nine thousand of The News, and thinks "they should really recast the lead." Ideally, said Bee, with Robin Wright. "Just watch The Handmaid's Tale instead," she said. "Oh yeah that show cracked my ass up," added Taraji. True.
"I don't even believe in God, but I'm going to thank her tonight."
Thandie Newton won Best Supporting Actress in a Drama, and couldn't help but fly the a-religious flag. Michael Che, who earlier complained that his mother didn't watch the Emmys because no one thanks Jesus, should be sort of happy. So should Ariana Grande:
"To get this sweet gig...just because I don't like men!"
Australian comedian and the mastermind behind brilliant divisive Netflix special Nanette, Hannah Gadsby, went on with her classic "this is comedy, right?" jokes about how she got onstage by hating dudes. "Not all dudes, though, right fellas? But most of them." Just jokes, fellas! Just jokes. But what are jokes?

"It's a living Emmy."
An environmental message from Rick and Morty: The cartoon duo "ruined" the night by showing an animated version of a living Emmy—before it's stuffed and made into the awards we all take home. "They're herbivores, they mate for life, and they're capable of complex emotions." Including rooting for Atlanta. Wow, Rick. Way to ruin the Emmys.
RELATED STORIES
Celebrity news, beauty, fashion advice, and fascinating features, delivered straight to your inbox!
Cady Drell is a writer, editor, researcher and pet enthusiast from Brooklyn.