This 24-Year-Old Is in Prison for Being a Pimp, But She's Actually a Sex Trafficking Victim
When pimps enlist "bottom girls" to do their dirty work, it's often the girls who get punished.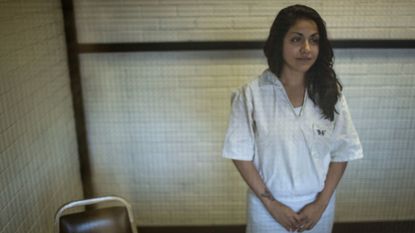 (Image credit: Marie Claire)
By Morgan Smith, Edgar Walters and Neena Satija of The Texas Tribune
The day after her 23rd birthday, Yvette sat in a Bexar County, Texas, courtroom, facing up to 99 years in prison for exploiting a 16-year-old girl.
She wasn't the ringleader of the "prostitution enterprise," the prosecutor said. But as an adult who showed a teenager the ropes while they were both being sold for sex, he said, Yvette was just as guilty the pimp.
In other circumstances, Yvette would have been considered a victim.
She'd had a childhood scarred by sexual abuse and instability. She'd been recruited herself to sell sex. A pimp who went by "Red Nose" wrote the online ads that listed her as a "sexy lil Latina." He decided what hours she worked, which men she had sex with and how much she cost. His brutal attacks left her covered in bite marks.
Instead, on that afternoon in October 2015, Yvette was the accused, pleading not guilty to three felony charges related to trafficking a minor.
In the past decade, the state's strategy for fighting sex trafficking has largely focused on going after pimps and strengthening the laws that help send them to prison. By raw numbers, it has worked. Trafficking convictions in Texas have climbed over the last five years. In Dallas County alone, the district attorney's office went from no convictions in 2010 to 16 in 2015.
But the laws used to secure those convictions can fail to distinguish victim from perpetrator, meaning Texas' mission to put traffickers behind bars is sweeping up their prey, too. Without corresponding efforts to identify and treat victims, a few years in age can mean the difference between a chance at rehabilitation and a lengthy prison sentence.
Ask prosecutors to explain the spike in sex-trafficking convictions and they point to 2011, when legislators passed a far-reaching law aimed at combating the practice. The law dramatically lowered the burden of proof to send pimps to prison when their victims were underage. Prosecutors no longer had to show that traffickers had forced a child into sex work, only that they'd helped facilitate it in some way. Anyone who participated—by renting a hotel room for a minor, for instance—could be charged with the same crime.
It was a watershed moment that turned a previously ineffective law into a powerful tool, said Kirsta Melton, a career prosecutor who helped write the law and now leads the Texas attorney general's year-old sex-trafficking unit. The law gives tremendous discretion to prosecutors, who must sort out the intricate hierarchies in a criminal underworld with complicated power dynamics.
Pimps, who use fear and shame to control their victims, may enlist experienced prostitutes to lure in other girls in exchange for fewer beatings or a meager profit-share. More sophisticated operators shield themselves from culpability by designating "bottom girls"—women who manage other sex workers, rent the hotel rooms, and communicate with potential customers. Victims are often afraid or unwilling to talk about their experiences. That leaves law enforcement with few tools but age to help distinguish victims from perpetrators.
Because cases with adult victims are more difficult to prosecute, there's also less incentive to pursue them.
"Although we don't focus on just kids, if we get five tips in and one of them is a kid, we're going to go after the kid. That's just the way we do business," said Austin Police Detective Trent Watts, who's been in the department's vice unit since 2013.
Melton, who for years tried sex-trafficking cases out of the San Antonio District Attorney's office, said she looks at a wide range of factors when she's considering bringing charges against a woman who has been trafficked herself: How long has she been with the pimp? Is he beating her? Was she a child when she first entered the sex trade?
"Is she under his control?" Melton asked. "Or is she really engaging in a lot of this truly, fully, on her own, and taking delight in that to a certain degree?"
The first time Yvette ran away from her home on the outskirts of San Antonio, she was 15.
She had just started getting her period, and she was afraid of getting pregnant due to ongoing sexual abuse. "My mom would always wonder why, but I would never tell her," she said. "I didn't want her to hurt."
By the time she was 18, Yvette was dancing at strip clubs to pay the bills. The next few years were a blur of alcohol and drugs. She lived with friends or in motels. Though pimps often approached her, she said she always turned them down.
"I was just like, 'I've got to do me,'" she said. "I like to keep my money."
Yvette fell more deeply into a meth addiction after going through a breakup. At 21, she moved back in with her mom. That's when a woman came knocking at the door with a 16-year-old girl, Jade, in tow. The woman, who Yvette would later learn was a recruiter for a pimp, asked her if she wanted to make some money with them.
She had never intended to work as a prostitute, but she agreed to the proposal. The decision is difficult for her to explain even now, except to say that her life felt so empty that any change seemed appealing.
"I didn't even want to be here anymore," she said.
Prosecutors acknowledge it's not unusual for sex-trafficking victims to be implicated as perpetrators. "We often have people who are both victims and offenders," said Brooke Grona-Robb, a prosecutor in Dallas County who has worked on human-trafficking cases for more than a decade. "That puts us in a difficult situation."
It's impossible to quantify such cases because court records rarely spell out the details of a defendant's background and relationships. But Texas Tribune reporters identified several recent cases in which women who had been sold for sex were themselves charged as traffickers.
In 2016, Dallas prosecutors charged an 18-year-old with trafficking a 15-year-old. Though both teens were being pimped out by the same man, police implicated the older teen for giving the younger one her cell phone and for appearing in online ads with her. The year before, a 24-year-old woman whose pimp beat, choked, and burned her pleaded guilty to charges related to trafficking a 16-year-old. The pimp had trained the teen by forcing her to watch the woman have sex with clients.
A particularly poignant example comes from a 2012 case Melton tried as a San Antonio prosecutor. Melton went after a pimp who had sold a 16-year-old girl for sex over two years. The girl suffered horrific abuse at his hands—she was raped, impregnated, and forced to have an abortion. When she tried to run away, the pimp carved his initials into her forearm. The pimp got a 20-year sentence. A year later, the same girl was 19 and headed to prison herself. A federal judge sentenced her to three years for helping her new pimp recruit a San Antonio high school student.
Melton said what happened to the girl, who never received treatment, broke her heart. "It's a great example of the cyclical nature of trafficking and how devastating it is, and how if you do not intervene it will indeed continue, and just continue to breed itself both victims and defendants," she said.
The pimp went by Red Nose—a muscled, heavily tattooed man in his late 20s who wore red clothing and shared his nickname with a breed of pitbull. He'd been in prison for assault and drug-related charges. But when Yvette first met him, she said he made her feel protected.
"I never had my dad, so to me he was like a father figure in a way. And I guess that's what attached me to him," she said.
Red Nose set up Yvette and 16-year-old Jade at a motel on the northwest side of San Antonio. He posted photos of the girls online, sometimes listing Yvette under the name Selena. When clients arrived, he left. This continued at three different motels over the next four days.
Red Nose's name was never on the room bookings. That responsibility, along with answering the phone and calling the cabs to move the group from motel to motel, usually fell to Yvette, who gave half her money to Red Nose.
On the fourth day, an undercover police officer responded to one of Jade's ads and found her alone in a motel room. Once he learned she was 16, he took her to her mother's house.
Then it was just Yvette and Red Nose. Red Nose began insisting Yvette see clients at all hours, plying her with meth and Ecstasy. She would stay awake for days on end. He began talking about demons in his head that made him want to hurt her.
Two weeks after the undercover sting, Yvette told Red Nose she'd had enough. He flew into a rage, breaking the motel room window and viciously beating her. When officers arrived, they found her covered in bite marks, her face battered and one eye swollen shut. Red Nose was gone. The police wrote up the case as domestic violence.
Yvette kept making plans to run. But every time she tried, Red Nose found a way to draw her back. "I ended up in stuck mode," she said. "He told me he would kidnap my little brother, kidnap my mom, or rob my mom, or shoot up my mom's house."
As her attempts to escape grew increasingly desperate, Yvette said she sought help at a friend's house. But Red Nose tracked her down, she said, and forced her to betray her friend.
Accompanied by Yvette, Red Nose and a companion confronted the friend in the parking lot of an apartment complex, shoving him into the trunk of his own car. Then they took the man's debit card and drove to ATMs around the city. Security camera footage showed Yvette, along with the two men, unsuccessfully attempting to withdraw her friend's money.
"It was ugly, I couldn't control it," Yvette said. The man would ultimately regain consciousness hours later, staggering out of his abandoned car to get help from a nearby house. Two weeks after the ambush, police arrested Yvette and charged her with robbery. Red Nose remained at large.
While she was in jail, prosecutors linked her to the trafficking of 16-year-old Jade.
Yvette's sex-trafficking trial lasted a day and a half. She didn't testify; her lawyer recommended against it because of the pending robbery charges, she said.
Prosecutors relied on two primary pieces of evidence: hotel room bookings with Yvette's name on them and statements from Jade. The 16-year-old said Yvette had given her advice on how to look happy when clients arrived at the motel room.
"Act like you really want them there," Jade said Yvette told her.
The only witness called on Yvette's behalf was her mother. But prosecutors blocked her from describing Red Nose's abuse of her daughter. Jurors in Yvette's trial never learned of Red Nose's extensive criminal record and history of violence, or what he'd done to her. In the eyes of the law, Yvette was the pimp. She got 15 years for trafficking a minor, and another eight years for the robbery.
Red Nose never went to trial; he took a plea deal the day before Yvette's trial began. He got 10 years for trafficking a minor and was never charged with the robbery. As part of the plea bargain, he received an additional 25-year sentence for a separate child endangerment case.
A few months after testifying in Yvette's trial, Jade went missing. The Tribune has been unable to locate her.
Yvette does not have clean hands: She helped instigate a violent robbery that easily could've been fatal. She also played a part in the operation that exploited Jade. But it's clear she was a victim, too.
David Lunan, who heads the sex-trafficking unit in the Bexar County District Attorney's Office and handled Yvette's case, understood that. He knew about the abuse Yvette had suffered, and he was hoping to lock up Red Nose for as long as possible. He said prosecutors offered her a greatly reduced sentence if she would testify against him. When it came time for Yvette to make a statement to the judge, though, Lunan said she froze up.
Yvette said she was willing to testify against Red Nose, but she was terrified when she saw him in the courtroom.
Without Yvette's testimony against her pimp, Lunan said, there was nothing he could do to help her. "She was victimized, but she graduated from victim to oppressor and exploiter," he said. "Her loyalty to him was too strong to even protect herself."
This story was reported by The Texas Tribune, a nonprofit, nonpartisan media organization that informs Texans — and engages with them — about statewide politics and policy issues. Learn more about Texas Tribune investigations at texastribune.org and follow them on Twitter. One of the reporters, Neena Satija, also works for Reveal, a public radio show and podcast from The Center for Investigative Reporting and PRX.
About this story:
Yvette is a pseudonym, because Cosmopolitan.com and The Texas Tribune generally do not publish the names of victims of sexual abuse or sex trafficking. The details in her story come from interviews with her, Bexar County prosecutors, and court documents, including the transcript of her trial. This version of the story has been condensed and edited for Cosmopolitan.com.
Celebrity news, beauty, fashion advice, and fascinating features, delivered straight to your inbox!