Recasted: Who Belongs in the 2019 Remake of Splash?
Hands down the best (possibly the only) mermaid rom-com ever made.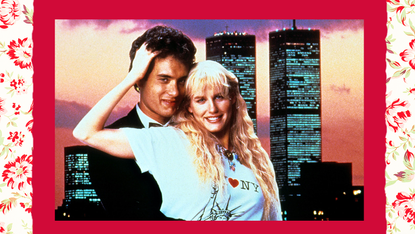 (Image credit: Getty Images)
Marie Claire Newsletter
Celebrity news, beauty, fashion advice, and fascinating features, delivered straight to your inbox!
Thank you for signing up to Marie Claire. You will receive a verification email shortly.
There was a problem. Please refresh the page and try again.
For better or worse, Hollywood is really into remakes right now. But instead of viewing this trend as annoying and cynical, what if we really leaned into it and used it as an opportunity to rebuild the classics from scratch, making them even more perfect? It is in that spirit that MarieClaire.com presents Recasted, which dares to wonder, "Who would we want to see in this iconic film today?" Think of it as Fantasy Football mixed with your annual Oscar Pool.
This time around, we're recasting classic films through the decades as part of our Rom-Com Week special.
What if I told you that the 2006 teen coming-of-age film Aquamarine wasn't the first iconic movie to star a mermaid? I know, I needed a second at first too, but in fact, the O.G. fish-out-of-water (literally) tale surfaced with 1984's mermaid rom-com Splash. And while nowadays creatures like werewolves, vampires, and mermaids are basically the only suitable soulmate options, it wasn't the case back then. See, before fish sex-centric films like The Shape of Water were winning Oscars, a lot of Hollywood had trouble getting on board with Splash. The female lead role was turned down by almost every famous actress, and the role of her male counterpart went to some unknown actor named Tom Hanks (wonder what happened to him).
But the gamble worked and the movie went on to receive an Academy Award nomination for Best Original Screenplay, paving the ways for lots of gorgeous fish movies as Oscar bait. Now Splash is considered a classic, which means there's no better time to recast (ooh that works as a fish pun, too!) this particular movie.
Allen Bauer
Original: Tom Hanks
Recasted: Graham Phillips
If you, like me, find yourself exclusively relating to female characters over the age of 36 who love to unwind with a glass of red (always red) wine, may I suggest The Good Wife? Not only is it the only thing that calms me, but it's also where I found Graham Phillips, who would be the perfect replacement for Hanks. Not only is he relatively still unknown in the film world, but looking at him makes you think you're looking at a young Tom Hanks—you see a handsome and trustworthy man who would also totally get involved with a mermaid.
Madison
Original: Daryl Hannah
Recasted: Kesha
Is there anyone more magical than Kesha? I mean it: She's inspiring, radiant, and no stranger to making people fall in love with her on the high seas. While she's never acted before in a major role, pictures of Daryl Hannah in the original film scream Kesha. Plus, who knows? Maybe this could be her A Star Is Born moment. Kesha, there could be 100 people in a room… and people wouldn't notice an additional person. Please invite me to more industry parties.
Freddie Bauer
Original: John Candy
Recasted: Bobby Moynihan
Because he primarily serves as comic relief, Freddie needs to be played by someone hysterical and lovable. While no one could replace John Candy, few fit the requirements better than Bobby Moynihan. Also, one of the final plot lines of this movie involves impersonating Swedish scientists, and that basically already sounds like a Saturday Night Live sketch.
Dr. Walter Kornbluth
Original: Eugene Levy
Recasted: Alex Brightman
Alex Brightman made his debut in the musical version of School of Rock, and while that doesn't necessarily say "eccentric scientist," it proved he has a comedic vibe that could totally walk in the footsteps of Levy. Since he's already had to grow a beard for his Tony-nominated role, all he has to do is just go an extra week without shaving and he's set for Dr. Walter Kornbluth.
MORE ROM-COM COVERAGE, RIGHT THIS WAY
Celebrity news, beauty, fashion advice, and fascinating features, delivered straight to your inbox!
Danny is the cultural and social editor for BestProducts.com where he's been covering crazy trends, celebrities, and anything else insane since 2016; He has also contributed to Marie Claire, Delish, and Medium. When he's not looking for the next viral sensation online, you can find him watching Bravo, drinking a third cold brew, or trying to convince people to go to karaoke.