Best Twitter Reactions and Memes About GoT Season 8 Finale - Game of Thrones Final Episode Spoilers
Expectations were high for Sunday's Game of Thrones season 8 finale, and fans were vocal about their opinions. Here are the best Twitter reactions and memes about the series finale.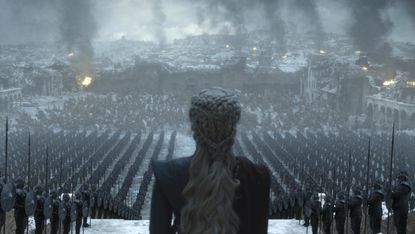 (Image credit: HBO)
Warning: Spoilers ahead.

SOOOOOOOOOOOO this is going...weirdly! Game of Thrones' final episode screened on Sunday night, and it was always going to be a touchy enterprise. For weeks now, fans have been vocally criticizing the series' final season online. Season 8's six episodes have been controversial for their perceived dip in quality. Fans had high expectations for the fight for the Iron Throne, so everything—from Jon Snow not farewelling his direwolf to Daenerys Targaryen's sudden decision to raze King's Landing in a fiery bout of dragon breath—had avid eyes on it.
And with the series now concluding, fans are letting loose: with their sadness about the show's ending and their appreciation for the eight years of entertainment, yes, but also with their disappointments and criticisms. Come Sunday evenings, Twitter is usually roaring with memes and tweets about what's happening in Westeros, and tonight is no different. Whether it's Jon's naive defense of Dany's actions at the beginning or the pain of having Cersei and Jaime's deaths confirmed, there was a lot to complain about.
Here are the best Twitter reactions and memes about Game of Thrones' finale.
Well, this seems depressing.
If you were holding out hope that Cersei was still alive...
Please, Bey!
How does Tyrion's hair look so good, though?
Under the circumstances, it is amazing how great Tyrion's hair continues to look. #GameOfThronesFinaleMay 20, 2019
See more
Why did so many people choose to tune in to THIS episode?
everyone watching the game of thrones finale who has never watched the show before pic.twitter.com/Eg2OU3b4kdMay 20, 2019
See more
The stakes are high.
I hope everyone has a great time watching GoT and that it is not a LOST/HIMYM situationMay 20, 2019
See more
Frankly, I'm relieved this is the last time I'll have to experience this!!!
Stannis, where are you?
That was a great info dump!
"[Daenerys's story arc since season 1.]" --TyrionMay 20, 2019
See more
This isn't...great?
Tyrion: "No one is really happy."All of us watching: "NO KIDDING."#GameOfThronesMay 20, 2019
See more
I fucking hate this show. I hate it so much. I fucking hate it. #GameofThronesMay 20, 2019
See more
This doesn't make SENSE.
jon gotta watch a wall that ain't there no more?May 20, 2019
See more
FINE, Dany looks GREAT.
holy shit, this imagery. the #GameOfThrones cinematographers for the iron throne pic.twitter.com/x6aPaHpVkXMay 20, 2019
See more
But Jon...get it together, pal.
Jon, looking pretty and sounding stupid to the very end. #GOTMay 20, 2019
See more
For more stories like this, including celebrity news, beauty and fashion advice, savvy political commentary, and fascinating features, sign up for the Marie Claire newsletter.
Estelle Tang is the former senior editor of ELLE.com.