9 True Crime Podcasts That Will Haunt You All Summer Long
Grab your earbuds and steel yourself. It's a disturbing world out there.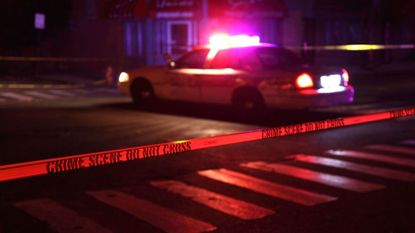 (Image credit: Getty)
Marie Claire newsletter
Celebrity news, beauty, fashion advice, and fascinating features, delivered straight to your inbox!
Thank you for signing up to . You will receive a verification email shortly.
There was a problem. Please refresh the page and try again.
Like you, I spend my summer days driving around with the windows down, blaring podcasts about murder. And while I could pretend that I'm joking—that I haven't parlayed my teenage obsession with Forensic Files into consuming podcasts dedicated to similar subject matter—the boom in true crime content tells me I'm not alone. There's no reason to lie.
So here are a few of my go-tos. Or, more specifically, the podcasts I love and the ones I listen to while waiting for my favorites to release new episodes. Quick tips: Don't listen to Stranglers while alone at night, and remember to remind yourself that you are not Karen and Georgia's invisible third co-host. Also, S-Town doesn't count as a true crime podcast, as it was clearly about what it means to live loudly while suffering in silence.
RELATED STORY
Every week, hosts Georgia Hardstark and Karen Kilgariff each share the story of a real murder, paying due respect to the cases, the victims, and their tales—while still being incredibly funny and warm. (A bonus? Cameos by producer Steve —"STEVEN!"—Ray Morris and cats Elvis and Mimi. Plus, mini-episodes in which Murderinos write in to share tales of their own hometown murders.)
Strong points: On top of Karen and Georgia's inclusive dynamic (you'll feel like you're best friends with them), they use their murders as springboards for bigger discussions about toxic masculinity and rape culture. Their best advice yet? Fuck politeness.
Weak points: Not enough Mimi.
Fifty years ago, the Boston Strangler murdered 13 women before being caught and incarcerated. However, this miniseries reinvestigates the tragedy, proposing that the killer was never just a single person.
Strong points: Host Portland Helmich is a journalist first—her interviews are thorough and her research is sweeping. She also takes time to bring color to every victim, making sure to establish each person as a living, breathing human whose identities weren't always tied to a murderer. Plus, all dramatic reenactments manage to avoid feeling over-the-top.
Weak points: Less a weak point than a cautionary word: Since the Boston Strangler's M.O. was cruel and exceptionally violating, parts of this podcast contain descriptions of explicit sexual violence and can be very difficult to listen to.
Eleven years ago, a teacher named Tara Grinstead disappeared from her home in Georgia and with no bankable leads, her case quickly went cold. That's why host Payne Lindsey morphed into an amateur investigator, going on to reinterview suspects and witnesses. Ultimately, he worked to reopen the biggest case file in Georgia's history in real-time, all while taking listeners along with him.
Strong points: At the start, Up and Vanished succeeds in embodying the eeriness of a Gillian Flynn novel, drawing attention to small-town dynamics, double lives, and the details investigators seemed to have missed when searching for Tara in the mid-2000s. It's a haven for armchair investigators everywhere.
Weak points: But that's the thing. While Lindsey ultimately assists in the investigation, he seems to believe his own hype, drawing out episodes to create a sense of suspense, instead of paying due diligence to Tara. (Who, occasionally, feels more like a movie character than a person who befell a tragedy.) Also, skip the "Case Evidence" episodes.
RELATED STORY
For years, host Mike Boudet has used Sword and Scale to thoroughly explore a series of murders, acts of violence, and unexplained mysteries, and he's interviewed experts in law, forensics, and anyone associated with either. For fans of dramatic takes on dramatic events, this is the pod for you.
Strong points: Boudet takes great care to detail the ins and outs of cases we have and haven't heard about; it's a great source for information you might otherwise have to spend hours scrolling through Reddit to obtain.
Weak points: But oh boy, the drama. There are certainly times where Boudet seems overly enthusiastic—like someone at a party getting way too psyched when explaining the plot of Scream. We get it, man. Dial it down.
From the producers of Up and Vanished, Sworn is hosted by attorney Philip Holloway and focuses more on the criminal justice system than the crimes in question, offering a perspective you don't tend to get from most true-crime podcasts.
Strong points: Sworn so far seems keen to take its time with cases. Its two-part pilot examines the Lake Oconee Murders—the double murder of an elderly couple in their 80s, which remains unsolved now three years later. The show is certainly not glazing over details.
Weak points: But that can prove a problem if you're not particularly invested in a certain case, or the way it's being covered. While the Lake Oconee Murders are heartbreaking and interesting, the pilot features heavily the account of the primary investigator—which isn't helpful because he failed to solve the case. The perspective is a little slanted. (Read: Okay, but what else you got?)
Having wrapped its second season in February, Someone Knows Something used its latest 12-episode arc to investigate the disappearance of Sheryl Sheppard, a Hamilton, Ontario, woman who went missing in January 1998. Host David Ridgen joins forces with Sheppard's mother, Odette, and fearlessly retraces Sheryl's steps through extensive interviews with those once closest to her.
Strong points: Because Sheppard's family is actively participating in Ridgen's investigation, there's a sense of transparency to his efforts. This is especially effective as he keeps his recorder on while driving with Odette. He's sincere but not dramatic. (Pay attention, Mike Boudet.)
Weak points: The podcast is steeped more in storytelling than forensics. This means that Sheryl comes to life as a complex, interesting, and dynamic person. But it also means that we don't get a ton of insight into the actual investigation since it's still open.
RELATED STORY
In 1984, a 24-year-old woman named Alberta Williams disappeared after a work party and was found dead along the Highway of Tears in Prince Rupert, British Columbia, a few weeks later. Her murder was never solved but is tragically indicative of a major Canadian crisis: hundreds of missing and murdered indigenous women, whose cases remain open, decades after the fact.
Strong points: Host Connie Walker's approach to Williams's story is defined by her compassion and patience, but her investigative skills lead to powerful firsthand accounts and conversations that shed light not just on the death of Alberta, but on the Canadian government's relationship with its First Nations.
Weak points: At only eight episodes, you'll want to hear more. But that's the thing: Walker opened the door to a national tragedy, and it's up to listeners to decide to walk through and educate themselves.
Fans of the A&E series, behold its podcast equivalent. Hosted by Brooke Gittings, the series looks at the crimes that morphed into cold cases, and then at the detectives and forensic scientists who helped reopen them. Unsurprisingly, you will want to scream at the sun in frustration (because honestly, how did anyone even function before DNA testing?).
Strong points: Cold Case Files isn't joking around: Thanks to Gittings's matter-of-fact tone, we're introduced to the crime, the people affected, and the chain of forensic command swiftly, with each episode wrapping up in about 30 minutes. And while you feel definitely like you're there to learn, one of the biggest lessons turns out to be that you don't need dramatic narration or background effects to feel for the victims.
Weak points: From the start, Gettings admits that she's relatively new to podcasting. You can totally pick up on the greenness in her voice, but her tone still conveys empathy and concern for those she's discussing much more than it takes away from her storytelling. Frankly, she'll be good as gold by episode 10.
A recipient of the 2016 Peabody Award, In the Dark looks into the abduction and murder of Jacob Wetterling, who was taken from rural Minnesota 28 years ago. Reporter Madeleine Baran hosts but pays special attention to the way law enforcement mishandled the case, arguably letting a pedophile and murderer roam free despite being given countless warning signs.
Strong points: Its investigation is on par with Serial's first season, but with far less of an emphasis on the convicted and more on those ultimately responsible for Jacob's murder. At every point, Baran takes listeners with her, painting the bleak picture of the night in question, while leaving space for witnesses and related victims to contribute to the narrative.
Weak points: That we're still waiting for season two.
RELATED STORY
Follow Marie Claire on F (opens in new tab)acebook (opens in new tab) for the latest celeb news, beauty tips, fascinating reads, livestream video, and more.
Anne T Donahue is a writer and person originally from Cambridge, Ontario, and is the author of the essay collection, Nobody Cares.