Who Is Hannah Ann Sluss From Peter Weber's 'Bachelor' Season?
Peter Weber's The Bachelor season has several women that are...characters. One of these contestants is Hannah Sluss, a former pageant contestant and model.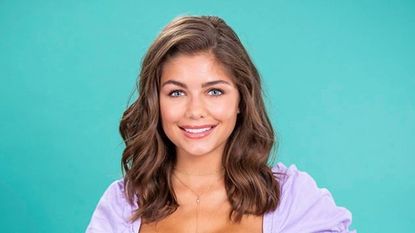 (Image credit: ABC)
Marie Claire Newsletter
Celebrity news, beauty, fashion advice, and fascinating features, delivered straight to your inbox!
Thank you for signing up to Marie Claire. You will receive a verification email shortly.
There was a problem. Please refresh the page and try again.
Spoilers for The Bachelor. On Peter Weber's The Bachelor season, there are several women who stand out. One of these contestants is Hannah Sluss, the former pageant star who already knows a famous former contestant, and has had a fairly successful modeling career (and, more problematically, a history of animal hunting). She's made an impression on the pilot Bachelor, and her presence on the show has already ruffled a few feathers. Here's everything we know about her.
She's from Knoxville, Tennessee.
Sluss is 23 and religious (judging by the Bible reference in her Instagram profile and also some of her Twitter retweets). She's apparently good friends with another show alum, more on that below (maybe she got tips on how to navigate the show?), so she's already sort of aware of how the whole "dating one guy who is dating 29 other women" thing works.
Also, we know she's close to her sister:
As well as the rest of her family.
Sluss is also one of the cast members who at one point posted a picture of her with friends after hunting animals, which I won't link to and find upsetting.
Drama's on the way for her.
No spoilers here (although if you do want to read everything that's gone on this season, go to the link at the bottom of the page), but as of part one of the finale, Sluss is the only one left in the running for Weber's heart...after he basically admitted to producers his feelings were stronger for Madison Prewett (oops). And then Prewett broke up with him and left the show (OOPS). And oh wait, now she's back and has regrets about leaving??
Uh oh. Based on footage we saw, Weber seemed "off" in his date with Sluss (poor thing had no idea what happened), and Weber refused to tell Sluss what had gone on with Prewett, or even tell Sluss that she was the only one left. To be fair, that latter one could be producer interference so that the final rose ceremony could be as dramatic as possible, but it absolutely enraged fans. Sluss is starting to get some fan sympathy, and I have the feeling that things are going to continue to be challenging for her. She's been hinting at potential heartbreak (below) and no matter what happens between her and Weber, his feelings are still stronger for Prewett.
Harrison has also been teasing the live finale and says even he doesn't know the ending, so that could be another strong hint that something epic happens between the final rose ceremony and "After the Final Rose." In the preview above, we also see Peter's mom weeping hysterically, and we know she loved Sluss. I'm worried.
She's been posting interesting stuff on Instagram.
So, as you'll recall, contestants are strictly forbidden from engaging with each other/accidentally spoiling their season results on social media and other platforms. There was a particularly interesting theory about Sluss' private Venmo account (potential spoilers at the link), but otherwise she's absolutely been tight-lipped about what happened during the finale.
She has been posting some pictures on Instagram with some interesting captions, though: One which reads, "Roses are Red, Violets are Blue, Will I be spending forever with you?" and another that's captioned, "Expect nothing, appreciate everything 🙏🏼✨" That last one in particular, although extraordinarily vague, feels like a bit of a hint as to where her journey is headed? Her main competition, Madison Prewett, on the other hand, has been getting very personal and emotional (not to mention specific) on her account. Sooo make of that what you will.
We know that Sluss hasn't been tapped to be The Bachelorette, so this could also be a way to keep her fans interested—and maybe, for her to go on a very special show that BFF Hannah Godwin also went on, a.k.a. Bachelor in Paradise. We know it worked for Godwin! Sooo I could totally see it, if she doesn't end up walking away with an engagement ring. Full spoilers at the bottom of this post.
She had a long-term relationship before Weber.
In a recent one-on-one, Sluss told Weber she'd never been in love, although she'd "felt love" before. Sluss was in a years-long relationship—and in the post below, she for sure says "I love you."
Fans were quick to tag Weber in the comments of that post, hassling Sluss about the words she used on the show and insinuating that she's lying. However, this is definitely not a Jed Wyatt situation (a.k.a. a contestant has a significant other and just actively hides it on the show). Sluss hasn't been with/posted about this person since 2017, so there's no "secret relationship" or anything.
Also, some fans have pointed out that you can look back on a relationship and have very mixed feelings about the whole thing—maybe you realized you weren't as in love as you thought, or that the relationship gives you residual negative feelings. I don't think Sluss necessarily has to be "lying" here by saying she's never been in love—although I do understand that underplaying a serious relationship might look confusing to the outside.
She's BFFs with another Bachelor alum.
The two Hannahs! Sluss is friends with Bachelor and Bachelor in Paradise contestant Hannah Godwin. According to Chris Harrison, Godwin even IDed Sluss to the producers as a good pick for a future Bach contestant (so chances are the two also chatted honestly about what it's like to be on a high-visibility, high-stakes, high-stress show). Their social media has pictures of each other since 2018, and some of them look like official modeling shoots:
But others look like cute pics of the two girls just being silly and having a good time:

Sluss hasn't posted about Godwin since April 2019, but she's been busy during filming and has to be careful not to give anything away about her own season (plus, she's probably recovering from all that champagne drama...more on that below). Godwin has recently liked some of Sluss's posts and vice versa. On a recent post of Sluss', Godwin reaffirmed that their friendship is a-okay, thanks to a comment of "Ooooh hunny 🔥"
Sluss responded with "miss you 😘❤️," so, you know, just in case we were worried, the two are still buddies. Plus, Godwin's probably planning a super-fun wedding in between being a model, influencer, and blogger.
She's a model and actor.
Sluss is represented by Model Club and The Campbell Agency, and is either 5'6" or 7" and has either blue or green eyes, depending on who you ask (People says she's signed with Wilhelmina Models). Apparently she's been featured online and in print, including for Sonic and Downy ads—so, in other words, she was a successful model before coming on the show. She even featured in Chris Lane's "I Don't Know About You" video:
Definitely a Southern girl.
She's a former pageant contestant.
Sluss competed in the Miss Tennessee competition more than once. In fact, video has surfaced of a very cringey moment that kiiiiiind of went off the rails (she talked about hazing and violence on college campuses as opposed to...answering the question that was presented to her):
Whoops.
She's already become a meme.
Sluss has been living with the aftereffects of Champagne-Gate—an interaction between Sluss and Kelsey Weier in which Sluss "steals" a bottle of champagne Weier had brought to share with Weber. Producers have made sure to touch upon some of that drama ever since, with Kelsey Weier and Sluss—who are shaping up to be enemies—sitting down and try to work things out. Things immediately go south in a big way (huge surprise, not), as Sluss tries to defend herself after what she deems the "finasco" of the champagne. Sorry, what now?? I believe she meant "fiasco":
Fans were immediately entranced/horrified by Sluss' word choice, and I really enjoyed the memes that ensued:
And fans have been commenting on Sluss' Instagram posts referencing the new word she created, just in case she'd forgotten (I don't think she's ever going to forget, guys). I haven't seen Sluss address the "controversy" directly, although she did respond to ET's Lauren Zima's comment of "Far 👏 from👏 a 👏 finasco 👏" on a recent post with, "only sometimes... 😉❤️" so she's got a sense of humor about it. Weier and Sluss have joked about Champagne-Gate post-show on social media, so it's no biggie.
Frankly, if people are making memes out of you, that means that no one is likely to forget you anytime soon. And we know Sluss does really well. Also, the show hasn't focused on any of her drama in a while, which is maybe a sign that she's moved past the craziness and is back on track to winning Weber's heart.
She does well this season.
No spoilers on the ending, but we know Sluss makes it all the way through to the final few contestants. Now, we also know that Weber's season is "not normal," in the sense that he does not select one woman out of two at the end of his season. But we know that Sluss is an important part of his "journey" and that you can expect to see a lot of her. Remember this face, is all I'm saying.
If you do want to be spoiled: Here's what we know about what happens this season.
For more stories like this, including celebrity news, beauty and fashion advice, savvy political commentary, and fascinating features, sign up for the Marie Claire newsletter.

Celebrity news, beauty, fashion advice, and fascinating features, delivered straight to your inbox!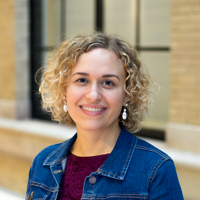 Katherine's a Boston-based contributor at Marie Claire who covers fashion, culture, and lifestyle—from "Clueless" to Everlane to news about Lizzo. She's been a freelancer for 11 years and has had roles with Cosmopolitan and Bustle, with bylines in Parents, Seventeen, and elsewhere. It's "I go to dinner," not "Her huge ego," but she responds to both.