Who Does Peter Weber Get Engaged To on 'The Bachelor'?
It really might be the "most dramatic finale ever."
Marie Claire Newsletter
Celebrity news, beauty, fashion advice, and fascinating features, delivered straight to your inbox!
Thank you for signing up to Marie Claire. You will receive a verification email shortly.
There was a problem. Please refresh the page and try again.
Spoilers for The Bachelor ahead. Peter Weber (also known as the Windmill Hookup Guy, also known as Pilot Peter) was the dark horse no one saw coming on Hannah Brown's season. As The Bachelor in 2020, he's gotten contestants and viewers very excited, thanks to his sweet, laid-back vibe, his job, and the fact that he looks like a Ken doll (Hannah's words!). Thanks to spoilers, largely from Reality Steve and other Bachelor Nation devotees, we already know, for the most part, how Weber's season will end.
Peter Weber ultimately picks Madison...
Madison Prewett wins the show, as much as "winning" means ending up with the Bachelor, but they are not engaged. She and Weber are reportedly dating after a post-show hiatus, and we'll know the progress of their relationship during "After the Final Rose."
But Weber's had to work hard to win over Prewett. She left the show when she found out that Weber had had sex with other contestants, and he spent the months between the show ending (end of November) and now (March) trying to convince her to give him a shot.
...but he first proposed to Hannah Ann!
Before Weber began pursuing Prewett, he was initially engaged to Hannah Ann Sluss. Reality Steve broke the news: "Peter gave Hannah Ann his final rose AND they got engaged that day...Peter and Hannah Ann have since broken up, which is the scene you see of him telling someone 'I'm so sorry…never expected this to happen.'...When Peter broke up with Hannah Ann and ended the engagement, it was ultimately to pursue Madison."
After part one of the finale, people were rightly furious that Weber seemed to not tell Sluss that Prewett had self-eliminated (making Sluss the only contestant left—this may have been intentional on the producers' part so that there still might be some drama for the final rose ceremony). Sluss hasn't become a fan favorite, but her confusion about Weber's state ("Something's off," she wondered) and her begging to get something in return for all her vulnerability, only for him to kind of mumble his way through the rest of the date, seemed like yet more rudeness from Weber. Not to mention, we know there's even more heartbreak in store for her.
Will Peter propose a second time?!
Reality Steve reported that Weber plans to propose during "ATFR" and doesn't know what Prewett's response will be. That would explain why Chris Harrison keeps saying that "no one knows how this season will end, not even us." In other words, Weber is about to do something drastic, and no one knows what Prewett will say.
We did see in the latest preview that, in an interview with Chris Harrison, Prewett says she regrets her decision to break up with Weber. She also talked about being up for engagement throughout the season—so, it really comes down to whether they can work through their many, many differences. (Also he could propose and she might say no, which really might be the most dramatic ending ever.)
Madison posted some revealing stuff on Pinterest.
In a since-deleted Reddit post, a fan dissected some very interesting details they spotted from Madison Prewett's Pinterest—evidence that hints that she's thinking about wedding stuff. Women's Health still has the screenshots, but let me summarize. Prewett has two boards around bridal showers, and also has a board of proposals and receptions. She also has a board called "A girl can dream," which is all about wedding-related stuff. It looks like the last time she posted about something that might have been wedding-related was late last year.
Prewett also just posted an inspirational quote that reads, "Your victory is around the corner." She also, among the casual outfits and recipes she's pinned lately, has posted a couple very pretty, very white jumpsuits—including one just four days ago. Again speculating here, but they look a lot like might you might wear to an engagement party or rehearsal dinner. So...there's that.
It looks like Hannah Ann Sluss has moved on.
Interesting! According to Reality Steve (photos at that link), Hannah Ann Sluss was photographed this weekend with an old friend of hers, University of Tennessee quarterback Josh Dobbs, and...they look awfully close. At a couple points, their heads are close together, and there's a shot of him with his arms around her. Unconfirmed sources said they were "making out," but no photos. So, I feel like that's a pretty good indication she's not with Weber? There's a theory out there that Sluss definitely won because of evidence on her Venmo (more on that below), and/or that Weber picks her by default after Prewett self-eliminates. But I feel like the above kind of squashes that? Stating the obvious: They could just be friends reconnecting, but I get a distinctly romantic vibe from the whole thing.
We have some other clues, too.
Cosmopolitan did a deep dive into Weber's shirts and were able to determine that 1) Weber's conversation with his mom in which she tells him to "bring [someone] home," and 2) Weber talking about his heart being broken both happen during Madison Prewett's "meet Weber's family" date. To summarize: Weber's heart gets broken during the day portion, and this is likely when Prewett self-eliminates. He goes home, and his mom tells him to go after her.
There's also the fact that Kelley Flanagan is the only Bachelorette followed by Weber's entire family, which my friend shared with me weeks ago—but Flanagan did meet them all at the same wedding where she met Weber, so that probably doesn't mean anything. Some fans are convinced this means she secretly wins, though.
The next Bachelorette is not from Weber's season.
It's official: Bachelor franchise alum Clare Crawley is our new Bachelorette. It's an interesting decision, because it's not anyone from Weber's season—my money was on Sluss, or on Prewett if she hadn't ended up with Weber. (Fuller and Weier got bad edits throughout the season, so I couldn't really see them getting the coveted role that generally goes to a fan favorite.) It's not clear exactly why producers overlooked the woman who didn't win Weber's season, including Sluss. Potentially they thought she was a better fit for Paradise instead.
As for Crawley, she's been part of the franchise for six years, making her debut as a contestant on Juan Pablo Galavis' season back in 2014. Galavis is widely known as the worst Bachelor ever, in part because of how he treated Crawley—she came in second place, but not before (justifiably) eviscerating Galavis during the finale, telling him she'd have never wanted her kids to have a role model like him.
Weber's not with Hannah Brown—but he said something very interesting.
Episode two was the last Hannah Brown footage for the show. She doesn't make a stealthy appearance at the end, and the finale freakout where Weber appears to become overwhelmed by Chris Harrison's new information may just be "editing trickery" on the part of the show, per Reality Steve. In other words, the news/info that Weber gets just before The Final Rose might not be as big of a deal as the show makes it out to be.
However! Weber did admit in a recent interview that he asked Brown to leave with him in their vulnerable on-air conversation in episode 2, thereby quitting the show entirely (kudos to my friend for spotting this). The interviewers (around 2:35) assume that Weber couldn't just possibly say that he'd leave the show for Brown, due to contractual obligations. And then he comes back with: "I was so dumb, cuz I did say that!" The producers just opted not to show it, and obviously Weber continued on with being the show lead, but wow. That's a pretty important discovery.
So, I guess, if he doesn't end up with anyone after the show, maybe they should text each other?
No matter what, the end of Weber's season is very strange.
So, there's this clip, a rare flash-forward:
In the clip, which seemingly takes place at the end of the season, Chris Harrison approaches Peter and says, "Before you do what you're about to do, there is something you should know...something I just found out, all of us just found out...I'm not sure how this all ends, so I just wanted to give you a heads up." Cut to Peter sobbing, and saying, "I feel like I'm about to pass out right now. It's just the last thing that I needed to hear."
There's also this moment in preview clips that shows Peter's mom sobbing: "Don't let her go. Don't let her go. Bring her home. Bring her home to us." Which only confuses things further. Who could Peter's mom have gotten so attached to? And why does she think Peter's about to let her go? Or has already let her go? I have so many questions.
What we know about his contestants.
Here's what we know about the other women on Weber's season.
For more stories like this, including celebrity news, beauty and fashion advice, savvy political commentary, and fascinating features, sign up for the Marie Claire newsletter.

[editoriallinks id='1d9f40c6-515d-48b3-9d7d-58f554803ef7'][/editoriallinks]
Celebrity news, beauty, fashion advice, and fascinating features, delivered straight to your inbox!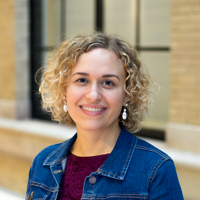 Katherine's a Boston-based contributor at Marie Claire who covers fashion, culture, and lifestyle—from "Clueless" to Everlane to news about Lizzo. She's been a freelancer for 11 years and has had roles with Cosmopolitan and Bustle, with bylines in Parents, Seventeen, and elsewhere. It's "I go to dinner," not "Her huge ego," but she responds to both.