Costume Designer An D'Huys on Creating West Side Story's Contemporary Look
The "West Side Story" revival is not for purists.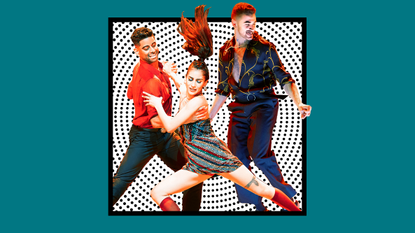 (Image credit: Jan Versweyveld/Morgan McMullen )
Marie Claire Newsletter
Celebrity news, beauty, fashion advice, and fascinating features, delivered straight to your inbox!
Thank you for signing up to Marie Claire. You will receive a verification email shortly.
There was a problem. Please refresh the page and try again.
About 30 minutes into the first act of the "West Side Story" revival, a color-blind cast of young actors—33 of which made their Broadway debut on opening night in late February—storm the stage dressed in the uniform of today's youth: jeans, hoodies, sneakers, and jackets.
Gone are the full skirts fans associate with the original production. Instead, the ensemble is dressed in head-to-toe athleisure; sports bras, tank tops, and track pants replace tea-length wiggle dresses.
The sartorial effect—reminiscent of a Balenciaga runway with a fast-fashion price tag—is owed to the show's costume designer, An D'Huys, who wanted to ensure the Broadway stage reflected the real world.
"It's what the young people are wearing now. We didn't want to make it too fashion," D'Huys tells Marie Claire. "It was important for me to keep things casual because we're telling a story about kids who can't exactly afford designer clothes."
If you couldn't already tell, this revival is not a show for purists. Belgian director Ivo van Hove used his edgy style to reimagine the beloved classic for modern times. The show is no longer set in the racially-tense 1950s but in the racially-tense now. And for the first time ever, the show's original choreography by Jerome Robbins is not being used. Instead, audiences are presented with powerful choreography by Anne Teresa De Keersmaeker. Like the clothes, the moves are far less balletic and much more rebellious—a welcome change that echoes the shift in time.
D'Huys—who studied fashion at the Royal Academy of Fine Arts in Antwerp—was part of the design team for Ann Demeulemeester for more than 12 years. But the clothing D'Huys designed for the "Story" stage is nothing like the high-fashion threads one might expect from a Demeulemeester alum. The cast in this incarnation are all dead-ringers for the young locals one might encounter on a New York City subway platform. D'Huys also chose to focus on giving each cast member their "own individual look," citing their differences as "a gift." (Instead of, for instance, giving each gang a recognizable blanket uniform of sorts.)
Those differences are highlighted on the largest scale for the audience. Throughout the production the cast's faces are projected on screens that fill the entire stage, giving the audience close observation of their piercings and tattoos, designed by Andrew Sotomayor. The use of camera work and colossal high-def video screens—designed by scenic and lighting designer Jan Versweyveld—create an interesting dilemma most Broadway costume designers don't usually encounter: How do you design clothes that are as visually impactful from the mezzanine of a theater as they would be on the silver screen?
"The details in my costumes are more pronounced than they would be in a typical dance or theater production," D'Huys explains, noting that she used personal touches like jewelry and small prints—things most Broadway productions don't bother with because they wouldn't be seen by anyone beyond the second row. But D'Huys's attention to detail comes to life on the screen, making the show equal parts Broadway production and studio film.
Speaking of film, D'Huys's use of color—Jets in cool blue tones and Sharks in warm reds—is the only noticeable nod to the 1961 motion picture, which she admits had a big impact on her as a teen. But she was determined to otherwise keep things "very contemporary." And she succeeded.
"I think it's the right moment," D'Huys says of the revival, adding how nothing has changed for lower-income kids of color in the 63 years since the show's original Broadway debut. "I hope that the young people who come see this show feel like they have the power to create that change."
For more stories like this, including celebrity news, beauty and fashion advice, savvy political commentary, and fascinating features, sign up for the Marie Claire newsletter.
RELATED STORIES
Celebrity news, beauty, fashion advice, and fascinating features, delivered straight to your inbox!
Maxwell Losgar is the Entertainment Director at Cosmopolitan. He books the covers and inside features with all of your favorite stars. He's probably watching Netflix right now. Like, as his job. For research.