Jodie Comer on Playing TV's Chicest (and Cheekiest) Assassin
The Emmy-winner spoke with Marie Claire about her to-die-for costumes and why killers need sensible shoes.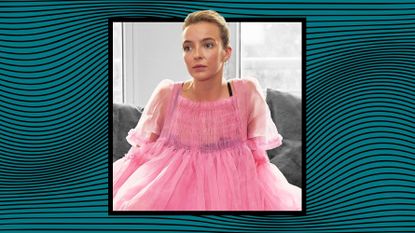 (Image credit: BBCA)
Jodie Comer swears she's a jeans-and-t-shirt kind of girl. "I'm way too lazy for my own good," she professes. It sounds like an impossible lie. One that only someone as cunning as Killing Eve's Villanelle herself could dream up, trying to convince the world she is a normal girl. Not a globe-trotting, multi-lingual, impeccably dressed psychopath with murderous tendencies and to-die-for clothes.
Though Comer promises she doesn't have Villanelle's flair for fashion, she must be just as much a chameleon as her on-screen counterpart. Because for the past few years the actress has masqueraded flawlessly—on red carpets and in high-fashion editorial shoots and on set—as TV's chicest assassin. In real life, Comer's style is much more down-to-earth; her disposition much friendlier.
"My fashion at the minute flips from my gym clothes and my pajamas and sometimes half and half, depending on if I actually end up doing any sort of exercise," she explains through fits of laughter. "I've seen too many videos and Instagrams of people saying, 'Just get dressed and do your makeup' and I'm like, Ugh! I just can't wear jeans in the house."
The 27-year-old is quarantining at her family's home in Liverpool, she tells me, as we chat days before the season three premiere of Killing Eve. Playing Villanelle (or Oksana or countless other aliases, depending on the scene) earned Comer an Emmy last year, and cemented her as the most fashionable woman on television since Carrie Bradshaw.
Villanelle's outfits have an unattainable and immediately iconic quality. The assassin injects both her kills and her wardrobe with a (much-appreciated) dose of cheek and creativity. "[Villanelle's] got an innate sense of style, definitely. I think she has very little rules. She wears what she wants to wear," Comer says, adding that show creator, Phoebe Waller-Bridge, built Villanelle's penchant for designer labels into the character. "It was a huge part, that kind of materialistic side of her. For the clothes, it was an expression of self. She found so much joy in that. [It's] her outlet. That's what she likes to treat herself with and express herself with. So it was a definitely always an element to her."
While one-half of Comer's character is at home in haute couture, the other half, Oksana, is much more at home in Russian jails. That concomitant is what influences Villanelle, what encourages her obsession with luxury and wealth, what stokes her impeccably tailored Chloé suits and Comme des Garçon jackets.
"I think Oksana was a scoundrel!" Comer says. "I don't know if she even thought about fashion, but, then, when she got introduced into this lifestyle, it was something that filled a void. And that's where that interest [in fashion] and need for it grew.
"For me, Villanelle is a creation. It's someone who she has created herself, and it's an expectation she has created for herself. And that's why you see [Oksana] constantly slipping and coming towards the surface. It's like two personas of who she really is and who she is expected to be by herself and other people."
Oksana is putting on a costume in hopes that it will convince the world that she is the character. It's the ultimate manifestation of dressing for the job you want: If you're going to commit murder, you might as well be dressed to kill.
The enviable wardrobe is owed to Killing Eve's talented costume designers. This season, Sam Perry takes over from Phoebe de Gaye (season one) and Charlotte Mitchell (season two), who perfected Villanelle's playful looks and flamboyant style, mixing vintage finds with the coveted of-the-moment designs—a strategy that Perry kept moving into the show's third year.
"[Sam] just sees it as a playground, which is what I really admire about her. She's not intimated by it," Comer says, revealing that Perry is slated to also work on season four.
It's hard not to focus on Villanelle's day-to-day wardrobe—brimming with show-stopping prints and stand-out silhouettes that seamlessly blend the masculine and feminine—or even her luxurious at-home style, complete with printed robes and colorful, silk pajamas. But Comer finds her character's look at its best when she's thrown off-kilter; forced into a fashion corner of sorts, when Villanelle must wear some of the most laughable and memorable outfits of the series. Yes, even crocs.
"I love the moments when she's having to wear somebody else's pajamas that don't fit her. I want to put her in as many painful situations as I possibly can," the actress says, with a tiniest hint of Villanelle villainy surfacing. "She just seems so together to me—when I throw her out of her comfort zone it just feels so right."
Season three will afford Comer the biggest opportunity yet to see Villanelle pushed to her sartorial limits. In episode five, she's confronted with ghosts of her past. But the character's arc posed a dilemma to Perry, Comer, and the show's team, who had to decide what was more important to Villanelle: fashion or family.
"What happens in episode five shifts her a lot [for] the rest of the series. And we had to make a big decision of whether she is so lost that what she's wearing—the fashion element—is completely gone or she's trying to be appear to be okay and her normal self. And we went with the later."
But no matter what Villanelle is wearing—a dramatic headpiece, a pig mask—Comer suggest thats it's Villanelle's confidence that sells it and her practicality that grounds it. Literally. I'm referring, of course, to her footwear. Villanelle pairs a statement Molly Goddard confection with Doc Martens and matches white trainers with Miu Miu.
"It was never that she was going to do a kill in 6-inch heels. Whenever I see that in a film, [I think] Uh... is that really possible?" Comer says. "With Villanelle, comfort is key. Let's wear something really fucking cool, but let's also wear shoes that I can do all this stuff in and, you know, feel confident."
As we're wrapping up our conversation, I ask Comer about her favorite piece in her own wardrobe, and, finally, I understand where she and Villanelle overlap: shoes.
"I've got a pair of Grenson boots. They are London-based bootmakers and the shoe is the Nanette. [They are] kind of like an ankle biker boot. But I wear them with everything, probably too much. But they are super comfortable, and they are super light. That's my [item I] wear to death."
The Most Memorable Fashion Moments From 'Killing Eve'
Image 1 of 26
The Dinner-for-Two Look
Taking gifts from killers is not encouraged—unless it looks as good (even wet) as this Roland Mouret dress that Eve wears in season 1, episode 5.
The Summer Friday Look
Being a killer is just as much about comfort as it is style, as Villanelle proves in Tuscany in season 1, episode 1, wearing a flowy Chloé top, denim cutoffs, and Doc Martens.
The Night Out Look
This Dries Van Noten suit that Villanelle wears in Berlin in season 1, episode 3, was so chic that Jodie Comer almost snagged it for her own closet, according to The Cut.
The Patterned Look
Season 2, episode 7, finds Villanelle in a plaid-on-plaid outfit that screams trendy yet approachable—minus the knife, of course.
The Moscow Look
Carolyn, you never cease to surprise us; starting with this fur hat from season 1 that she wears to go to—where else?—Russia.
The Borrowed Look
What's an assassin to do when she finds herself crashing a spectacular Italian fête with nothing to wear? Steal that Burberry hanging in the host's closest, like Villanelle did with this pale blue lacy frock in season 1, episode 1.
The Getaway Look
Villanelle closes out season 1 in a statement fuzzy jacket that makes being on the run look, dare we say, cozy.
The Funeral Look
Killing Eve costume designer Charlotte Mitchell revealed in a Q&A that she found this 2012 couture gown for season 2, episode 5, on a vintage auction site. Use it as inspiration for your next casual dinner party.
The Wedding Look
And the bride wore...tails! Season 3 kicks off with a disastrous wedding during which Villanelle was, unsurprisingly, dressed to perfection in a Comme des Garçons jacket with tails, a Simone Rocha bustier, and a Loewe brooch.
The Brunch-in-Bed Look
Only Chrissy Teigen could dare to rival Villanelle's enviable collection of silk robes. We'd kill to WFH in any of them, especially this luxe floral printed kimono from season 1, episode 5.
The Matchy-Matchy Look
While this red peplum pantsuit from season 2's finale isn't nearly cheeky enough to strike pitch-perfect Villanelle, it's still stylish enough to get some recognition on our list.
The Business Casual Look
We'd gladly look forward to more one-on-ones with our boss/the woman in charge of the unit trying to take us down if the meetings included expertly-tailored pinstripe blazers and chunky knit jumpers.
The Morning After Look
If this is what hungover looks like, then order us another round. Villanelle throws on this emerald duster for a night out in Amsterdam in season 2, episode 4. But it looks just as chic while lounging about the next day, regretting that bathroom brawl.
The "I Studied Abroad This Summer" Look
Make like Villanelle and take your fashion cues from your current city of choice. In season 3, Barcelona proves the perfect backdrop for this bold, ruffled dress from The Vampire's Wife.
The Statement Look
We only get a glimpse of this chic black blouse featuring statement sleeves and collar in season 2, episode 3, but we wouldn't be surprised to find several copycats on Zara racks in no time.
The Sexy PTA Look
Kudos to the Killing Eve costume designer for picking this geometric Karen Millen dress for Eve to wear in season 2, episode 3. Math has never been so sexy.
The Luxe Look
In Season 2, episode 3, Villanelle sports an unforgettable combo: a mauve Isabel Marant blouse, a horse-print Chloé blazer, and shiny silver pants. Because when you're telling your handler to F-off, a touch of whimsy always helps.
The Undercover Look
Villanelle's stakeout get-up in season 1, episode 3, consists of a leather, high-collar JW Anderson top and tortoise cat-eye sunnies. Styled with a top-knot, for that added spy-on-the-go touch.
The Retro Look
Villanelle has never been one to shy away from color or print, which doesn't seem to be stopping in season 3. Her mod La Double J retro dress and Golden Goose cowboy boots from episode 2 is meant to "evoke the blistering heat" of Barcelona, season 3 costume designer Sam Perry tells InStyle. Plus, it's always nice to coordinate your outfits with the wallpaper in the apartment your assassin-employing organization is paying for.
The Superhero Look
We said the most memorable looks, not just the most high fashion... These too-small pop-art PJs (taken from a young boy) in season 2, episode 1, encompass this show perfectly: absurdly funny and unbelievably disturbing.
The Understated Look
What more can we say about this custom polka dot veil? Smell ya later to the rest of my accessories.
The Stylish CEO Look
Carolyn is the queen of subtle, whether in her cloak-and-dagger moves at MI6 or in her luxe outwear, like this jewel-toned coat from season 2, episode 4.
The "I Love Fashion" Look
When a still from a series about a cold-blooded killer could double as a shot from Sex and the City, you know you're bingeing the right show. Villanelle dons this pink Burberry trench, striped slacks, Lanvin blouse, and Balenciaga boots for a post-murder shopping spree. Productive and stylish? Carrie Bradshaw could never.
The Studious Look
Villanelle should never be responsible for imparting wisdom on children, but we're here for her interpretation of professorial chic in season 2, episode 5. Costume designer Charlotte Mitchell explained that she was inspired by women like k.d. lang, who turned simple looks into powerful statements. Teach us your ways, please.
The "I Just Threw This On" Look
Villanelle has a way of making anything look like capital-F Fashion, and that includes this military coat she nicked from a homeless man in Paris while nursing a wound. While we can't cosign how she got the coat, oversized outerwear is a wardrobe staple, and this coat is great inspo.
The. Look.
Ah, the dress that launched 1,000 Pinterest boards. This frilly Molly Goddard chiffon frock from season 1, episode 2, has become synonymous with the show's spot-on dark humor and Villanelle's flair for drama.
---
For more stories like this, including celebrity news, beauty and fashion advice, savvy political commentary, and fascinating features, sign up for the Marie Claire newsletter.
Related Stories
Marie Claire email subscribers get intel on fashion and beauty trends, hot-off-the-press celebrity news, and more. Sign up here.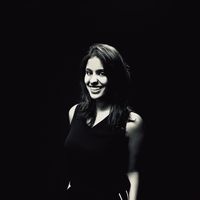 As Marie Claire's Entertainment Director, Neha oversees and executes strategy for all editorial talent bookings and culture coverage across the brand's print and digital entities, including covers, celebrity profiles and features, social takeovers, and video franchises as well as handles talent relations for MC's flagship summit, Power Trip. She's passionate about elevating diverse voices and stories, loves a hot-take, and generally hates reboots. She's worked in media for more than 10 years and her bylines about pop culture, film & tv, and fashion have appeared on Glamour, Vanity Fair, GQ, Allure, Teen Vogue, Brides, and Architectural Digest. She is a graduate of the Columbia School of Journalism.