Natalie Wood Deserves More Than the Legacy We Gave Her
A new HBO documentary re-examines Wood's career in hopes that she'll be remembered for more than her mysterious death.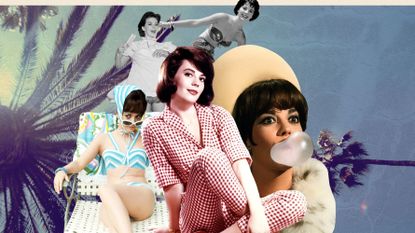 (Image credit: Getty Images)
Natalie Wood sits at the head of a table alongside her publicist, business manager, agent, and a half-dozen more suits—all men who all worked for her. The image appears in high-profile Life magazine spread for its December 1963 issue, in which Wood was named a "shrewd businesswoman." It's a telling snapshot of the woman at the center of the new HBO documentary Natalie Wood: What Remains Behind, airing tonight. "That image speaks a thousand words," Wood's oldest daughter, Natasha Gregson Wagner, tells Marie Claire. "That's the mom I knew."
Wood holds a singular place in Hollywood stardom. At age 4, she was spotted on the streets of her Northern California hometown and plucked from obscurity for an ice cream commercial. When she was 8 she starred as the cherub-cheeked cynic in Miracle on 34th Street. By 16, she was wowing audiences alongside James Dean in Rebel Without a Cause. At 23 she was the lead in West Side Story. By 25, she had earned three Oscar nominations.
But in 1981, at 43, Wood's life was tragically cut short, the result of an accidental drowning off the coast of Catalina island. Since then, the press and fans have been obsessed with rumors and suspicions surrounding her untimely death, wondering if it involved foul play with her husband, actor Robert Wagner, or friend, Christopher Walken, both present on the boat that night.
With the help of Gregson Wagner, the HBO special—helmed by director Laurent Bouzereau—will finally leave Wood's death to the watery depths where it happened. Its aim, instead, is to amend the actress' legacy in Hollywood as the assertive, brave, charismatic and trailblazing careerwoman, wife, and mother that she was.
Until now, Gregson Wagner has remained mostly private about growing up the child of a movie star—save for releasing a coffee table book and a commemorative perfume called "Natalie" (gardenia scented, her mother's favorite). But she explains that, after becoming a mom herself, she was compelled to make the documentary, hoping to examine Wood's life from an "intellectual point of view" with "none of this made-up nonsense." So she and Bouzereau used home movies, personal photos, and interviews with costars and friends like Robert Redford and Mia Farrow to show the unheralded side of Wood's career. To prove Wood's reach went far beyond her acting talent, gorgeous face, or the men she dated. And especially that her life amounted to much more than the death that has since defined it.
"It's so preposterous," says Gregson Wagner of all the times she's had to endure the case reopening and speculation in the media. "It's easy for me to detach from all that because I've had to do it for such a long time. It's a muscle that I grew unknowingly as a child."
The documentary focuses on how Wood tirelessly fought back against the studio system—which she was beholden to for nearly her whole life—that was stacked against women. How, when she wasn't satisfied with being a cog in the wheel of the Hollywood machine, she took on the head of Warner Bros. Studios, Jack Warner. At only 20 years old, Wood went on strike because Warner wasn't receptive to her request to pick at least one film she would star in a year. (It was standard at the time for actors, no matter their level of fame, to be assigned films by the producers.) West Side Story became the first movie Wood picked on her own.
She even took on the industry over equal pay and mental health advocacy, proving that she was ahead of her time. On The Great Race (1965), in which Wood played a journalist-turned-car racer who defended and fought for women's advancement, she learned she was receiving lower pay than her co-stars, Jack Lemmon and Tony Curtis. So Wood demanded fair compensation, and furthermore, fair treatment on set. It was more than just the money. For Wood, it was about control.
"Nobody had done that at that time," says Gregson Wagner. "After she put up such a stink for equal pay, from then on she always made sure she got points [a percentage of the movie's profits]…because she knew that that was how to make real money. She also had it in her contract that she was given time off to see her therapist."
Adds Bouzereau: "Word spread that Natalie Wood was this person who could [get things done]. Some of the cast members of West Side Story were complaining about the heat [on set] and they went to Natalie and she immediately got the air conditioning going. It was fascinating talking to her friends and family to find little nuggets of stories that reflected how nurturing she was." It's why, the director explains, he wasn't interested in doing an "old Hollywood" type documentary. Instead, he opted to paint a more intimate portrait of the icon.
At her core, Wood was an autobiographical artist—one who chose projects that spoke to her. She starred in films that tackled topics like abortion (1963's Love with the Proper Stranger) and swinging (1969's Bob & Carol & Ted & Alice). She even did television and TV movie events at a time when doing so was considered career suicide for film actors.
Wood made it a point to champion and support other creatives. She's the one who fought for Robert Redford—an unknown stage actor at the time—to be her co-star on Inside Daisy Clover. And it was those with marginalized voices, especially, that she sought to help with her platform: She met Mart Crowley, an openly gay playwright, on Splendor in the Grass and hired him as her assistant, reportedly for the purpose of giving him the ability to write what would become The Boys in the Band. The script, about a group of gay men in the '60s, was unprecedented material for the time. (It played off-Broadway in 1968, was adapted into a movie in 1970, and revived on Broadway in 2018. There's now a TV adaptation in the works with Ryan Murphy at the helm.)
"It's pretty amazing to see the ripple effect of everything that she touched and everything that she did," says Bouzereau. "You can still feel it today in many ways, and all those stories are just a reflection of how real she was."

For more stories like this, including celebrity news, beauty and fashion advice, savvy political commentary, and fascinating features, sign up for the Marie Claire newsletter.
RELATED STORIES
Celebrity news, beauty, fashion advice, and fascinating features, delivered straight to your inbox!
Valentina Valentini (yes, that's her real name) is a freelance journalist writing about movies, TV, travel, food and humans (herself included) for Vanity Fair, Los Angeles Times, Variety, New York Magazine and more