Netflix's 'Hollywood': The Real-Life Figures and the Stars That Play Them
A guide to the many real icons depicted in Ryan Murphy's buzzy new Netflix show.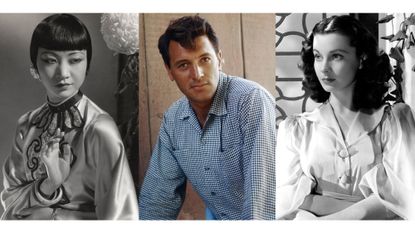 (Image credit: Getty)
Ryan Murphy's latest buzzed-about title, Hollywood, hits Netflix on Friday. Touted as a "love letter to Hollywood," Murphy—alongside his frequent collaborators Ian Brennan (The Politician) and Janet Mock (Pose)—attempts a revisionist history of Tinseltown's Golden Era, painting over the industry's myriad of short-comings and systemic problems with an optimistic brush. The seven episodes—featuring a star-studded ensemble that includes Holland Taylor, Jeremey Pope, Laura Harrier, Jim Parsons, and Patti LuPone—are addictive, snazzy, and very Murphy-esque (meaning, expect vivid characters, beautiful costumes, and gorgeous sets). But, more importantly, the series seeks to show what happens when marginalized stories get their chance in the limelight.
Much like Quentin Tarantino's Once Upon a Time in Hollywood did, the Netflix show intertwines made-up characters, like Darren Criss's Raymond Ansley (a budding director), with real icons and industry figures from the 1940s. The result is subverting some of Hollywood's most tragic and often fraught stories, ultimately giving them the recognition they deserved. Consider Anna May Wong, played by Michelle Krusiec, who was often sidelined in real life due to her race or Rock Hudson, played by Jake Picking, who was forced to live his life in the closet for fear of losing a chance at stardom; in Netflix's Hollywood they get the life they could've had.
Before settling into Murphy's latest, sure-to-be hit series, learn about the complex true stories of Wong, Hudson and the rest of the Hollywood cast's real-life counterparts.
Rock Hudson, played by Jake Picking
Relative newcomer Jake Picking injects an unassuming charm into his portrayal of Rock Hudson, arguably one of the most popular actors of Hollywood's Golden Era. Hudson, born Roy Harold Scherer Jr, broke into acting with the help of agent Henry Wilson—Roy sent Wilson a photo to consider him as a client. (Wilson gave him the stage name of Rock Hudson and secured him a contract at Universal-International.) The actor slowly began working in smaller roles—it's rumored that he took 38 takes to land his first line in a major film—before landing a leading role in 1952's Scarlet Angel. Hudson cemented his status as a star in 1954's Magnificent Obsession and he later earned an Oscar nod for 1956's Giant, before becoming Hollywood's rom-com heartthrob in 1959's Pillow Talk, among dozens of other films. He even successfully made the jump to TV in the 70s with McMillan & Wife. While Hudson didn't publicize being gay, his sexuality was reportedly an open secret in the industry. Hudson died in 1985, at the age of 59, of AIDS-related illness; while the actor never came out, he did confirm he had AIDS shortly before his death, becoming one of the first mainstream celebrities to gave a face to the disease and draw major attention to the epidemic.
Vivien Leigh, played by Katie McGuinness
While in Hollywood, Vivien Leigh (played by Katie McGuinness) and her "episodes" are used mainly as B-plot party fodder, in real life, she had a dramatic and tragic life that could easily fill an entire Netflix season. Leigh was best known for her Oscar-winning roles as Scarlett O'Hara in 1939's Gone With the Wind and as Blanche Du Bois in 1951's A Streetcar Named Desire as well as critically acclaimed performances as Cleopatra in theater productions. The British actress also carried on a very public love affair with famed actor Laurence Olivier; They married in 1940 but divorced in 1960 after a tumultuous relationship. Leigh was known to have struggled deeply with her mental health, having bipolar disorder and maniac depression for which she underwent electroshock therapy. She also reportedly drank heavily and had frequent breakdowns that marred her legacy with claims of being difficult to work with. The actress died at the age of 53 from tuberculosis.
Anna May Wong, played by Michelle Krusiec
Anna May Wong paved the way in Hollywood as the first Chinese-American movie star, but she faced an incredibly difficult path to success. Wong first broke onto the scene at 19 in a supporting role in 1924's The Thief of Bagdad. Despite the actress's best efforts to break out of stereotypes in later films—even creating a (failed) production studio to tell stories of nuanced Asian characters—she was deterred by anti-miscegenation laws and often forced to accept "Dragon Lady" or "Butterfly" roles. Regardless, Wong's work was often critically acclaimed, leading many to champion her casting in MGM's highly anticipated adaptation of The Good Earth. But due to Hays Code restrictions, film execs instead cast white actress Luise Rainer to play the Chinese character; Rainer later won the Oscar for Best Actress for her role in the film. Wong went on to star in several smaller movies for Paramount Pictures, where she was finally able to play more sympathetic and positive Chinese characters. Wong also made television history by helming the 1951 show The Gallery of Madame Liu-Tsong, becoming the first Asian-American person cast as a series lead in the U.S. Unfortunately, fame took a toll on Wong who turned to heavy drinking to deal with her depression. She died in 1961, at the age of 56, of a heart attack.
Henry Wilson, played by Jim Parsons
In Murphy's Netflix show, Jim Parsons expertly plays infamous and abusive talent agent Henry Wilson, who is widely credited for the "Beefcake Craze" of the 1950s. But the agent was equally notorious in Hollywood for sexually harassing and exploiting his significant roster of clients. Wilson began his career as gossip columnists for Variety and The Hollywood Reporter before heading a talent division at Vanguard Pictures. Soon after, he started his own agency, where he was known to groom stars and ask for sexual favors in return for film roles. He was responsible for creating Rock Hudson's image and successful career as well as discovering (and reinventing) talents like Lana Turner, Chad Everett, Junior Durkin, and Rory Calhoun. By the late '60s, Wilson—who faced problems with drug and alcohol addiction—had lost most of his clients after his sexuality had become public knowledge. He died in 1978, at the age of 67, reportedly so poor that he couldn't afford a gravestone.
Tallulah Bankhead, played by Paget Brewster
Paget Brewster's Tallulah Bankhead may only have a few seemingly inconsequential scenes in Hollywood, but the real Bankhead had a sweeping legacy in Tinseltown. She began her career in silent films and on stage in New York (cementing her place as one of the "Four Riders of the Algonquin") before moving to Hollywood to act in films like Devil and the Deep, alongside Cary Grant, and Alfred Hitchcock's 1944 film, Lifeboat. She was also said to have inspired Tennessee Williams's character Blanche DuBois. But it was Bankhead's personal life that seemed to garner just as much, if not more, public attention. The Alabama-born actress (she came from a family of politicians) was known to have struggled with alcoholism, drug abuse, and depression. She was romantically linked to several men in the industry as well as women (including Greta Garbo, Hattie McDaniel, and Billie Holiday) and made headlines for her outrageous stories and quips about her sex life and love of partying. She died in 1968 at the age of 66.
Hattie McDaniel, played by Queen Latifah
Queen Latifah has a few brief but memorable and moving cameos in Hollywood as Hattie McDaniel, the legendary actress who offers to mentor ingenue Camille Washington. In real life, McDaniel became a pioneer as the first person of color to win an Oscar for her role as Mammy in 1939's Gone With the Wind. But she was a polarizing figure among the black community, many of whom criticized the actress at the time for accepting and perpetuating stereotypes about people of color. And despite earning notoriety for Gone, McDaniel was frequently subjected to Hollywood's racism; at the Academy Awards ceremony, where she won, she was forced to sit at a segregated table and she also wasn't allowed to attend several of the film's premieres in the South. Regardless, she went on to work in hundreds of films and also maintained a successful singing and radio career. McDaniel died of breast cancer, at the age of 57, in 1952.
George Cukor, played by Daniel London
While Daniel London appears in a few blink-and-you-missed-it moments as George Cukor, the name looms large over the plot of Hollywood, mainly episode 3 where the major players gather at one of the director's fabled parties. Cukor's star-studded parties were actually a thing of reality; Sunday afternoon affairs where Cukor and other celebrities could be open about their sexualities. Apart from being at the forefront of gay culture in Hollywood, Cukor was a celebrated director known for several notable films, including 1933's Little Women, 1936's Romeo and Juliet, 1937's A Star is Born and 1964's My Fair Lady, for which he won an Oscar for Best Director. He even briefly worked on Wizard of Oz and was originally hired to direct Gone With the Wind. He died in 1983 of a heart attack.
Peg Entwistle (center), played by Laura Harrier (left) and Samara Weaving (right)
In the film within the series, Laura Harrier and Samara Weaving's characters, Camille Washington and Claire Wood, respectively, vie for the role of Peg (or Meg) Entwistle, a very real tragic figure in Hollywood's history. Millicent Lilian "Peg" Entwistle was a British actress, mainly known for her work on Broadway. In 1932, at the age of 24, Entwistle died by suicide after jumping off the "Hollywood" sign in Los Angeles; Her death was highly publicized at the time (with her suicide note even appearing in papers). The only film in which Entwistle was ever credited, Thirteen Women, was released a month after her death, to limited success.
...
For more stories like this, including celebrity news, beauty and fashion advice, savvy political commentary, and fascinating features, sign up for the Marie Claire newsletter.
Marie Claire email subscribers get intel on fashion and beauty trends, hot-off-the-press celebrity news, and more. Sign up here.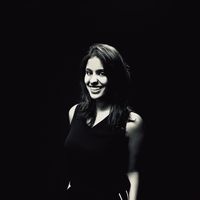 As Marie Claire's Entertainment Director, Neha oversees and executes strategy for all editorial talent bookings and culture coverage across the brand's print and digital entities, including covers, celebrity profiles and features, social takeovers, and video franchises as well as handles talent relations for MC's flagship summit, Power Trip. She's passionate about elevating diverse voices and stories, loves a hot-take, and generally hates reboots. She's worked in media for more than 10 years and her bylines about pop culture, film & tv, and fashion have appeared on Glamour, Vanity Fair, GQ, Allure, Teen Vogue, Brides, and Architectural Digest. She is a graduate of the Columbia School of Journalism.