How 'Center Stage' Became the Dance Movie of Our Generation
The stars of the iconic 2000 film talk unseen storylines and the impact of the ballet drama on pop culture.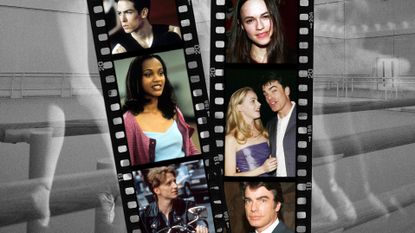 (Image credit: Getty Images)
Teen dance drama Center Stage hit movie screens in the spring of 2000—at the height of a rom-com golden age—and promptly bombed at the box office, earning mainly negative reviews. But like its perfectionistic characters, it couldn't be kept down. The amalgamation of coming-of-age tale, love triangle, and a dramatic showcase of competition within a clandestine world quickly emerged as a cult classic. Just today, a TV adaptation was announced. Over time, the film—which turns 20 today—has proven itself to be the greatest dance movie of our generation.

Directed by Sir Nicholas Hytner, the plot centers on a group of dancers as they vie for coveted spots in the fictitious American Ballet Company (ABC). Thanks to its intense rivalries, dramatic dance-offs, and a memorable soundtrack, Center Stage was granted a place by fans among canonical dance films like Saturday Night Fever, Footloose, and Dirty Dancing. It delivered camp—if GIFS were popular methods of communication at the time, Maureen (Susan May Pratt) and Eva's (Zoe Saldana) lines would surely be regular fixtures on social media timelines—and incredible ballet sequences. It also bluntly unearthed the harsh reality of the artistic world: That most hopefuls won't make it professionally. (The sentiment is often dictated via the mouthpiece—and eyebrows—of American Ballet Academy's main choreographer and director, Jonathan Reeves, played by a pre-OC Peter Gallagher.)

Sweet Jody Sawyer (Amanda Schull) is our protagonist, navigating the dance world—and the ballet bad boys that come with it—amid setbacks, including criticism that she has the "wrong" body type and bad feet. For Schull, a professional ballet dancer, the movie was her first on-camera acting gig. "Everything about Jody was rooted in me, and so it was an easy experience to get to do that, but then also a stretch to be able to portray it, because I had never had an acting job like that before," she tells Marie Claire.
Charmed by fellow ABC dancer Charlie (Sascha Radetsky) and infamous ballet superstar Cooper Nielsen (Ethan Stiefel), Jody finds herself in a love triangle that played out on and off stage. Jody becomes infatuated with Cooper, and the two engage in a sexy romp (after a ride on the back of his motorcycle to, presumably—where else?—Brooklyn). Set to the saccharine sound of early aughts Mandy Moore, the sex scene remains perfectly of-its-time and completely cringey two decades later. (Jody assumes this means Cooper is her boyfriend; it was clearly a casual hookup to him.
Stiefel, who was a professional dancer with the American Ballet Theatre (as many of the supporting characters were), says he has often been conflated with his Center Stage character over the years. "I was a Dean at one time at the University of North Carolina School of the Arts (UNCSA), and I think on more than one occasion I had a parent ask, I think with a tongue-in-cheek sensibility, 'Are you really like Cooper Nielsen in real life?'" Stiefel says. Yes, with regards to motorcycles and dancing. But with regards to young female colleagues? No. "That's not the way I've gone about my business."
Surrounding Jody are her roommates: the headstrong Eva Rodriguez and type-A Maureen Cummings, who each have juicy subplots about their own frustrating journeys in the ballet world. Throughout Center Stage, Eva's rebelliousness—smoking in dorm rooms, wearing black leotards, and smacking gum during rehearsals—becomes her achilles heel. "It was very accurate," Saldana says of the character. "When you come from a world where certain resources were inaccessible to you, you grow up believing that it's because you don't belong there. Even though you long for it, it's not something that you've ever seen representation or portrayals of that look like yourself." Saldana believes Eva's rule-breaking way of "protecting her dignity."
Center Stage was Saldana's first film role—a perfect fit for the former dancer. "I had danced for close to 10 years of my life, so to get to play Eva in my very first huge, studio movie and for it to be about ballet, it just felt really beautiful," she says. "I was pretty heartbroken before I had gotten the movie because of transitioning into acting and having to sort of say goodbye to a form of art that I fought so hard to be successful in."
While Eva acted as though she didn't care that much about ballet, Maureen cared about nothing else. The character battled bulimia, her own unachievable standard, and her emotionally abusive stage mom. Maureen found herself an outcast and became resentful of her assumed future, leading to a realization that her commitment to ballet had limited her life experiences and stripped her of joy. She also happened to deliver one of the most sneering film comebacks of all time: "I'm the best goddamn ballerina in the American Ballet Academy—who the hell are you?" Two decades later, we're still shaking.
Filmmakers intended to cast a dancer that could live up to that biting line, but, Pratt landed the part. She trained for the role for around two months "tops," and a body double filled in the gaps. "I'm not a real dancer, so I put a lot of pressure on myself to dance with [the rest of the cast]," Pratt recalls. "I literally couldn't, so that was my own problem." The actress reveals that a lot of Maureen's backstory was cut from the film, including moments between her and her on-screen boyfriend, Jim (Eion Bailey), as well as Maureen's growing resentment with dance: "I think smartly they cut it. It was just too much going on, and too long."

Ultimately, Eva and Maureen act as foils for one another: As Maureen comes to the realization that being a ballet dancer isn't her dream, she offers Eva her spot in the final dance workshop.
Eva, too, was meant to have a much bigger storyline. "She was this inner city girl that was too proud to ask for help or to say whenever she was vulnerable," says Saldana. "Even though she loved ballet, it scared her, she was so tough about it and her brother was this anchor for her." Victor, the brother, Saldana reveals, was supposed to be the limo driver who took the dancers around the city for their day off.
"[Eva and her brother] had a bunch of scenes together," recalls Schull. In the script, "he dies midway through the movie, and it sort of puts Eva's whole life into perspective, and she wonders what... whether she wants to continue dancing," recalls Schull. (In fact, the first scene Schull shot was Eva's brother's funeral.) But the actress thinks the movie would have taken a "very different turn" if Victor's storylines were included and would have made it "nine hours long."
Although Eva's character was denied her deserved, meaty backstory, Saldana's cheeky and vibrant performance proved to be pivotal for the actress, solidifying her as a future star. The film launched Saldana to leading roles in a slew of box office hits (Star Trek, Avatar, Guardians of the Galaxy) at a time when women of color were rarely being offered the top job. "For someone like me that's from Queens, and I'm a person of color, I felt so much pride," says Saldana. "And living vicariously through Eva just was really magical for me."
While the relationships between the dancers provided the dramatic momentum for the film, it was the final recital that turned Center Stage into an iconic "dance movie." At the film's climax, viewers get not one, but two, workshop performances: a traditional piece from Jonathan and Cooper's punk-rock ballet.
Jonathan's choreography—demure, conventional—was set to Rachmaninov's 2nd Piano Concerto; Cooper's number was an act of rebellion, complete with on-stage motorcycle ride and mimed love scenes set to a soundtrack of Michael Jackson and Jamiroquai. "I think they put the motorcycle in the movie after I was cast," Stiefel recalls.
The motorcycle hammered home Cooper's narrative, but the steamy performance is best remembered for Schull's chaines turns right out of her tutu. The iconic, radical scene is one Schull struggled to get just right. "I remember doing this split down onto [Ethan] and being really concerned that I was going to either make it look stiff or make it just look way too racy."
The film grossed just $17 million in theaters, but those numbers belie its legacy. Twenty years later, Center Stage created a kind of foundation for the sports dramas that have taken over Netflix of late. The short-lived series Spinning Out tracked the grueling world of ice skating and Dare Me tackled the intensity of competitive cheerleading. And, of course, Jody, Maureen, Eva, and Charlie are early precursors of La'Darius, Jerry, and the rest of the squad from Cheer's Navarro College.
And just as Cheer captivated audiences with its cast members' genuine passion for the sport, Center Stage became beloved because it made dance the star. The fact that the majority of the movie's leads were dancers made it easy to ignore the plot holes and stilted lines that bristled critics. "I think that a lot of [why the movie resonated] is because [director] Nick Hytner really was insistent on having dancers play the roles of dancers," says Schull. "And I think that gave it an authenticity for a dance movie that no other dance movie had at that point or around that time."
For more stories like this, including celebrity news, beauty and fashion advice, savvy political commentary, and fascinating features, sign up for the Marie Claire newsletter.
RELATED STORIES
Celebrity news, beauty, fashion advice, and fascinating features, delivered straight to your inbox!
Ilana Kaplan is a writer and editor based in Brooklyn. She covers music, culture and entertainment and has written for Rolling Stone, The New York Times, NPR, GQ and more.