Editors handpick every product that we feature. We may earn commission from the links on this page.
The 62 Best '90s Movies to Binge-Watch
Truly the golden age of cinema.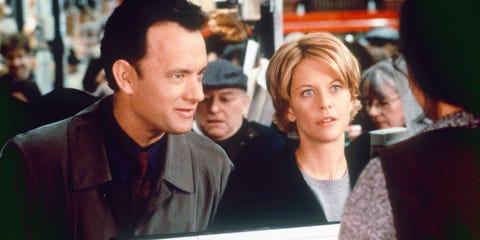 The '90s were a pretty amazing decade for film. The rom-com was at its pinnacle (Pretty Woman, You've Got Mail), comedies were truly funny (Home Alone, Groundhog Day), critical faves were also crowd-pleasers (Titanic, Forrest Gump), horror films were bone-chilling and realistic (The Silence of the Lambs, Se7en) and teen comedies were having a heyday (10 Things I Hate About You, Clueless), making the years 1990 to 1999 a particularly good time to go to the movies if you were a teenager. Maybe it's because going to the movies was still a thing in the '90s? Also, raise your hand if you made a weekly run to the local Blockbuster to grab that week's entertainment.
Luckily for you, most of these flicks can be watched now, in 2021, from the comfort of your couch via Netflix and other streaming services. We've scoured the archives and rounded up the best films with the most iconic characters—from Mrs. Doubtfire to Hannibal Lecter to Cher Horowitz—and we've listed them here for you. Or, if you've never seen these movies but are looking for a new decade of films to obsess over, these are the ones to binge immediately. The next lazy Saturday you have, why not take a stroll down memory lane with these iconic, nostalgic '90s movies?
This content is created and maintained by a third party, and imported onto this page to help users provide their email addresses. You may be able to find more information about this and similar content at piano.io