The 84 Best '90s Movies That Are Modern Classics
Truly the golden age of cinema.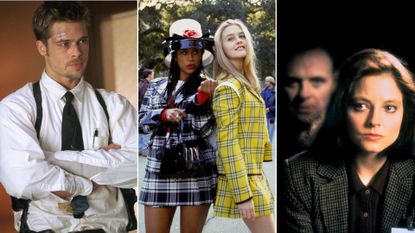 (Image credit: Alamy Stock Photo)
The '90s were a pretty amazing decade for film. The rom-com was at its pinnacle (Pretty Woman, You've Got Mail); comedies were truly funny (Home Alone, Groundhog Day); critical faves were also crowd-pleasers (Titanic, Forrest Gump); horror films were bone-chilling and realistic (The Silence of the Lambs, Se7en); and teen comedies were having a heyday (10 Things I Hate About You, Clueless), making the years 1990 to 1999 a particularly good time to go to the movies if you were a teenager. Maybe it's because going to the movies was still a thing in the '90s? Also, raise your hand if you made a weekly run to the local Blockbuster to grab that week's entertainment.
Lucky for you, most of the must-watch movies of the decade can be seen now, in 2023, from the comfort of your couch. We movie lovers at MC scoured the archives and rounded up the best '90s films with the most iconic characters—from Mrs. Doubtfire to Hannibal Lecter to Cher Horowitz—and we've listed them here for you. Not only that, but as with the best movies of the 2000s, these 84 films contributed to the culture of the time and are titles you can turn on again and again. In no particular order, we've arranged these great films by genre so you can easily navigate your favorites. The next lazy Saturday you have, why not take a stroll down memory lane with these iconic, nostalgic films?
Best Romance Movies of the '90s
'Titanic' (1997)
This movie, which had most teenage girls sobbing their way through the late '90s, is a fictionalized account of the 1912 sinking of the RMS Titanic (obviously). It stars Leonardo DiCaprio at his heartthrob-iest and Kate Winslet, two passengers of vastly different social stature who fall in love during the Titanic's first and final voyage. The 1997 film was nominated for 14 Academy Awards and won 11—including Best Picture and Best Director.
'Ghost' (1990)
Pottery class became sexy after this romantic thriller starring Demi Moore and Patrick Swayze. The pair plays a loved-up couple whose relationship is cut short when Sam (Swayze) is murdered. As his spirit wanders the Earth, he learns Molly (Moore) could have the same fate and must somehow warn her before it's too late.
'The Best Man' (1999)
The Best Man was important for a lot of reasons (summarized nicely in this E! article), primarily because it was a long-overdue romance and damn good movie starring Black actors. It also portrayed everyday struggles and successes: "African American people being people, as opposed to stereotypes," as Taye Diggs put it. It was a star-making movie for a number of super-talented actors (Diggs! Nia Long! Harold Perrineau! Regina Hall! Just to name a few!) and even though it's a deeply 90s movie, there's so much to love.
'Romeo + Juliet' (1996)
Hollywood may reboot the classic Shakespeare play every few years, but this one starring Claire Danes and a young Leonardo DiCaprio reigns supreme. Sure, you know the ending, but the modern twist on this classic tale has a few tricks up its sleeve you won't see coming.
'The Bodyguard' (1992)
Forever icon Whitney Houston made her debut in this romantic thriller alongside Kevin Costner as a famous pop singer who hires a former Secret Service agent to be her bodyguard. It gets hot and also terrifying super quick. Don't even get us started on the soundtrack! It's still the bestselling soundtrack album of all time, with more than 42 million certified copies sold worldwide.
'Before Sunrise' (1995)
Suddenly the idea of meeting your soulmate on a train ride heading from Budapest to Vienna, spending one glorious night together, and falling deeply in love seems possible after watching this movie. Just me? Okay! If you don't believe me, there are two more films in this series that say otherwise so, yeah, get those tissues ready,

'Meet Joe Black'
When Death comes to visit media mogul William (Anthony Hopkins), he agrees to give William more time in exchange for showing him life on Earth. After taking the body of a young (hot) man, aka Brad Pitt, Death experiences all life has to offer, including falling in love with William's daughter. While we know this romantic drama is a little lengthy coming in at three hours, we promise Hopkins and Pitts' stellar emotional performances are worth it.
'The Piano' (1993)
Mother-daughter duo Ada (Holly Hunter) and Flora (Anna Paquin) arrive at New Zealand's North Island with a handful of items, including a prized piano, to meet Ada's new husband, Stewart (Sam Neill). The relationship soon goes south when Stewart sells the piano to a neighbor name George (Harvey Keitel), who tells her she can earn the instrument back by teaching him how to play and some other things. Things get steamy...quickly!
Best Dramas of the '90s
'Fight Club' (1999)
The first rule of Fight Club is don't talk about Fight Club. ...But we're going to anyway: The unnamed protagonist, played by Edward Norton, is dissatisfied with his white-collar job, so he does what anyone in his position would: He starts a "fight club" for men who want to beat each other up recreationally. And there's a MAJOR twist. Though it was initially very polarizing, now, it's a cult film and regarded as one of the best of the '90s.
'Good Will Hunting' (1998)
20-year-old Will Hunting (Matt Damon) punches a police officer, is allowed deferred prosecution, and seeks therapy and mathematics tutoring from a renowned professor (Robin Williams). Ben Affleck and Matt Damon wrote the film together, and won an Academy Award for Best Original Screenplay. How do you like them apples?
'Forrest Gump' (1995)
This now-classic 1995 Best Picture winner takes audiences through the life of its titular character, the lovable—though slow—Forrest Gump (Tom Hanks). He runs across the country several times, meets Richard Nixon, serves in Vietnam, and teaches Elvis Presley to dance. Life is like a box of chocolates...
'Goodfellas' (1990)
It's the mob movies of all mob movies based on Nicolas Pileggi's best-selling novel Wiseguy about Henry Hill (Ray Liotta) and his rise and fall as a mobster in New York in the '60s and '70s without glorifying the violent behavior the occupation is known for. The six-time Oscar-nominated movie from Martin Scorsese may have debuted in 1990, but it would be talked about for the rest of the decade.
'Fargo' (1996)
The story of a husband who hires two criminals to kidnap his wife so he can receive the large ransom from his wealthy father-in-law was unforgettable in 1996. The crime movie that mixed in comedy put the Coen Brothers on the map and won Joel Coen the Best Director Award at the Cannes Film Festival the same year. I mean it got Frances McDormand her Oscar! It also inspired a spin-off series of the same name that premiered on FX in 2014 that was equally great.
'Boogie Nights' (1997)
Director Paul Thomas Anderson put himself on the map with the 1997 film about the pornography industry in the late 70s and early 80s. We relished in Burt Reynolds' mustache, gasped at Mark Wahlberg's prosthetic penis, and just couldn't take our eyes away from the screen until the credits rolled. The craziest thing of all about the film isn't even in the picture: Leonardo DiCaprio was going to play Dirk Diggler but had to turn it down because he was filming Titanic. He then suggested Wahlberg for the role.
'Thelma and Louise' (1991)
When Ridley Scott's thrilling adventure of two best friends on the run hit theaters in the summer of 1991, we were forever changed. It was one of the first movies I saw that showed me all things women could (and had been doing) without the over-looming guidance of males. The bond Geena Davis and Susan Sarandon share is nothing short than perfection. Also, speaking of perfection (for the second time on this list), we get a shirtless 26-year-old Brad Pitt, so no complaints here.
'Shawshank Redemption' (1994)
Stephen King's 1982 novella Rita Hayworth and Shawshank Redemption finally saw the big screen in this Oscar-nominated story of two inmates serving a life sentence at one of the country's harshest prisons, documenting their tight-knit relationship over many years. It's longer than most films, and devastating in its themes, but you'll treasure every minute.
'Selena' (1997)
J. Lo's breakout role was to play the Tejano music star Selena Quintanilla-Pérez in a biopic about her life and tragic death at 23. The songs are gorgeous, the performance is heartfelt, the story's important and resonant. For weeks afterwards you'll find yourself singing "Dreaming of You" at the top of your lungs.
'The Joy Luck Club' (1993)
Based on the bestselling 1989 novel written by Amy Tan, The Joy Luck Club is a tear-jerker tale between four first-generation Chinese-American women and their mothers. It was the first film of its kind to feature an all-Asian cast, something that wouldn't be seen again until the release of Crazy Rich Asians in 2018. Bring lots of tissues and get ready to call your mom when the credits start to roll.
'Elizabeth' (1998)
All hail Cate Blanchett. This is an absolute tour-de-force performance (Blanchett was only 29 at the time!) of the ascension of Queen Elizabeth. It's got a lot of surprisingly resonant themes: the pressures of a woman to get married, the constant onslaught of men trying to tell her what to do, a very sexy boyfriend (Joseph Fiennes) who ends up being kind of a douchebag. She's the 16th century feminist we love to see on our screens.
'Edward Scissorhands' (1990)
If you ever want to explain to someone from Gen Z why Tim Burton and Johnny Depp have worked together approximately a zillion times, all you have to do is show them Edward Scissorhands, which was the perfect marriage of the frequent collaborators' individual brands of creepy quirkiness in 1990.
'Schindler's List' (1993)
Schindler's List is based on the true story of industrialist Oskar Schindler (Liam Neeson), who, with the help of his wife (Caroline Goodall), saved more than 1,200 Jews by employing them in his factories during World War II. It earned Steven Spielberg his first Oscar win for Best Director and would take home six other Academy Awards.
'The Truman Show
Hundreds of tiny cameras have been watching Truman Burbank's (Jim Carrey) every move for close to 30 years as a part of an extreme 24/7 reality show called The Truman Show. Except he doesn't know he's the main character of this real-but-fictional world...until he finds out the hard way.
'Pulp Fiction' (1994)
This 1994 black comedy made up of several interwoven stories of characters involved in a world of crime and violence cemented Quentin Tarantino's popularity. Pulp Fiction is self-referential, out of chronological order, and entirely iconic. It stars John Travolta, Samuel L. Jackson, Uma Thurman, and Bruce Willis, and was nominated for seven Oscars.
'Jerry Maguire' (1996)
Tom Cruise, Cuba Gooding Jr., and Reené Zelleweger showed us the money in this instant classic from legendary journalist Cameron Crowe. The script about a uber-succ