'Sweet Magnolias' Was Filmed In the South—Just Not South Carolina
The Netflix show is set in Serenity, South Carolina, but filmed in Georgia.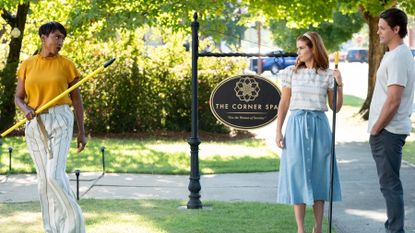 (Image credit: ELIZA MORSE/NETFLIX)
A fourth protagonist in the Netflix romantic drama Sweet Magnolias is the fictional town of Serenity, South Carolina, which is as central to the show's DNA as Stars Hollow is to Gilmore Girls. Of course, Serenity doesn't exist, except in the Sherryl Woods book series that the Netflix show is based on. But fans are wondering: Where is the idyllic small town in which Sweet Magnolias was filmed? Does it even exist? And if it does, should I move there?
Sweet Magnolias was filmed in Covington, Georgia.
So, not in South Carolina—but still in the South, which is nice to hear for such a quintessentially Southern show. (If I had to take a shot for every time someone said "Bless your heart" on this show, I'd be on the floor.) Covington is a city in Georgia with a population of 13,000, and is known as "the Hollywood of the South," according to Explore Georgia.
That's because...
Several shows before Sweet Magnolias were filmed in Covington
Clearly, Covington has something going on, because multiple hit shows have been filmed here (even the city's Instagram bio notes that). Before Sweet Magnolias, dozens of hit shows and movies—including The Dukes of Hazzard, In the Heat of the Night, and Legacies —were filmed here.
Sweet Magnolias on netflix takes place in MYSTIC FALLS and it's hurting my brain bc im simultaneously watching the vampire diaries like WHERE ARE THE VAMPIRES HELLO???May 26, 2020
See more
The city is most famous for hosting The Vampire Diaries, and tourists flock to the "Vampire Diaries tour," which takes diehard fans around a bunch of locations featured in the series.
But the book series is based on a real-life South Carolina town.
In the introduction to Stealing Home, a book in her Sweet Magnolias series, Woods writes that Serenity is based on the city of Sumter, South Carolina, which Woods visits briefly every summer as a pit stop on her way to her summer home in Florida. Of the people of the city, Woods writes: "Thanks for the warm welcome, the laughter, the great meals, and the inspiration for this new community."
Sumter, per the census, has a population of 40,000, so it's considerably bigger than Covington. It's known as the "Gamecock City."
That said, Covington is very excited about Sweet Magnolias.
On the city's tourism website, it writes happily: "The beautiful, quaint downtown area provides the perfect backdrop for this new romance drama that is set to premiere on Netflix...The romantic drama comes alive as you walk through the Square and visualize the three friends sitting on a bench, laughing and talking as only best friends do. The setting is perfect for the romantic twists and turns told in "Sweet Magnolias"."
People want to move to Serenity.
Maybe it's a product of the troubled times we're living in, but oh man—fans of Sweet Magnolias are loving the close-knit town of Serenity.
Lets take a moment to appreciate the level of friendship that #SweetMagnolias depicts. I've cried with these ladies and their children. I've felt their love. The advice I've gained... Can I just move to Serenity?! Actually, better yet, @netflix should give me another season 😝May 27, 2020
See more
i started watching #sweetmagnolias on @netflix this morning so i of course had to dress her in her Serenity best pic.twitter.com/xh7U9aZ6WRMay 25, 2020
See more
These types of shows are not really my cup of tea but for some reason I really loved this one, I'm binging now it's so great and makes me forget the chaos around me, wish I was in Serenity right about nowMay 25, 2020
See more
I really need there to be a season 2 of Sweet Magnolias so everyone should watch it on Netflix... also I'm moving to Serenity, South Carolina #yallMay 25, 2020
See more
Which is good news, because...
You can visit Sullivan's Restaurant IRL.
In the series, Dana Sue Sullivan, played by Brooke Elliott, owns Sullivan's Restaurant and serves as head chef. In real life, Sullivan's Restaurant is called Mystic Grill, and, yes, you an visit. Reviews on TripAdvisor are glowing: "This place was amazing. The decor is welcoming and the service is exceptional. Every attention to detail is evident. The meals we had were not only delicious but the presentation was impressive."
Related Story
Celebrity news, beauty, fashion advice, and fascinating features, delivered straight to your inbox!