Fashion Icon Martin Margiela Breaks His Silence in a New Documentary
Filmmaker Reiner Holzemer shares how he captured the elusive designer.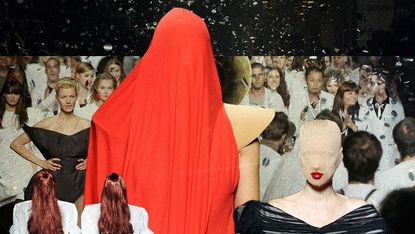 (Image credit: Getty)
While the name Martin Margiela is renowned in the fashion world, the man himself is not well-known. Despite being featured in glossies and having his name scrawled across the windows of his minimalist boutiques, the designer remains as much of an enigma as the white, wordless tags of his chic clothing.
Until now. A new documentary Martin Margiela: In His Own Words is available today via virtual cinema. The film sheds light on the man behind the label, offering an intimate portrait of fashion's most elusive figure.
Margiela made waves in fashion with his first show in 1989. From the very beginning, he wanted the clothing to speak for itself. He stayed backstage, did almost no press—save for a few interviews conducted via fax—and eschewed fame and celebrity. Then, in 2009, at the height of his career, he left his namesake fashion house without publicly saying goodbye, slipping further into his preferred state of anonymity. He has rarely been seen since making that bold decision, becoming the so-called "Banksy of fashion."
So in an unprecedented but fitting move, Margiela keeps his face hidden in the film. It's a decision that director Reiner Holzemer respected. "To this day, he wants to be anonymous," Holzemer tells Marie Claire in an interview from his home in Munich. "He wants to be able to go out in Paris for coffee in a café and no one will recognize him."
After making a documentary on designer Dries van Noten, Holzemer knew he wanted to keep his cameras trained on the fashion world. An exhibition on Margiela in Antwerp convinced the filmmaker of his next subject. "I could not stop thinking about [Margiela], reading about him," says Holzemer. "I told my co-producer that I would love to try and get in touch with him, even though she said he never does interviews and, in the last 30 years, he had not allowed anyone to take his picture. I thought, Well, maybe I'm lucky."

Convincing fashion's invisible man to be followed by video cameras for months was not an easy task. "I had to be very, very patient," says Holzemer. He submitted a request to someone who knew someone, and three or four months later, he got an email response from the designer himself. At first, Margiela assumed the film would document his 2018 retrospective at Paris's Palais Galliera, but Holzemer had a different idea: a portrait of a man who chose to disappear. Margiela balked, so Holzemer agreed to make a movie about the exhibition, even though he thought it would be "quite boring" to watch. It was a way of building trust, though, which is one of the most important instruments in a documentarian's toolkit. It worked. Six weeks later, Holzemer got a hand-written note from Margiela, agreeing to collaborate on a documentary. It took another month for the Belgian designer to agree to allow his voice to be used in the movie, and even longer for the very private man to agree to share childhood memories. "It was always convincing, it was always a process," says Holzemer.
Over the course of nearly a year, Holzemer collected more than 200 hours of film, including images of Margiela's studio, the designer's hands flipping through sketches, clips of his fashion shows, and interviews with those who knew and admired him, including designer and mentor Jean Paul Gaultier, fashion icon Carine Roitfeld, and fashion critic Cathy Horyn. The result is a film that is truly a collaboration between Holzemer and Margiela, offering the designer's curated version of his life, starting from his childhood in Belgium to his school days at the Royal Academy of Fine Arts in Antwerp to his time working with Jean Paul Gaultier and his custody of the revered house of Hermès, all while running his own company. Interlaced with his memories are videos of Margiela's groundbreaking fashion shows—set in parking garages and playgrounds—videos that document his inventive clothing, his rise to the world of haute couture (though he rejected that mantle), and the gorgeous, meticulous creations of his that became synonymous with capital-F Fashion.
One of the film's most telling moments has Margiela recalling an art school project that led him to create a jacket from a tea towel—no cutting, no pattern, just a towel folded and stitched into clothing. That project ushered in an ongoing theme in Margiela's clothing: common objects transformed into art. Military socks became sweaters; wigs became coats; waistcoats were born from porcelain; even a plastic bag was repurposed into a top. As Margiela describes the process, he makes turning a grocery bag into high fashion sound like the most natural idea in the world. His descriptions of radically imaginative pieces, from the Tabi boot with its divided toes to his beloved flat sleeveless jackets, flow across the film, barely giving the viewer time to recognize how revolutionary his looks were.

As a collaborator, Margiela tells the story he wants people to remember. He takes time to set the record straight about the split with his long-time business partner Jenny Meirens, his controversially edgy work at the normally staid Hermès, and even his decision to take on investment from Italian fashion entrepreneur and Diesel founder Renzo Rosso. He is diplomatic about it all, glossing over details he doesn't want to dwell on, like his final days at his fashion house. "It was not his first choice to talk about this moment in his career," explains Holzemer. "It was very painful for him." Holzemer believes Margiela is very happy to have it all behind him: "He wanted to make a positive documentary. [Margiela] said, 'I want to talk about the fun part of the fashion world, to encourage young people to follow their own dreams.'"
The film is a retrospective on the creative's life, and also a reminder of how influential Margiela's work continues to be. His anti-fashion fashion, oversized silhouettes, repurposed garments, and deconstructed outfits blazed a trail for designers—Raf Simons, Rick Owens, Alexander McQueen, Jacquemus, and countless others—touching both couture and street wear. As Roitfeld says in the film, "Even to this day Margiela is present."

While Margiela's name is still in stores and his imprint on fashion remains as indelible as ever, it's true that he has been gone from the fashion world for a long time now. That absence, though, may not be permanent.
At the end of the film, Holzemer asks Margiela if he's said everything he wants to say with fashion yet. Margiela quickly and confidently responds with one word: "No."
Related Stories
Celebrity news, beauty, fashion advice, and fascinating features, delivered straight to your inbox!