HBO's 'The Undoing' vs. Jean Hanff Korelitz's Book 'You Should Have Known': All the Differences
The Hugh Grant and Nicole Kidman drama is based on the 2014 novel.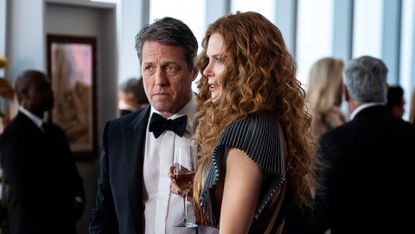 (Image credit: HBO ¦ NIKOTAVERNISE.COM)
Much like Nicole Kidman and David E. Kelley's last HBO vehicle, Big Little Lies, their drama The Undoing (opens in new tab) is based on a beloved book: Jean Hanff Korelitz's "You Should Have Known." The series is a looser adaptation of the source material than Big Little Lies was, but the characters of (opens in new tab)The Undoing (opens in new tab) are based on those in "You Should Have Known," and at least the first episode bears a strong resemblance to the book. Both book and series revolve around Grace and Jonathan, (opens in new tab) a therapist and pediatric oncologist, respectively, whose lives are torn apart by a terrible crime. Spoilers for episodes one to five The Undoing ahead, as well as spoilers for the book You Should Have Known.
Ahead, some of the most notable similarities and distinctions between The Undoing and its source material (which, I should note, is a great book in its own right, and well worth a read whether you're enjoying the series or not).
What's the same: The family unit of Grace, Jonathan, and Henry Sachs.
The central family of The Undoing bear the same names and many of the same traits as those in "You Should Have Known." There's Grace, a therapist born and bred in New York City, whose specializes in relationship therapy and considers it her duty to tell her clients when they're in prisons of their own making. Then we have Jonathan, a charming pediatric oncologist who's a loving husband to Grace and father to Henry. Henry, meanwhile, is a young violin student who goes to a private school in New York called Rearden, tuition of which is paid for by Grace's wealthy father.
But other characters in The Undoing—specifically Sylvia (Lily Rabe); Grace's other friends from Rearden; and Grace's father (Donald Sutherland)—are quite different from how they're portrayed in the book. For example, Grace's father is fairly meek and happily married to his second wife in the novel, whereas in the series he's a larger-than-life character who appears to be single. There are also multiple characters in the book that never make it to the movie, including Grace's former best friend, partly because the book is set at the beach house and the series is set in New York City.
What's different: The character of Elena.
This is a key difference. Jean Hanff Korelitz's version of Elena is called Malaga Alves, and she's considerably less young and beguiling than the HBO version. Malaga Alves seems similar to "Elena" in that she's also the mother to a young son and infant daughter, but Elena is a very different personality: Elena has agency, for one, whether Malaga never seems to. Malaga also doesn't display sexually provocative behavior around Grace—I'm talking about the gym and elevator scenes, to be clear, not the breastfeeding scene— that is shown in The Undoing.
There are a few likely reasons Malaga became Elena. First, Malaga has come under fire for being a Latinx stereotype (opens in new tab). Secondly, this a gorgeous, glossy TV show, and Elena is a young, gorgeous, glossy woman who appears naked in literally her second scene; Malaga, meanwhile, is older and less overtly sexualized. Third, Malaga has only a small role in the book, and in the series it's immediately clear Elena is a key character.
What's the same: The violent death of Malaga/Elena.
Both the book and the film use the violent death of Malaga/Elena, the woman Jonathan has been having an affair with, as the catalyst for everything that happens thereafter. The way the character dies is slightly different—in the book, Malaga is stabbed to death, and in the series Elena dies from a blow to the head—but in both cases, she is violently killed one evening, and her body is discovered by her young son the next morning.
What's different: Who killed Elena.
The series poses the question: Who murdered Elena? Was it Jonathan, or someone else? The book poses no such question. It's clear early on in the novel that Jonathan murdered Malaga/Elena, and by the end of the book he's confessed to it in a letter to Grace. He's also on the run for almost all of the novel, which is a nod to his guilt. (At the very end, he's captured abroad and extradited back to the United States.) The book essentially culminates in the conclusion that Jonathan is a sociopath.
The series, however, takes a very different approach, hinting that Jonathan may be innocent. It points fingers at Elena's husband, Fernando Alves (Ismael Cruz Córdova), who is a much bigger character than he is in the novel—and later, the series hints that Grace or Henry could be responsible. This is not the case in the novel: Fernando is only mentioned when detectives tell Grace that he has a rock-solid alibi for the night of his wife's murder—and because the novel is told from Grace's perspective, it's clear that she isn't the killer. Nobody ever suspects Henry to be the culprit.
Another character that simply doesn't exist in the book is defense attorney Haley Fitzgerald (Noma Dumezweni). The Jonathan of the book has no defense attorney, because there's no trial, because Jonathan is fleeing capture until the very end of the book.
Direct Susanne Bier tells (opens in new tab)Marie Claire: (opens in new tab) "It was always going to be Jonathan who killed Elena...Although the series uses the book [as inspiration] for the first two episodes, it does use the book as a kind of conceptual framework. That whole notion to 'regulate the truth,' to massage the truth into what we want it to be, is such a big important issue that we all felt we were doing a really fun and really entertaining whodunit twist and turn but at the core of it was that [book's philosophy]."
What's the same: The story about Jonathan, the dog, and his sibling.
Something that seems innocuous at first but later reveals itself to be telling in the book: Jonathan's aversion to dogs. In "You Should Have Known," Jonathan won't let Henry get a dog, because his childhood dog escaped while on Jonathan's watch and the event turned Jonathan's family against him.
This same story is told in the series: Grace shares with her son that Jonathan was shunned by his family after the death of their beloved dog. But when Grace eventually speaks to Jonathan's mother, she is told a very different story. It wasn't a dog, his mom reveals. It was a sister, and Jonathan was responsible for her death.
This is true of the novel, too, with some slight differences. It was a brother in the novel, one who was left in his brother's care when he had the flu. Jonathan, the book suggests, shut his brother out in the cold and left him to get sicker and sicker; by the time the family got home, there was nothing they could have done.
What's different: Grace's self-help book.
In "You Should Have Known," the title is a reference to the self-help book Grace is writing. This is one of the central conceits of the book: That Grace, a woman writing a self-help book specifically about how "you should have known" the core traits of your partner before you committed to them, finds herself in her current situation. The Grace of the book lives by central tenet of the self-help book she's writing: That before you marry a person, you know their worst traits, and you know what you're getting into—even if you convince yourself later that you didn't.
The self-help book is entirely left out of the series. Though Grace of the series has the same profession and displays a "you should have known"-esque attitude to bad relationships, there is no book.
What's the same: The escape to Grace's beach house.
In both the book and the series, Grace and Henry flee to her family's house upstate after the New York media gets hold of the story. In the book, they stay there for good; Grace reconnects with an old, beloved friend; her dad comes to visit; Henry loves his new school; and there's a suggestion that Grace finds a new love.
In the series, they're back in New York City within the episode.
What's different: Jonathan is not British.
There's no great mystery as to why this change was made. Jonathan of the book is American, and was born and raised just a couple of hours away from Grace.
In the series, of course, Jonathan is played by Hugh Grant. While I have no doubt that Hugh Grant could do an American accent, I gotta say that seeing Hugh Grant do an American accent and try to pass it off as normal would be...a major distraction. It makes far more sense for Jonathan of the series to be British and to have settled in New York.
Director of Content Strategy
Jenny is the Director of Content Strategy at Marie Claire. Originally from London, she moved to New York in 2012 to attend the Columbia Graduate School of Journalism and never left. Prior to Marie Claire, she spent five years at Bustle building out its news and politics coverage. She loves, in order: her dog, goldfish crackers, and arguing about why umbrellas are fundamentally useless. Her first novel, EVERYONE WHO CAN FORGIVE ME IS DEAD, will be published by Minotaur Books in 2024.