Princess Diana's Surprise 'Uptown Girl' Dance: The True Story
Yes, she really danced to Billy Joel at the Royal Opera House. No, you can't watch the original performance.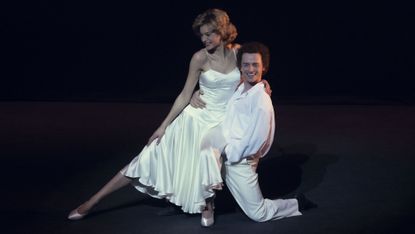 (Image credit: Netflix)
The Crown has always had a knack for revealing stories and scandals of the royal family so scarcely known that they've stumped even the most diligent students of the Mountbatten-Windsors. But with the Netflix series' latest jump forward in time, heralding the onscreen arrival of the Princess Diana-Prince Charles-Camilla Parker-Bowles love triangle, The Crown has outdone itself in delivering thrilling moments and juicy secrets long buried in royal history. Case in point: Diana's perfectly choreographed dance to Billy Joel's "Uptown Girl," as depicted by Emma Corrin in "Avalanche," the ninth episode of season four.
This jaw-dropping moment really did happen, really was a total surprise to the Royal Opera House's entire audience of British VIPs, and really (OK, maybe) left Charles annoyed at what he felt was his wife's lack of decorum and attention-seeking behavior. Here's the full story behind Princess Di's "Uptown Girl" moment, from how it came into existence to its effect on Charles and Diana's already-strained marriage.
Whose idea was it for Princess Diana to dance to Billy Joel?
That was all her. Diana and Charles were scheduled to attend the "Friends of Covent Garden" charity event on Dec. 23, 1985. The event, held annually to raise money for the Royal Opera and Royal Ballet, often featured funny skits and surprise celebrity appearances; indeed, the royal couple had appeared onstage at the previous year's event to perform in character as Romeo and Juliet, with Charles showcasing his singing skills with a rendition of the "Just One Cornetto" ice cream jingle, according to Tina Brown's The Diana Chronicles.
Several weeks ahead of the 1985 event, Diana reportedly got the idea to surprise her husband with a dance—as something of a belated birthday surprise for his 37th birthday that November—and reached out to Wayne Sleep, a senior principal dancer of the Royal Ballet, to serve as her partner. Sleep described his first rehearsal with Diana to The Guardian in 2017: "We met in a rehearsal studio in west London. She was in leg warmers and a leotard. My first thought was, 'She's too tall to dance with me, I'll be a laughingstock: I'm 5'2" and she's 5'11".' But I soon realized she had a good sense of humor and that we could have some fun with our height difference. She'd already decided on the music: Billy Joel's 'Uptown Girl.'"
Who is Wayne Sleep, Diana's dance partner?
Sleep, played by dancer Jay Webb in The Crown, joined the Royal Ballet in 1966 and quickly gained fame both for his immense talent and for his status as the shortest male dancer ever admitted to the U.K.'s prestigious Royal Ballet School. Though his short stature often excluded him from being cast in traditional main roles, his talent led to many choreographers and writers creating lead roles specifically for him. In fact, Andrew Lloyd Webber built the entire second act of his 1982 show Song and Dance around Sleep; the year prior, Sleep originated the role of Mr. Mistoffelees in the initial West End run of Lloyd Webber's Cats.
Sleep first met the Princess of Wales in the early '80s, when Diana, an avid ballet dancer and fan, asked him for jazz, tap, and contemporary dance lessons, though the dancer told The Guardian he had to turn her down due to his demanding schedule. Later, after their headline-making performance at the Friends of Covent Garden event, Sleep told the outlet they became close friends.
"She came to my London performances, and would always pop into the dressing room afterwards. And she would often visit me for dinner at my flat in south Kensington. She would kick off her shoes and we'd have a giggle, talking about this and that: her kids, my work, nothing controversial. I'd cook, and she'd wash up," Sleep said. "I think we got on because we were quite similar: We were both loners; we both had to carve out our own paths (there were no traditional leading roles for me because of my height); we didn't set much store by protocol."
Can you watch Diana's "Uptown Girl" performance?
Sadly, since the dance took place before the days of camera phones and nobody thought to film the VIP event for posterity, no video of Diana's performance exists. However, the Royal Opera House's photographer snapped a few photos at the event (which were mysteriously released by the tabloids a decade later), and Sleep blocked out the dance for CBS' 48 Hours in 2017. Between both of those and The Crown's rendition of Diana's iconic onstage moment, you can build a pretty solid mental image of how her actual performance probably went.
To further illustrate the performance, Sleep also described the dance in his own words to The Guardian: "The audience gasped when Diana appeared, as if they'd all taken one huge breath. The routine had a bit of everything: jazz, ballet, even a kickline. At one point, I pirouetted and she pushed me down; then I carried her across the stage. I remember thinking, 'Don't drop the future Queen of England.'" A very important note to self!
What was the reaction to Diana's dance?
The performance was met with a standing ovation and no fewer than eight curtain calls, per Tina Brown's biography of the princess. Her husband, however, may have been the one person in the audience not thrilled with the dance: While he may not have gone so far as to scold Diana for her "grotesque, mortifying display," as he does in The Crown, he reportedly appeared to act "coolly, even distantly" toward his wife at a reception after the event. According to Brown, Charles' reaction could have been either "frigid disapproval of Diana's lapse in royal etiquette," or, as Sleep posited to the princess' biographer, sadness over being left out after their showstopping duet the previous year—or perhaps a bit of both.
Of course, the most important reaction is that of the uptown girl herself, and Diana, for one, was thrilled with her performance. As Sleep told The Guardian, "She loved the freedom dancing gave her. A few days later, I got a letter. She wrote: 'Now I understand the buzz you get from performing.'"
Andrea Park is a Chicago-based writer and reporter with a near-encyclopedic knowledge of the extended Kardashian-Jenner kingdom, early 2000s rom-coms and celebrity book club selections. She graduated from the Columbia School of Journalism in 2017 and has also written for W, Brides, Glamour, Women's Health, People and more.