'Sex Education' Season 4: Everything We Know
Returning to Moordale one last time.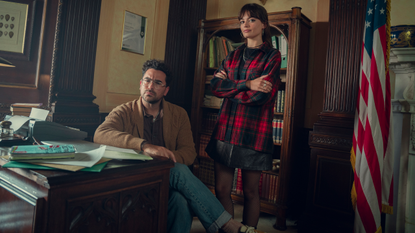 (Image credit: Courtesy of Netflix)
Marie Claire Newsletter
Celebrity news, beauty, fashion advice, and fascinating features, delivered straight to your inbox!
Thank you for signing up to Marie Claire. You will receive a verification email shortly.
There was a problem. Please refresh the page and try again.
If you're like us, you've already binged all eight episodes of season 3 of Netflix's Sex Education. The comedy hit returned September 17 with its best season yet, as the students of Moordale rebelled against their new authoritarian head teacher, played by Girls actor Jemima Kirke. Fans of the show devoured the new season, which came back after a 19-month-break, and are already clamoring for more episodes (and that cliffhanger ending doesn't help!).
Luckily, Netflix hasn't left us with a long wait for a renewal. The streamer announced that Sex Education will return for a season 4 at their fan event Tudum 2021. The announcement came only a week after season 3's premiere, in one of the fastest renewals for a Netflix original series in a while. While the teen comedy took a bit longer to return to expected, the streaming giant just confirmed that the show will return for its final season this fall. As we celebrate and start speculating on what could come next for Otis and the gang, here's what we know about season 4 so far.
When will 'Sex Education' season 4 come out?
Netflix announced today that the British teen comedy will return just in time for the school year, releasing on September 21, 2023. They revealed the release date along with an emotional letter to fans written by series creator, lead writer, and executive producer Laurie Nunn, where she explains that season 4 is the "right time to graduate" while reminiscing on the show's beginnings.
"We are incredibly proud of 'Sex Education' and feel indebted to our brilliant writers, cast and crew who put so much heart into making every episode. They have worked tirelessly to bring you the final series, and we can't wait to share it with you," Nunn wrote.
In a Tudum interview, Nunn revealed that the decision to end the show with season 4 came up while the creative team was writing the new episodes, saying, "during that process, it just started to feel very clear that the stories were coming to an end, the characters were being left in a place that I felt really good about it. I felt happy for them, and I felt like I've said everything that I want to say with these characters at this time."
Netflix previously revealed the show's return in a "Moordale News" alert posted in September 2021. The clip paired the secondary school's logo with a bulletin-style statement: "BREAKING NEWS: SEX EDUCATION TO RETURN FOR SEASON 4."
I guess we'll be seeing you for S4!! @sexeducation 🍆🍆🍆 pic.twitter.com/1nrDz3Q3vVSeptember 25, 2021
See more
Is there a trailer for 'Sex Education' season 4?
The full trailer dropped today, which means it's almost time to say goodbye to the former students from Moordale. Or rather, the new students of Cavendish Sixth Form College, which will seemingly live up to the hype of being even more sex-positive than Moordale. In between the clips of several characters either exploring new hookups or getting more in touch with themselves (shoutout, Aimee), Otis and and Maeve are trying to make long distance work as she's studying in the U.S. (with tutor Dan Levy). In the series' latest irreverent needle drop, the Meat Loaf classic "I'd Do Anything for Love (But I Won't Do That)" soundtracks Otis as he attempts to take great nudes.
Netflix previously dropped the first teaser for the new season last July, along with a logline confirming that all of our faves will be dealing with some fish-out-of-water worries at their respective new schools:
"Following the closure of Moordale Secondary, Otis and Eric now face a new frontier—their first day at Cavendish Sixth Form College. Otis is nervous about setting up his new clinic, whilst Eric is praying they won't be losers again. But Cavendish is a culture shock for all the Moordale students—they thought they were progressive but this new college is another level. There's daily yoga in the communal garden, a strong sustainability vibe and a group of kids who are popular for being… kind?! Viv is totally thrown by the college's student-led, non-competitive approach, while Jackson is still struggling to get over Cal. Aimee tries something new by taking an Art A-Level and Adam grapples with whether mainstream education is for him. Over in the US, Maeve is living her dream at prestigious Wallace University, being taught by cult author Thomas Molloy. Otis is pining after her, whilst adjusting to not being an only child at home, or the only therapist on campus…"
Who will be in the cast of 'Sex Education' season 4?
Sex Education's sprawling, talented cast will be missing a few familiar faces for the new season, as several members have graduated from the show a bit early. The confirmed cast members who are returning include: Asa Butterfield (Otis Milburn), Gillian Anderson (Jean Milburn), Ncuti Gatwa (Eric), Emma Mackey (Maeve), Aimee-Lou Wood (Aimee), Connor Swindells (Adam), Kedar Williams-Stirling (Jackson), Mimi Keene (Ruby), George Robinson (Isaac), Chinenye Ezeudu (Viv), Dua Saleh (Cal), Alistair Petrie (Michael Groff), Samantha Spiro (Maureen Groff), Jim Howick (Colin Hendricks), Rakhee Thakrar (Emily Sands).
Several fan-favorites have already revealed over the past two years that they wouldn't be returning for the new season, including Tanya Reynolds (Lily), Patricia Allison (Ola), and Simone Ashley (Olivia), who's been a bit busy with a little show called Bridgerton. While Gatwa and Mackey have both landed major roles since season 3, (Gatwa will soon debut as the new lead of Doctor Who, while both actors will appear in Barbie later this month), they both will appear in the new season.
Of course, the series has also brought on a new class of supporting actors for Moordale's last hoorah. Schitt's Creek star Dan Levy will play Thomas Molly, Maeve's acclaimed writing teacher at her new school, while Somewhere Boy's Lisa McGrillis will play a new Milburn relative, as Jean's younger sister, Joanna. Doctor Who's Thaddea Graham will play O, a new rival sex therapist to Otis, while newcomers Anthony Lexa, Felix Mufti, and Alexandra James will play the popular clique at Cavendish, The Coven.
Other new cast members in undisclosed roles include Queen & Slim star Jodie Turner Smith, Kamikaze's Marie Reuther, comedian Eshaan Akbar, and newcomers Reda Elazouar, Bella Maclean, and Imani Yahshua.
What happened in 'Sex Education' season 3?
Spoilers for Sex Education season 3. The season 3 finale left all of the characters' fates up in the air, now that Moordale Secondary has closed its doors due to a lack of funding. The show's core couples are in flux too. Maeve and Otis finally confessed their feelings to each other, but soon after Maeve left for a study-abroad opportunity in America. Eric broke up with Adam after realizing that he wanted to explore his self-identity without his newly-out boyfriend. After a season trying making it work with Jakob, Jean discovered that he's not the father of her baby. All of these threads leave some very interesting ground for the show to explore in its new season.
What have the cast and crew said about season 4?
Butterfield told Cosmopolitan UK before the premiere that he's not sure what's next for the show, but he's definitely down for a fourth season. "I'd love to do a fourth season, because we have so much fun on this show. At the same time we've been doing it for three years now, and I'd be happy saying goodbye to these characters… We'll have to see."
He also opened up about the possibilities for what's next, letting his imagination run wild. "[I want a] Christmas movie! Sex Education-themed. We don't know [whether there will be more.] It's out of our hands at this point. I wish I could tell you more, I genuinely don't know."
He added, "A spin-off would be good but it has to be well-thought out and really unique and not just for the sake of doing a spin-off."
Butterfield and Ncuti Gatwa also shared their hopes for future seasons with ELLE, with Butterfield hoping that the show will expand Otis and Maeve's relationship.
"I would like to see them...look at the bigger picture. To explore themselves and to be more focused either on their relationship with themselves or their platonic relationships with their friends and family," he said.
He also wished for more scenes between him and his real-life friend Gatwa. "Otis and Eric, they're most themselves when they're with each other. I wish there were more scenes with us."
Gatwa added, "We ask for that every season. [Showrunner Laurie Nunn] is like, 'What do you want?' 'More scenes with Otis.'"
Mackey also shared her hopes for Maeve in a possible fourth season with ELLE, saying that she hopes the teen with come out of her shell a bit more in America.
"I'm excited for her to make some new friends, to open up a bit more and be exposed to a different culture, to a different kind of world. Because she's only ever lived in her little tiny bubbles. How is she out of that bubble?"
She continued, "It'd be really nice to see her actually living out a dream for herself. What does that do to a person, and how does that change you? What kind of happiness does that give you? And all the anxieties that come with being away from home. If we get to it, it will be a lovely thing to witness."
Casting director Lauren Evans told Metro.co.uk back in May that she is hoping for many more seasons "as long as people want it, as long as the stories are there to tell." She also mentioned that creator Laurie Nunn has previously said that she doesn't think viewers will continue watching the show past the end of school.
"Like Laurie said before, Laurie doesn't want to keep going and put these people through college and university and you know into middle age," Evans said, adding a hopeful, "But we'll see."
Celebrity news, beauty, fashion advice, and fascinating features, delivered straight to your inbox!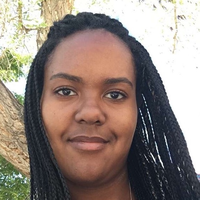 Contributing Culture Editor
Quinci LeGardye is a Contributing Culture Editor who covers TV, movies, Korean entertainment, books, and pop culture. When she isn't writing or checking Twitter, she's probably watching the latest K-drama or giving a concert performance in her car.