The 32 Best 'Friends' Cameos of All Time
Oh hi, Brad Pitt!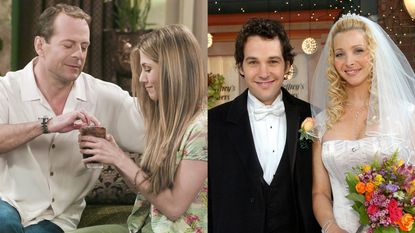 (Image credit: Getty Images)
In the 1990s and 2000s, no show was more popular—or more culturally relevant—than Friends. And, if you were an actor, there was no more coveted role than the guest cameo: Sometimes within a single episode, sometimes spanning across entire seasons, you could be cast as a love interest, a family member, or a total stranger. The network sometimes engaged in "stunt" casting, to bring a famous name onto the show with the idea of boosting ratings. Sometimes one of the actors might bring on a friend (or even an at-the-time husband—more on that later). And sometimes the show had a knack for bringing on an actor early in their career before they hit mega-stardom.
If you're familiar with the show, you may remember some of these epic episodes, where someone super cool was hanging out with Monica, Joey, Rachel, Chandler, Phoebe, and Ross (that's Courteney Cox, Matt LeBlanc, Jennifer Aniston, Matthew Perry, Lisa Kudrow, and David Schwimmer, in case you forgot). But we're betting that there are just as many cameos you've forgotten or didn't realize at the time (John Stamos? Gabrielle Union??). Read on for the most hilarious, OTT, and scene-stealing cameos in Friends history.
Morgan Fairchild
Nora Tyler Bing (that's Chandler's mom, if you don't know her by name) made a number of appearances throughout the series. Morgan Fairchild, who starred in season one of Dallas and was well-known as a TV actor, embodies the erotic novelist with exactly the right amount of flirtatious arrogance.
Kathleen Turner
Charles Bing, Chandler's dad and a Vegas drag queen, was played by Academy Award-winning actress Kathleen Turner. It was…dated casting, especially the jokes surrounding Charles' appearance and mannerisms. Turner said she wouldn't take on the role today. But at least she got to sing "I Feel Pretty"!
Helen Hunt
Fans have always wondered if Friends shared the same universe as Seinfeld and Mad About You, which were airing at the same time. And, in a season one crossover episode, Helen Hunt (who played Jamie) and Leila Kenzle (who played Fran) came into Central Perk and mistook Phoebe for Ursula, Phoebe's twin and a waitress in Mad About You. Confirmation!
Dermot Mulroney
The My Best Friend's Wedding and Scream VI star had a short role in season nine as Rachel's coworker (and romantic interest, naturally) who steps aside when he realizes the whole Ross-Rachel complication of it all.
Leah Remini
Fun fact: Remini auditioned to play Monica. She didn't get the role, obviously, but she did get to play a pregnant woman named Lydia in season one delivering her baby on the same day as Ross' ex (who befriends Joey while he's in the hospital). Joey ends up helping her through her delivery in a surprisingly sweet moment.
Alec Baldwin
Parker, Phoebe's enthusiastically over-the-top friend and potential love interest in the eighth season, immediately clashes with the rest of the group thanks to his complete lack of sarcasm. Baldwin later said he found Lisa Kudrow "so beautiful and funny, but slightly odd in a wonderful way."
Susan Sarandon
Long-term Days of Our Lives actor Cecilia Monroe (Sarandon) plays Jessica Lockhart in season seven—that is, until she's written off the show as a way for Joey's character to return. Joey accidentally spills the beans to her that her character's brain is being implanted into Dr. Drake's body. She, understandably, is furious, but then forgives him and they have a quick fling. Sarandon called the experience "lovely" and said she felt "very, very privileged."
Denise Richards
In one of the show's weirder plotlines, Richards plays Cassie, Ross' cousin. Ross mistakenly thinks their movie night in is sexy, instead of friendly, and…tries to kiss her? It doesn't go well, to no one's surprise.
John Stamos
Stamos played a freaked-out coworker whom Monica and Chandler try to coerce into being a sperm donor for them [TOO R-RATED??]in season nine (which feels like a wild Mad Libs association). Stamos remembers feeling "heartbroken" over his cameo, since he was told to hold for applause when he entered—and the audience reacted with complete silence.
Jon Favreau
Remember Monica's billionaire boyfriend Pete, who decides he's gonna become a (very bad) MMA fighter in season three? Yup, that was celebrated director and actor Favreau! In a Reddit thread, he called his character "a man of tremendous focus and conviction" and jokingly said he worried about Pete because "I'll always have to live with the uncertainty of what his fate held."
Billy Crystal and Robin Williams
It's a quick scene in season three, but Tomas (Williams) and Tim (Crystal) have a back-and-forth about Tomas' wife's infidelity (spoiler alert: Tim is the one sleeping with her). Apparently, the comedians wandered on set and the writers asked them to do a cameo on the spot—which they completely ad-libbed.
Danny DeVito
You may remember the brief-but-memorable role in which DeVito plays a last-minute stripper Monica and Rachel find for Phoebe in season 10, the same stripper who starts weeping after the women aren't interested in him taking off his clothes. DeVito said that, aside from the fact that he wish he could have stripped completely (lol), he had a great time.
Dakota Fanning
Fanning was one of a few child actors (including Mae Whitman and Cole Sprouse!) to make a cameo on the show. She stars memorably in season 10 as an 8-year-old kid who befriends Joey (they have similar interests!) and gives him some wisdom about accepting Monica and Chandler moving out of the city and into her old house.
Kristin Davis
The Sex and the City star hopped by for a quick cameo in season seven as Erin, one of Joey's flings, whom Rachel and Phoebe end up loving way more than Joey. The two go on a few more dates, but Erin agrees that she and Joey just don't have a "spark."
Brooke Shields
The season two cameo was fun—Shields played Joey's stalker, who ends up licking his hand because she loves his character so much—but in less fun news, her husband at the time Andre Agassi was so enraged by her character's behavior that he came home and smashed all his tennis trophies.
Ben Stiller
A brief love interest for Rachel in the third season, Stiller's character Tommy is basically the angriest man alive (but pretends for a bit that he's, like, a totally normal and chill person). After he gets peed on by the pet chicken(!), his explosive anger immediately outs him to the group, and he breaks up with Rachel immediately on the way out.
Ellen Pompeo
Literally months before she officially became Meredith Grey, Pompeo starred in season 10 as an old classmate of Ross and Chandler and the source of a pact between the two to not date women they both liked (she absolutely made out with Chandler, though, so pact—broken).
George Clooney and Noah Wyle
The two ER doctors appear as…doctors, clearly, treating Rachel in season one in a network stunt that was nevertheless a fun cameo. They have a double date with Rachel and Monica that goes predictably badly, with the two ladies sniping at each other and confessing to insurance fraud. Which is a shame for the show's crossover opportunities.
Anna Faris
Anna had a multi-episode run as the birth mom to Monica and Chandler's babies—remember the surprise twins?—in season 10. Erica is initially worried she might not be pregnant with her football player's baby and instead might have gotten pregnant thanks to "Shovelly Joe" (in prison for, naturally, killing his dad with a shovel), but fortunately it ended up being the football player in the end. Baby Erica is named after her!
Freddie Prinze Jr.
Playing against his heartthrob type, Prinze Jr was a "mannie" (male nanny) named Sandy whom Ross and Rachel hired to take care of Emma in season nine. He ends up getting fired for being too sensitive and being an adult who likes playing with stuffed dinosaurs.
Jeff Goldblum
Goldblum is the very serious theater director Leonard Hayes who clashes with the very not serious Joey in season nine. The two end up getting along—right up until Joey (who uses his full bladder to act better) accidentally pees on Leonard. Fun fact: Jeff is one of only a few characters to break the fourth wall on the entire show.
Aisha Tyler
The first recurring Black character on Friends, Dr. Charlie Wheeler is a love interest first for Joey and then for Ross. (She ends up leaving them both!) Tyler later spoke about her role coming about because of "colorblind casting": "The role wasn't written as a woman of color, and when I auditioned, I read against women of every ethnic background," she said. But, she said she had a good time on the show.
Christina Applegate
Amy Green, one of Rachel's sisters, makes an appearance in season 9 (and Applegate was Emmy-nominated for the appearance). Applegate said she loved being on the show and has known some of the actors, including Perry, for years. Amy came back in season 10, just as selfish and horrible as ever!
Selma Blair
Blair's character Wendy appears in the ninth season, getting flirty with Chandler as the two are working together in Oklahoma. Both of them are married, which apparently doesn't appear to bother Wendy. Chandler quits his job to move back home.
Bruce Willis
Eliciting a huge audience scream, Willis starred in season six as Paul, the dad to Ross' much younger girlfriend…who also ends up dating Rachel. Perry later confessed that Willis appeared on the show because he lost a bet to Perry over whether the film they starred in, The Whole Nine Yards, would be a hit.
Gabrielle Union
Kristen, whom both Ross and Joey like, goes on dates with both men in season seven. Shocker—both men compete for her attention, and she ends up not interested in either of them. Union has spoken about feeling disrespected (on the show and in Hollywood) as a Black actress; She hosted an all-Black cast Friends episode reading in 2020.
Jennifer Coolidge
Coolidge made a very memorable appearance in the tenth season of the show, the fake-British accent-having Amanda who annoys her former roommates (Phoebe and Monica). Coolidge called the role "intimidating," and that she was discouraged from improvising any of her lines. The bloopers are still amazing, though.
Paul Rudd
Technically this could fall in guest role instead of cameo—Rudd appeared in the last two seasons as Phoebe's love interest and husband-to-be Mike—but it was still a treat to occasionally get the goofy character in a few fun scenes. Rudd admitted he found the experience "strange" and "surreal," feeling like an outsider during the emotion-filled last episodes for the tight-knit cast.
Winona Ryder
Melissa Warburton, Rachel's sorority sister from season seven, plays a queer character who had a drunken makeout with Rachel in college. She initially denies it, but when Rachel kisses her again, she mistakenly believes they're destined to be together (Rachel then rejects her). In hindsight, it's cringey, especially since it was a network stunt that was called out immediately for being insensitive.
Reese Witherspoon
Witherspoon played Rachel's other sister—the "spoiled one" who briefly comes into the friend group in season six and goes on a date with Ross. There were rumors that Witherspoon and Aniston didn't get along, which seem to be mercifully false; the two have referenced their time together on the show before since becoming coworkers again on The Morning Show.
Julia Roberts
America's Sweetheart was a little less sweet in her cameo as Chandler's middle school classmate Susie Moss in season two, who gets revenge on him for flashing her in front of the whole school. Apparently she made Perry write a paper on quantum physics before she agreed to appear, and the two then briefly dated.
Brad Pitt
It's hard to top Aniston's then-husband coming onto the show in 2001 as Ross' friend and admitting to starting an "I Hate Rachel Green" club. Fun fact: Pitt was Emmy-nominated for the appearance, but he admitted to Access Hollywood that "I flubbed my first line…We had to stop and start again."
Marie Claire email subscribers get intel on fashion and beauty trends, hot-off-the-press celebrity news, and more. Sign up here.