Cher, Leonardo DiCaprio, Mila Kunis, and More Celebs' Homes You Can Actually Rent
Should we all go in on a weekend at Leo's place?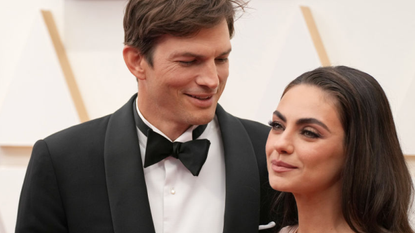 (Image credit: Getty Images)
Marie Claire Newsletter
Celebrity news, beauty, fashion advice, and fascinating features, delivered straight to your inbox!
Thank you for signing up to Marie Claire. You will receive a verification email shortly.
There was a problem. Please refresh the page and try again.
Everyone deserves a little staycation now and then, but for one lucky person in Santa Barbara this weekend, that experience was leveled up in a major way. Last week, Ashton Kutcher and Mila Kunis partnered with Airbnb to list their Santa Barbara seaside guest cottage for rent, for one night only, entirely free of charge. The couple also announced they would be staying in the main house during their guest's visit, which is truly a dream scenario considering how already-occupied Airbnb rental neighbors usually go.
Kutcher and Kunis were characteristically funny about their offer, with Kutcher noting in the announcement video that "it's not the worst idea" he's ever had:
A ringing endorsement!
Airbnb has been on a weird one lately, making Ashton and Mila's home only the latest mind-blowing offering on the site. Last month, Gwyneth Paltrow also listed her Montecito guest cottage for free on the site, noting in the Instagram video accompanying the announcement that, "Loneliness is a human condition, but in the past few years, increased isolation and our lack of community has made our lives even more fragmented."
And before that, Airbnb partnered with Warner Bros to offer a stay in a version of Barbie's Dream House set from the Barbie movie, plopped down in gorgeous Malibu.
While Airbnb's new marketing kick is making waves, the above celebrities (and one doll) are not the only A-listers who've offered their homes up for rent. There are actually some wholly epic homes that are incidentally owned by celebs available for a fun staycation all over the world (though, weirdly, mostly in Palm Springs?)
Check out the list below to see which famous folks you could call "landlord" one day:
Leonardo DiCaprio
Oscar winner and noted yacht aficionado Leo DiCaprio has several homes dotted around the globe, but his beautiful (and historic!) Palm Springs home can be yours for a somewhat hefty rental fee. The home at 432 Hermosa Place used to belong to legendary Hollywood singer Dinah Shore, before eventually getting purchased by Jack himself. It boasts six bedrooms, seven and a half baths, a cocktail bar, a tennis court, and a heated pool, which can be yours for a rental fee (via the home's private website) that starts at $3,750 per night.
Cher
We would travel to Los Angeles specifically to rent this surprisingly affordable Airbnb on the off-chance that we might channel Cher's quadruple-threat (acting, singing, dancing, burlesque) genius for even a moment.
This gorgeous, treehouse-vibe home belonged to Cher and her husband Sonny in the 1970s, and its current owners have kept nods to the retro spirit of the place while updating it in all the ways you'd want. For only $600 a night, this feels like a steal.
Jane Austen
OK so this one isn't really a celeb so much as a literary icon of the past, but oh em gee could you imagine living out your Elizabeth Bennet fantasies in Jane Austen's actual family home?! Located in Bath in the UK, the current owners have also kept some classic touches while making some presumably necessary modern adjustments (note, for example, that none of Jane's novels ever mention the plumbing situation). And it's on Airbnb for just $253 a night. I wish I could tell this house how ardently I admire and love it.
Frank and Nancy Sinatra
Yet another celebrity of the past that we would be remiss not to include, because this house! Frank Sinatra's move to his legendary Palm Springs estate, named Twin Palms, kind of put that desert town on the map, and you can rent his epic digs via the home's private site (TBD on how much it costs, but presumably a pretty penny). It's actually pretty modest compared to what we think of a celebrity home—four beds, four bathrooms—but it has some classic touches, like Frank's old recording studio, a pool house, and a vintage powder room. They also do weddings.
Sting
Sting and his wife of 30 years, Trudie, seem like interesting people. For example, it is unsurprising that they own a gorgeous, 16th century Italian villa that they rent out to visitors. As much as anyone can seem the type, they seem the type, you know? Il Palagio, as the estate is known, comprises three separate homes, with event space that can accommodate up to 400 guests, all of which can be booked on the estate's website.
And though pricing may make a rental like this but a twinkle in most of our eyes, the estate also produces wine, honey, and olive oil for sale that might be more in our plebeian price range.
Celebrity news, beauty, fashion advice, and fascinating features, delivered straight to your inbox!