42 Christmas Party Themes You'd Never Have Thought Of
Because you can only attend so many ugly sweater parties.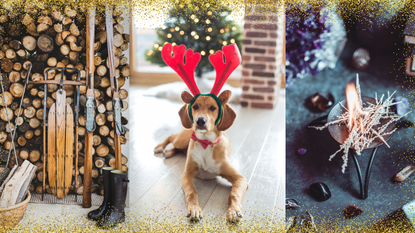 (Image credit: Getty Images)
You already know the drill during the holiday party circuit: ugly Christmas sweater shindigs and Secret Santa gift exchanges, even if they'll all probably be on Zoom this year. But have you ever thought to channel your holiday cheer into more creative outlets, like finessing your pet into a tiny sweater or crafting dozens of decorative baubles with friends? Allow us to ignite your imagination with 42 how have I never thought of this? party options to try this winter, no matter whether your party is with your friends, family, or your office.
1/40
Gingerbread House Decorating Competition
Why not take a charming childhood tradition and turn it into a competition? Have all of the supplies for traditional gingerbread house building ready, but also choose a judge and a few different categories (such as "Most Creative," "Best Construction," "Best Candy Curating," etc). To make things extra interesting, choose a theme (the more random, the better), set a timer, and GO!
2/40
Blue Christmas Party
"Blue Christmas" by Elvis Presley might not be the happiest song, but it still makes for a great last-minute theme. Have all your guests wear different shades of blue and dye your cake, frosting and drinks to match.
3/40
Socks, Socks, Socks!
The theme, if you didn't catch it: socks. Cozy up in your coziest, most festively patterned pair—and make sure everyone brings a pair for someone else, so you'll each have a new set to bring home and wear while you hibernate for the rest of winter.
4/40
Craftstravaganza
Gather your friends together and channel your inner domestic goddesses with a party that revolves around—you guessed it—crafting. *Oprah voice* "Bring on the felt poinsettias!" Construct wreaths, bedazzle some ornaments, cut and print homemade holiday cards, or even set up an elaborate gifting table (paper, ribbons, and labels galore) to wrap together—all while snacking and sipping on holiday treats and cocktails.
5/40
Fondue for Two...or Five
Who needs The Melting Pot when you can have your own fondue party right in your kitchen? It's a fun DIY dessert activity that will last a couple hours while you and your friends eat, chat, and listen to Christmas music.
6/40
Jell-O Molds
Everybody has their own version of Jell-O molds that their family made growing up. Now it's time to spread the love (and recipes) and bring your own concoction to the party. Ever heard of Jell-O salad?
7/40
BYOT: Bring Your Own Tradition
Everybody has their own set of Christmas traditions. Whether it's eating a certain food or playing a specific game, each person should come with one time-honored tradition to introduce to the group.
8/40
S'mores, Please
Take the party outside by lighting up a bonfire and making s'mores. There's nothing worse than running out of chocolate, so make sure to get enough to go around twice...or three times. Bonus points if you set up pretty Christmas lights on the trees surrounding you. Magical!
9/40
Make It a Masquerade
A masquerade is the easiest, least expensive way to get people to dress up in a costume without actually putting in any effort (literally, just throw a mask on over your cutest outfit). It adds an element of mystery, and it's a great icebreaker ("is that mask handmade?") when friend groups are forced to merge. The more festive the disguise, the better.
10/40
Ladies-Only Wine Night
Look, men are great and all (sometimes), but it's important to take time out during the holidays and get some much-needed QT with your girlfriends. Instead of casual wine night in sweats and a t-shirt, per usual, make the dress code holiday cocktail attire and ask everyone to bring their favorite bottle. Then, play a guessing game of who brought what. Choose correctly and you get to take home the bottle. (Hot tip for the hostess: Make sure you have some extra vino handy in case your guests are really good guessers.)
11/40
Get in the Holiday Spirit(s)
The holidays can be stressful, and the last thing anybody wants to do is worry about prepping for another Christmas party. Instead, give your guests the gift of zen with face masks (hi, dry winter skin) and crystals to channel good energy and manifest goals for the new year. For an extra special evening, hire an astrologer to do readings for each attendee and see what's in store.
12/40
A Very Mariah Christmas
Mariah Carey's powers are the strongest during the holidays. Channel her ultimate form with spangled costumes, the extra-est photo setup (multiple trees dripping in lights), a screening of the cinematic gem Mariah Carey's All I Want for Christmas Is You, and her hit song of the same name playing on loop. To serve: salmon and capers (maybe cut into stars, but that's it) and a rare vintage of her drink, Butterfly.
13/40
Après Ski Party
Even if you're not living your dream winter life on the slopes of some powdery mountain, nothing's stopping you from pretending you are. Decorate your home with traditional chalet accoutrements (furry rugs, basically anything wood-finished, a fireplace if you may) and have your guests roll up in their best Fair Isle sweaters and down vests for a night of hot chocolate, pints of beer, and s'mores by the fireside. Cozy!
14/40
Reverse Christmas in July
Christmas in July is a time-honored mid-summer party favorite. In the summer's hottest month, you just pretend it's Christmas—complete with a tree, gift exchange, and hearty meal. Turn the tables on this tradition with a beach-themed romp in the depths of winter. Beach balls, mojitos, and everyone's favorite Christmas with the Beach Boys album are a must.
15/40
Chrismukkah Party
Seth Cohen was on to something when he merged together two of the most present-filled holidays into Chrismukkah. Throw an all-denominations holiday celebration and decorate with trinkets from every creed—a Christmas tree for, well, Christmas, dreidels for Hanukkah, and a kinara candle holder for Kwanzaa, to name a few. Spend the evening learning about each other's traditions (and watching The O.C.).
16/40
Cheery Cocktail Potluck
Instantly upgrade a holiday potluck by asking friends to bring their favorite cocktail mix instead of food. Candy cane martinis, eggnog, spiked cocoa...just be ready for some very rowdy rounds of carols towards the end of the night. (Oh, and you should probably actually have some food there as well.)
17/40
Pet Holiday Party
Because pets like nothing more than to be dressed up (as you can clearly see from how happy this dog looks), why not throw a party celebrating them and their adorable outfits? Imagine: a gathering with multiple puppies dressed in Santa hats. If that's not Christmas joy, we don't know what is. Bonus points if you can construct a makeshift photo area complete with an instant camera so that you and your friends can take holiday-themed, squee-worthy photos with your fluffy pets. Just think of all the photo opportunities for next year's holiday card.
18/40
Christmas Carol Karaoke Night
You may not be a fan of unsolicited carolers banging on your door, but that doesn't mean you shouldn't enjoy an opportunity to bust out Wham!'s "Last Christmas." Either hit up a karaoke bar with private singing rooms or invest in a home karaoke set, and rock out to the holiday's best jams. Like the movie marathon, a complete Christmas playlist may take all night, so consider sticking to a theme, like pop reinterpretations of the classics (Biebs and Grande, there's always room for you).
19/40
Christmas Cast-Off Gift Exchange
Re-gifting—the act of handing off one of your previously received (and unwanted) gifts to someone else—may be considered tacky, but when everybody's doing it, it's just part of the fun. Have your friends bring one of last Christmas' cast-offs—a leopard-print Snuggie, an automatic-twirling spaghetti fork, a hot-pink clip-on tie. Make sure everyone's gifts are wrapped, and then hold a "White Elephant" exchange in which people can pick from the pile or steal someone else's new acquisition. Always remember: One person's trash is another's treasure!
20/40
12 Days of Appetizers
Christmas cookies are great, but that doesn't mean that we aren't excited about savory holiday snacks (cheese plates and charcuterie, anyone?). Instead of hosting a cookie swap, have friends bring their favorite seasonal appetizers for an app-only potluck—no main dishes invited! And yes, have one person bring cookies for "dessert."
21/40
Holidays "On Ice" Party
This is not your average wine night! Have your friends over, pop a few bottles of champagne and go at it. For a luxurious touch, splurge on tiny pots of caviar to share. Don't forget to stream Michael Bublé's music for bonus holiday points.
22/40
"Grinch"-Themed Dinner Party
Go green this holiday season and throw a The Grinch-themed dinner party for all your friends. Don't be afraid to really get into it: wear braided pigtails à la Cindy Lou Who! Figure out exactly what a "roast beast" is! Dress up your dog with antlers and a nose! Green face paint not required.
23/40
Flannels and Flapjacks Party
There are literally no rules during the holidays. By that, we mean that there has never been a better time to put on your flannel pajamas, have pancakes for dinner, and call it a party.
24/40
Host a "Brunchmas"
This isn't your normal brunch — it's a festive brunch. Have each of your guests bring their favorite dish to share. You can even mix up a batch of holiday-themed drinks like cranberry mimosas or spiked apple cider to set the mood.
25/40
The Best Holiday Bake-off
Queue up The Great British Baking Show on Netflix and invite your friends over for an at-home baking competition. Have each person bring their favorite homemade holiday treat and dig in. If you want, have everyone vote to crown your party's very own "Star Baker."
26/40
Gift Wrapping Party on Zoom
Spend some quality time with your friends and family this season by wrapping your gifts together on Zoom. Just don't show anyone what you bought for them!
27/40
Neighborhood Lights Tour
If your neighbors go all out when it comes to holiday decorating, why not drive around and see their hard work? Grab a few of your friends (and maybe even their kids) and take a look around.
28/40
So Fresh, So Clean Dinner Party
If planning an entire themed party is stressing you out, go for something easy: hang twinkle lights from the ceiling and light a few candles. Choose one accent color and pick out coordinating napkins or flowers. It will look like you put a ton of effort in, even if you only went on a single trip to Target.
29/40
"Reindeer Games" Night
Family game night, but make it Christmas! Try a version of Scrabble where you're only allowed to use holiday-inspired words and create a makeshift game of "pin the nose on the reindeer." Or, simply reach for Cards Against Humanity and call it a night.
30/40
White Christmas Party
That's it. That's the whole theme. Deck your halls (or hall) with silver tinsel, throw some white blankets and pillows onto the couch and you've got yourself a party. Hang a disco ball if you're feeling extra fun.
31/40
A Very "Potter" Christmas Party
Put your love for Harry Potter on full display this season. Whether you decorate your apartment like Hogwarts or like the Weasley Burrow is up to you. Hang up some Snitch ornaments, don your house colors and whip up some DIY butterbeer. Consider this mischief managed.
32/40
Book Exchange
If your book club is scheduled to meet over the holidays, why not hold your very own book exchange? Have each person wrap their favorite book and write a small description of it on the front without giving away the title or author. Put them in the middle of the room and have each person select one from the pile to take home.
33/40
Merry Murder Mystery Party
Halloween might be over, but that doesn't mean you can't have a murder mystery party with your friends this year. Amazon has a few different holiday-themed options to choose from, so you'll have no trouble finding one that suits your fancy. Our only tip? Don't forget who the murderer is during the game.
34/40
Virtual Holiday Bingo
Remember back in March when everyone was posting those bingo boards on their Instagram stories? You can totally do that over Zoom — or in real life — this season thanks to a handful of websites that let you upload your own bingo boards. Build a board complete with inside jokes and funny memories, gather your friends and play away.
35/40
DIY Photo Booth Party
Capture your holiday memories on film this year by setting up different backdrops all over your apartment. Each station should have a different theme with matching accessories. Place a Polaroid camera next to each station and snap away. Alternatively, buy a few disposable cameras and get the photos developed a few days later — the end result will surprise you all.
36/40
Mock Bar Crawl
If SantaCon isn't on your list of top five favorite experiences, try doing your own mini bar crawl with your closest friends. Turn each of your apartments into a makeshift bar with different drinks and themes and make sure to hit every single one before the end of the night. This also works great if you live with roommates: simply walk from room to room and drink something new in each one.
37/40
DIY Ugly Christmas Sweater Party
You've been to enough parties where you show up in an ugly Christmas sweater. This year, have your friends over come and design their own! Break out the hot glue gun and go absolutely wild. When you inevitably do get invited to an ugly sweater party, yours will be one-of-a-kind.
38/40
12 Days of Clues Scavenger Hunt
If you're bored of the same old holiday parties where everyone just stands around, this theme is for you. Hide gifts inspired by the classic Christmas song in and around your house, and write clues based on the lyrics. The first guest to find all 12 of the items, wins!
39/40
Holiday Detox Night
The holidays are certainly a time of excess, especially when it comes to drinking. If you or someone you love doesn't drink, try having a detox night at your house. Make large batches of non-alcoholic drinks like hot chocolate or peppermint tea. Your body will thank you for it in the morning.
40/40
A Game of "My Favorite Things"
Invite your friends over and have each of them bring a few of their favorite things with them. The items shouldn't be too big. Think: their preferred candy bar or a gift card to a nearby restaurant. Go around the circle and have your guests explain why each item matters to them. At the end of the night, each guest chooses a few things from the circle to take home.
Celebrity news, beauty, fashion advice, and fascinating features, delivered straight to your inbox!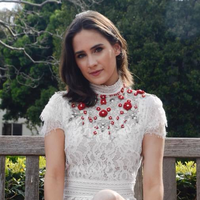 Julia Marzovilla is the E-Commerce Editor at Marie Claire, where she covers everything from the latest beauty and fashion launches and sales to celebrity outfits and news. She also creates shopping guides that span every vertical on the site. Prior to joining the Marie Claire team, she contributed similar shopping stories to sites such as Bustle, InStyle, The Zoe Report, Who What Wear, and STYLECASTER. In her spare time, Julia can be found creating shopping guides for all of her friends, spending too much money on yet another pair of black boots, and cooking in her far-too-small kitchen.