51 White Elephant Gifts You'll Want to Steal for Yourself
Nobody will go home disappointed.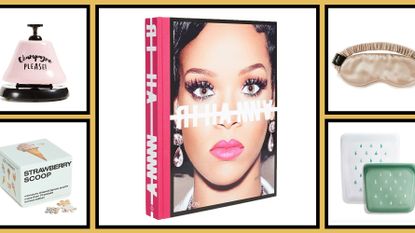 (Image credit: Design by Susanna Hayward )
The holidays might look a little different this year, but no matter what—if you're gathering with friends or family and doing a white elephant gift exchange, you'll need to come prepared with a gift. White elephant gift exchanges are fun in theory, when you're not stressing about what to bring and if you don't end up with a heinous gag gift that has no practical use. (Meanwhile, your cousin Ashley unwrapped her cool new Polaroid Instant Camera.) To make the exchanges fair and satisfying this season, plus get rid of any unnecessary stress you might have about bringing said gift, here are 51 ideas you (and everyone else) will actually want. Trust me, no one will go home disappointed this season. Don't be surprised if you end up picking up a little something-something for yourself too. The gift curation is that good, if I don't say so myself.
1/51
Fujifilm Instax Mini 11 Instant Camera
Mini Polaroid Cameras
Whoever ends up with this gift will want to start using it the moment its unwrapped. This mini Polaroid has an automatic exposure to get you that perfect shot—and it has a selfie mode!
2/51
Spikeball Game Set (3 Ball Kit)
A Spikeball Set
If you've never played roundnet (a.k.a Spikeball), you're missing out. This volleyball-like game is as intense as you or your opponents make it, though you can keep the game low-key and casual. Play it at the beach, backyard, or basement.
3/51
Brookstone Color Changing Salt Lamp
A Salt Lamp
Both a night light and decor piece, this Himalayan rock salt lamp can display up to eight different colors. This kind of lamp is said to purify the air around you.
4/51
ModCloth Season's Sippings Gingerbread Paper Straws
Paper Straws
Spike eggnog tastes better when you don't have to worry about polluting the environment with plastic. These gingerbread man-decorated paper straws are festive and fun.
5/51
MoMA Self-Watering Pot
Self-Watering Pot
This self-watering pot comes in three different sizes (prices will differ accordingly) and will make anyone seem like they have a green thumb. This is a gift that will be easily stolen by people in the group.
6/51
Oral-B Smart 1500 Power Rechargeable Electric Tooth-Brush
An Electric Toothbrush
You might just want to steal this gift back for yourself. An electric toothbrush might not be the most exciting gift, but the practical individuals in the group will definitely want this.
7/51
AmazerBath Bamboo Squatting Toilet Stool Collapsible
A Squatty Potty
This gift will definitely draw some laughs and/or confused looks (for those not familiar with a squatty potty). It's slightly novel yet functional, making it the perfect white elephant gift.
8/51
9GreenBox Zen Reflections Juniper Bonsai
A Bonsai Tree
This miniature tree brings serenity and calmness to whoever is looking at it. The perfect gift to spruce up a work desk or shelf.
9/51
Magic Bullet Small Silver 11-Piece Set
A Personal Blender
Small but mighty. This personal size 11-piece blender can chop, mix, blend, whip, grind, and more. Think of all the smoothies, salsa, and soups one can make.
10/51
West Bend 82505 Stir Crazy Electric Hot Oil Popcorn Popper Machine
A Popcorn Machine
No at-home movie theater setup is complete until you have popcorn. This machine is compatible with all kinds of kernels and has a built in bowl, so just pop and sit back to enjoy your favorite films.
11/51
Bubbly Belle Christmas Tree
A Bath Bomb
After all the festivities are over, treat yourself to a soothing bath with this bath bomb that releases scents such as peppermint, orange, lavender, evergreen, and pine. Close your eyes, sink deeper into the warm water, and relax.
12/51
THRO Penelope Plaid Loft Fleece Decorative Throw
A Holiday-Themed Blanket
Movie reruns and snow days will feel ten times better when spent under this soft and comfy throw blanket. The red deer print gives it the perfect holiday feel, so you'll look forward to using it every year.
13/51
Abrams Tokyo Street Style Paperback Book
A Street Style Book
Your group of friends are all into fashion, so this white elephant gift exchange will be easy peasy. This Tokyo street style book will make for a beautiful coffee table and inspire the person who gets it to up her own fashion game.
14/51
Stasher Reusable Silicone Bag Holiday Print
Pack of Reusable Silicone Bags
We're all for whacky and LOL-worthy white elephant gifts, but if your group prefers practical items then bring a set of Stasher bags. This two-pack is budget-friendly and comes in a cute holiday print for the season.
15/51
Slant Collections Champagne Please! Bar Top Bell in Pink and Black
A Kitchy Bell
Cue the scene where Meredith from The Parent Trap takes out a bell and rings it to call the housekeeper, Chessy, over. Meredith would probably love this 2020 version. As for us, the bell is perfect for displaying on a kitchen countertop or bookshelf.
16/51
Shopbop Home Original Duckhead Compact Umbrella
A Bright and Colorful Umbrella
A Bright and Colorful Umbrella
Bat away any rainy day blues with this feel-good, sunshine-yellow umbrella. The duck handle gives this rain shield a playful vibe too.
17/51
Maison Noir Wines 2018 "Bottoms Up"
A Bottle of Wine
No one will be disappointed with bringing home a bottle of wine from a white elephant exchange. Disguise the shape of your item by sticking it in a box and then wrapping it.
18/51
Bee's Wrap Assorted 3-Pack Reusable Food Wraps
A Pack of Reusable Food Wraps
For a gift anyone can use, bring these reusable food wraps. They're a good alternative to plastic wrap and any gift that helps reduce waste and pollution in the ocean will be much appreciated by all.
19/51
Golde Superfood Latte Sampler
A Superfood Variety Pack
Now more than ever, it's important to take care of your own health and the wellbeing of others. Therefore, bring this pack of superfood sampler (it contains turmeric, matcha, and cacao packets) so that whoever snags it at the exchange can start off the new year on a healthy note.
20/51
Goodee Bottle (Black)
A Water Bottle
This insulated and leak-free water bottle looks sleek and cool while keeping your drink cold for 24 hours or hot for 12 hours. Cheers to a gift that reduces plastic consumption!
21/51
Katie and Dustin Watts Bubble Tea Kit
A DIY Bubble Tea Set
Whoever gets this gift will likely find themselves wanting to test it out right away and share their drink creation with the group. Heck, you might end up buying a kit for yourself—this looks fun, not to mention tasty.
22/51