Editors handpick every product that we feature. We may earn commission from the links on this page.
The 20 Best Film-Themed Gifts for the Movie Watcher in Your Life
They'll love it—even if you don't exactly understand the reference.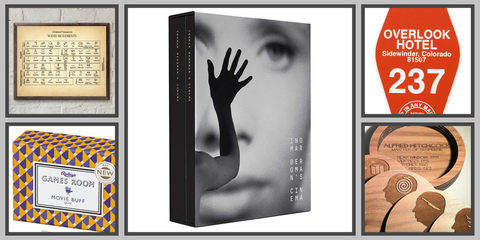 Design by Morgan McMullen
Cinephiles can be hard to shop for: They have great taste, they're hyper-aware of clichés, and they love an inside joke. You're going to need to get creative when you pick out a holiday gift for the movie-lover in your life. After all, with the number of movies they watch, it's possible they've seen every kind of gift to give imaginable. I mean, sure, nothing can top that necklace Rose got in the Titanic from that creep Caledon Hockley or Harry Potter's invisible cloak, but it's the thought that counts, which is why you really really want this gift to count. Thankfully for you, we consulted some film fans about what they want for the holidays, and they delivered. And just because we have some thoughts too on the subject, we had to throw a couple of our favorites gifts we also wouldn't mind receiving. Here are 20 genius gift ideas for a film fanatic. We hope the smile you see on their face when they open your present be better than the actual gift.
This content is created and maintained by a third party, and imported onto this page to help users provide their email addresses. You may be able to find more information about this and similar content at piano.io