37 Best Gifts for the Movie Lover in Your Life
They'll be obsessed—even if you don't exactly understand the reference.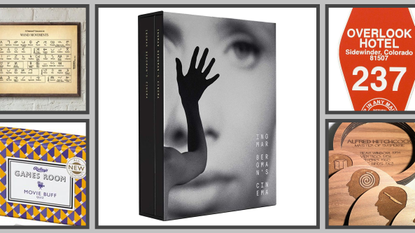 (Image credit: Design by Morgan McMullen)
Cinephiles can be hard to shop for. They have great taste, they're hyper-aware of clichés, and they love an inside joke—so you'll need to get creative when you're picking out a gift for the movie-lover in your life. After all, with the number of movies they watch, they've probably seen every kind of gift imaginable. I mean, sure, nothing can top that necklace Rose got in the Titanic from that creep Caledon Hockley or Harry Potter's invisible cloak, but it's the thought that counts—which is why you really, really want this gift to count. Thankfully for you, we consulted some film fans about what they want for the holidays, and they delivered. And because we're self-described cinephiles ourselves, we had to throw a couple of our favorites gifts we also wouldn't mind receiving. Here are some genius gift ideas for a film fanatic.
1/37
Urban Outfitters Guardians Of The Galaxy Awesome Mix Vol. 1 Cassette Tape
The first installment of Guardians of the Galaxy came with a killer soundtrack, with songs like "I Want You Back " by the Jackson 5 and "Cherry Bomb" by The Runaways. It's the perfect gift for any Marvel fan looking to add a little spice to their collection.
2/37
Society6 Audrey Hepburn in Breakfast at Tiffany's Coffee Mug
This dishwasher- and microwave-safe ceramic mug is the ideal gift for a movie marathon watcher. Don't forget to throw in their favorite coffee beans for a special touch.
3/37
Books with Style 'Fashion in Film' by Christopher Laverty
Know a fashion in film fanatic? Meet their next favorite book. Fashion in Film focuses on how famous fashion designers have stylishly contributed to some of our favorite characters over the years, like Tom Ford for Daniel Craig's James Bond to Ralph Lauren's style for Diane Keaton in Annie Hall.
4/37
NancysJars Retro VHS Lamp
Go vintage with your gift-giving and wrap up a battery-powered VHS tape of their favorite movie that also doubles as a lamp. If Grease isn't their fancy, you can swap in other classics flicks like Ghostbusters and Big.
5/37
FoundDandy Alfred Hitchcock Films Coasters
Any Alfred Hitchcock fan will geek out over these hand-made, laser-engraved coasters. The set features four of Hitchcock's legendary films depicted as thoughts in his mind over his classic silhouette: Rear Window, Vertigo, Psycho, and The Birds.
6/37
Cable Guys Cable Guys Stormtrooper Device Holder
Feed their Star Wars obsession a little more with this device holder that can securely hold a phone, game controller, or remote. If stormtroopers aren't their thing, it also comes in Spider-Man, Black Widow, and other favorite fictional characters.
7/37
UncommonGoods Smartphone Magnifier
Hunching over someone's phone screen to watch YouTube videos with them is a thing of the past with this tool. Just slide your phone in the handy cardboard placement, and get ready to watch all your favorites on a bigger screen.
8/37
Grand Budapest Hotel Paper Model
Brighten up your Wes Anderson's fan WFH space with this fun cardboard replica of the Grand Budapest Hotel. Your own wild adventure with a bell boy not included.
9/37
Samsung 32" The Frame QLED Smart TV
Perfect as a group gift or birthday surprise for your S.O., this is the television that does both—when it's on, it'll play their favorite movies in high definition, and when it's not, it'll display their favorite artwork. (If they're into art as well as film, they'll love the Etsy x Samsung store where they can buy prints for it.)
10/37
UncommonGoods Ticket Stub Diary
Thumbtacking your tickets to cork boards is like soooo last year. (Or at least I'm telling myself this.) Help preserve your film lovers' ticket collections with this handy dandy memory album. The book comes with clear sleeves that fit every ticket sizes imaginable (yes, Broadway shows too) and has space to let them write down their favorite memory from the event.
11/37
Running Press Adult Rotten Tomatoes: Rotten Movies We Love
Checking out Rotten Tomatoes reviews to see if a movie is either fresh or rotten is a beloved pastime for cinephiles. Gift them a book with commentary and short essays from some of its top critics on the films that are so bad, they can't help but love them.
12/37
Laurence King Publishing Movie Tarot: A Hero's Journey in 78 Cards By Diana McMahon Collis
Want to gaze into your past, present, future? Then pick a card, any card, and see what they see. But this time, you'll see the face of some of the most well-known pop culture icons right back at you like Julie Andrews in the Sound of Music as the sun to Tom Hanks in Forrest Gump as the fool.
13/37
A24 Moonlight Screenplay Book
This gorgeous coffee table book features the screenplay of Academy Award-winning movie Moonlight in all its glory with a foreword by Frank Ocean and an essay by legendary theatre critic Hilton Als. If this isn't their favorite A24 film though (it should be), they also offer books for other A24 movies, Ex Machina, The Witch, and Hereditary.
14/37
SOJOS Cat Eye Blue Light Blocking Glasses
When you stare at a screen for hours and hours a day, it can seriously strain your eyes, so picking up a super trendy pair of anti-blue light glasses is a thoughtful way of showing you support for their movie-watching addiction.
15/37
AMPED AND CO Marquee Color Changing Cinema Lightbox
Bring the beauty of a light-up marquee to them! This bad boy comes with color-changing LED backlighting, a sliding storage drawer, 60 letters, numbers, and characters to create any message deemed fit.
16/37
CandleCraftsByLauren Ava DuVernay Film Director Candle
All hail the Hollywood filmmaking queen, Ava DuVernay! If she's your friend's favorite director, snag this candle and light up their day! Ha, see what we did there?
17/37
IDW Publishing 'The Beauty of Horror Coloring Book' by Alan Robert
You may not understand their fascination with watching films that are known to give nightmares, but you can show them you appreciate it by gifting this "gore"geuous coloring book! Who knew coloring in zombie apocalypses and serial killer lairs could be so fun?
18/37
Anchor Gods Like Us: On Movie Stardom and Modern Fame
Boston Globe film critic Ty Burr looks back on history to discover when the world became obsessed with Hollywood while also diving into the history of some of its biggest names like Charlie Chaplin, Tom Cruise, Julia Roberts, and even the Kardashians. It's a must-have book for any Tinseltown lover.
19/37
Vardagen Great White Shark T-Shirt
Pay tribute to their love of Jaws with a shark t-shirt like this one from Vardagen, the California-based brand with famously soft tees. This one comes in both men's and women's sizes.
20/37
GPX GPX 90" Indoor Projector Screen (PJSI900)
Not everyone can afford to have a movie room, so give them the next best thing. This foldable portable projector screen has a 90" screen that's perfect for projecting all their favorite movies on and gives a better picture than the bedsheet they have pinned to the wall probably right now.
21/37
NORDSTROM AT HOME Kennebunk Bliss Plush Throw
If your loved one perfect day is on the couch, pick them up this customer-favorite plush blanket from Nordstrom available in a ton of classic and vibrant colors. With every blanket sold, they donate a portion of the proceeds to Operation Warm, an organization that provides winter coats to children in needed communities.
22/37
Blingco External CD DVD Drive
It's not the most glamorous of gifts, but it's the most practical. Most people stream because they have no place to play their DVDs, but behold, the answers to the problem (and the key to many fun movie nights ahead.) Just plug into your laptop's USB port, and you're good to go.
23/37
Spin Master Games Clueless Movie 500-Piece Puzzle in a Retro Blockbuster VHS Case
Solving scenic puzzles is fun and all, but solving a puzzle of your favorite movie just seems better? Pay homage to all those nights wandering Blockbuster and pick a puzzle from films like Clueless, Animal House, Flashdance, and more to gift to your movie-loving friend.
24/37
Forty4 Hot Air Popcorn Maker
When you watch enough movies, you need some dedicated equipment. This popcorn machine checks all the boxes: Fast, oil-free, affordable, and cute. Who needs to actually leave the house now?

25/37
Funko Funko POP! Animation: My Hero Academia
Gift the anime watcher in your life this My Hero Academia POP! figurine of Todoroki. True anime nerds will be well-versed in this series and will proudly display it on their bookshelf or coffee table.
26/37
PlatzerWorld Nicolas Cage Con Air Sequin Pillow
Finally! Your friend who is a huge Nicolas Cage stan can get her own sequin pillow featuring none other than Cage's face. Personally, we prefer this young image of Cage on the pillow. Bonus: you can cuddle with it at night.
27/37
Etsy Harry Potter Wand Movement Poster
Wingardium leviosa! Practice your spells at home with this Harry Potter poster that details the direction of how you should move your wand.
28/37
UrbanOwlHome Merry Christmas Ya Filthy Animal Doormat
They can quote all the Home Alone movies at the drop of a hat, so what's more fitting than this doormat? It's perfect for the holidays and even after all the celebrations have ended, the mat will still draw laughs at the door.
29/37
Ridley's Games Room Movie Buff Quiz Game Set
Your friend has a competitive spirit when it comes to naming quotes in movies or knowing which director directed a film. Put their knowledge to the test with a friendly game of trivia. Best get a bottle of wine to go along with this present too.
30/37
Etsy Studio Ghibli Spirited Away
A Studio Ghibli pin that goes on everything, from a denim jacket to the handles of your canvas tote bag. Now, will someone get me a bowl of ramen? Feeling hungry.
31/37
Amazon Ingmar Bergman's Cinema (The Criterion Collection)
A little birdie who is also a noted film critic told us that this comprehensive Blu-Ray collection of iconic director Ingmar Bergman's work is the present all the movie nerds want this year.
32/37
Etsy Overlook Hotel Keychain, Room 237
A nod to one of the most beloved hotel rooms in cinema history, get the film-lover in your life this fun, faux-room key keychain from The Shining. Because all work and no play makes Jack a dull boy.
33/37
ViewSonic Projector
This projector can create an 120" image, gets great reviews on Amazon, and is super easy to set-up and use (it plugs into HDMI an cable). It's like that old saying, "Get your cinephile a home theater setup and they're yours forever."
34/37
Eat What You Watch: A Cookbook for Movie Lovers
From the orgasmic sandwich in When Harry Met Sally to the romantic birthday cake from Sixteen Candles, this cookbook from Andrew Rea recreates the dishes in some iconic film scenes. You can eat while you watch.
35/37
Etsy Minimalist Movie Poster
Everyone loves wall art, but typical posters are a little dorm room, no? Why not go for a minimalist poster, then: With classic films (here's a take on Boogie Nights, by noted auteur Paul Thomas Anderson) in beautiful designs, they're for grown-up fans.
36/37
Dark Spark Decals Raptor Enamel Lapel Pin
This pin pays homage to one of the most underrated characters in cinema history: The raptor who eats that guy in Jurassic Park. Get it for the clever girl in your life.
37/37
Gift Republic Bucket List Scratch-Off Movie Poster
This poster has 100 of the greatest movies of all time on it, and when your loved one crosses another flick off the list, they can literally scratch off the spot for it on this poster.
•••

For more stories like this, including celebrity news, beauty and fashion advice, savvy political commentary, and fascinating features, sign up for the Marie Claire newsletter.
Cady Drell is a writer, editor, researcher and pet enthusiast from Brooklyn.