9 Starbucks Drinks You Can Recreate at Home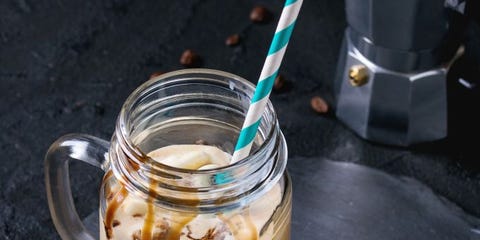 When you want Starbucks, you want Starbucks. Day after day, we find ourselves wandering into that comforting, good-smelling foyer, leaving with a drink in our hand and a smile on our face. Sure, we may have spent $7 on a latte, but that's a problem to tackle for another day. But other days, you can't get to that beloved mermaid logo: Maybe you overslept, maybe you don't want to play drive-thru roulette and risk sitting in a long line, or maybe you just can't afford it. So, if you're like me and currently facing one of those three options, nothing sounds better than being able to create one of the world's most exquisite creations from the comfort of your kitchen.
They say the world is your oyster, but in this case, the world is your coffee pot, your choice of milk alternative, some pumpkin spice seasoning (despite the fact it's not in season), and your handful of perfectly cubed ice. Ahead, I've listed nine of my favorite Starbucks copycat recipes, green straw not included. Get ready to sip back and enjoy, my little barista!
This content is created and maintained by a third party, and imported onto this page to help users provide their email addresses. You may be able to find more information about this and similar content at piano.io