Editors handpick every product that we feature. We may earn commission from the links on this page.
The Best Poetry Collections of 2019 That Will Transport You
"A poet can survive everything but a misprint." —Oscar Wilde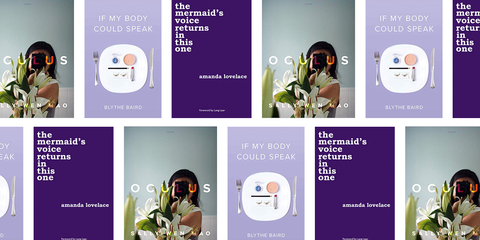 Courtesy / Design by Morgan McMullen
With so-called "Instagram poetry" taking over social media, we're reminded that poetry isn't just about trying to read between the lines and wondering if that tree growing is a metaphor for puberty, or something. Nah—in 2019, poetry is cool again, and that's a good thing. From new works by Amanda Lovelace and Morgan Parker, we've got the best new poetry books coming out in 2019.
1
'the mermaid's voice returns in this one' by amanda lovelace
This is a collection that lives and breathes #MeToo. Each poem isn't necessarily about sexual assault, but rather surviving sexual assault. The final in Lovelace's trilogy of poetry books "Women Are Some Kind of Magic," Lovelace poured herself into every single word of this collection, and it's the most cohesive of the three, by far.
2
'Unfollowing You' by Komal Kapoor
If you're tired of Tindering and Bumbling, then 'Unfollowing You' is right up your alley. A story told through poetry, text messages, and social media posts following a young woman while she fell in love with a playboy, this set of poems feels all too real from time to time. You'll be texting about this in your group chat for weeks.
3
'Oculus: Poems' by Sally Wen Mao
If you love the work of Janelle Monáe, you'll love Oculus. From the very introduction, Sally Wen Mao doesn't hesitate to make sure the reader knows this is a book about Asian Futurism and the way technology impacts us all. The section on Hollywood will destroy you, focusing on telling the story 1930's actress Anna May Wong. But really, Oculus is both complex, but totally universal.
4
'The Twenty-Ninth Year' By Hala Alyan
Alyan's book of poetry is so vivid and poignant it could be considered a memoir. The reader leaves the book feeling like they intimately know Alyan and her experiences, while she gets candid about marriage, love, faith and happiness.
5
'Magical Negro' by Morgan Parker
No doubt, Magical Negro is a reflection on Blackness, womanhood, and being woke in Trump-era America. Parker's poetry is lyrical, humorous and bold. She holds nothing back in this collection, and the reader never asks her to. Parker doesn't hesitate to remind the reader of her Blackness and the politics of being a Black woman in America, both physically and mentally. Parker isn't playing around here.
This content is created and maintained by a third party, and imported onto this page to help users provide their email addresses. You may be able to find more information about this and similar content at piano.io