25 Sexy Movies on Hulu to Stream When You're In the Mood
Who needs PornHub, anyway?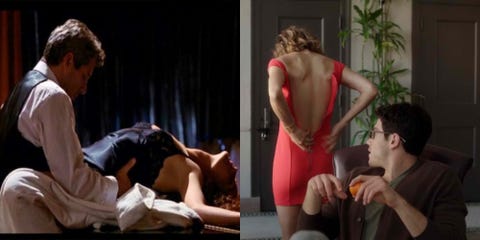 Buena Vista Pictures / The Orchard
If Hulu is just the app you use to catch up on last week's episode of The Bachelor, you're not making the most of your subscription. Not by a long shot. In addition to being the go-to streaming source for current TV shows and thought-provoking original series like The Handmaid's Tale and Normal People, Hulu has a vastly under-appreciated library of movies in every genre you can think of. Want a laugh? There are plenty of comedies. Need to cry? Hulu has plenty of emotional dramas. Need something romantic or even borderline NSFW? Hulu has plenty of sexy movies in its streaming library, too.
Not all of the sexiest movies on Hulu are borderline porn (but, you know, some are). The streaming service keeps a steady rotation of hot and steamy movies in its catalogue. Some of these sexy flicks are classically romantic, with more low-key sexiness that will make your heart flutter. Some are so full of nudity and explicit sexiness that they've been slapped with NC-17 and will make, well, other body parts flutter. And some strike a kind of impossible seeming balance between the two, with amazing, romantic stories brought to life with scenes of graphic nudity and sexuality only appropriate for adult eyeballs. So, are you ready to turn the lights down low, light a few candles, and Hulu and chill (alone or with a buddy)? Ahead, here are some of the hottest movies streaming on Hulu right now.
This content is created and maintained by a third party, and imported onto this page to help users provide their email addresses. You may be able to find more information about this and similar content at piano.io