10 Educational Podcasts You'll Love Learning From
Look at you, smarty-pants!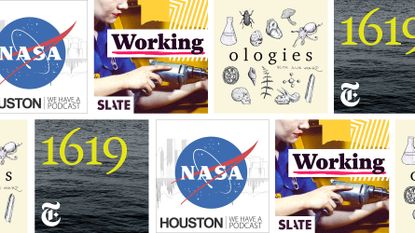 (Image credit: Design by Morgan McMullen)
Whether you're playing catch-up on politics, delving into a disturbing true crime tale, listening to stories about relationships, or just laughing hysterically to yourself on your commute, there's a podcast for everyone. Most of us use podcasts as a way to kill time and stay entertained while doing mundane tasks—but wouldn't it be great to also learn something? Sure, knowing the eight warning signs of a serial killer is an excellent skill to have, but it's not something that makes you popular at a dinner party. (Unless, it does, in which I have to ask: What kind of dinner parties are you going to?) But let's return to the topic at hand: learning. These interesting podcasts will leave you feeling a grade level above the rest. From space travel to historical events to the life of a beauty influencer, allow this list be your guide to a world of untapped knowledge. Just imagine yourself at your next dinner party entertaining your friends with your encyclopedic knowledge of lycanthropes (that's werewolves, for you uninitiated). But seriously—the topics are interesting, the hosts are great, and everyone's done their research. All you have to do is click play.
Ordinary Equality
Almost 100 years ago, the Equal Rights Amendment was introduced to Congress, but it has yet to be ratified. While we wait for women to be included in our Constitution, host and human rights lawyer Kate Kelly narratives for listeners the stories of the people and events that have helped us make the progress we have.
99% Invisible
Dubbed "99 PI" by hardcore fans, this podcast is for designers, architects, and those who appreciate what went into the design of the world around us. Episodes range from why the packaging of R.E.M.'s 1985 Out of Time album was so significant to our country to how sand has helped shape the world.
80 Days: An Exploration Podcast
Sometimes you don't have to visit a place IRL to learn about its culture (though exploring a small town in Mexico sounds great right now). With this popular podcast, you can discover an unknown town, country, territory, or settlement each week without ever paying airfare. You'll feel like you're getting those pages stamped in your passport with all the knowledge you'll surely absorb.
Stuff You Should Know
This triweekly podcast (there are over 1,400 episodes to choose from) covers a wide range of topics, like why we love overusing exclamation points and computers one day replacing doctors. I mean, will they? We gotta know!
Ologies with Alie Ward
I don't know how host Alie Ward does it, but she makes talking about science incredibly entertaining. Ward asks some of the world's most notable professionals questions about everything from werewolves to spiderwebs. I find myself wondering how I could have ever learned about science from anybody else.
Philosophize This!
If you have a hard time comprehending dense philosophical texts (me), listen to 'Philosophize This!', hosted by Stephen West. There are over 100 episodes available, but I recommend starting from the beginning—he tells philosophy's history in chronological order.
Working
When asked what we do for work, hardly anyone ever gets into the nitty-gritty details. Thankfully, this podcast from Slate is here for the curious person within all of us. Each episode highlights a different occupation and the day-to-day little things that come with it. Jobs featured include a sports bra scientist and a MoMA event planner.
Houston, We Have a Podcast
If you couldn't tell from the title, this is the official podcast of the NASA Johnson Space Center, which is located in Houston. If you ever wondered what goes on above the clouds, this one is for you. Listen in on conversations between scientists, engineers, and astronauts as they chat about all things human spaceflight.
1619
This podcast may have ended in late 2019, but the topic of discussion is still highly relevant. Host Nikole Hannah-Jones looks back at when 20 enslaved Africans arrived in the English colony of Virginia in 1619 and how it changed the definition and accessibility of democracy in this country.
Our Fake History
It's in our DNA (I think) to love stories that could have happened. 'Our Fake History' explores those mythical tales, educating us on the hidden "history" of the pyramids to Santa Claus. It's as wild (and interesting) as it sounds.
...
For more stories like this, including celebrity news, beauty and fashion advice, savvy political commentary, and fascinating features, sign up for the Marie Claire newsletter.
Celebrity news, beauty, fashion advice, and fascinating features, delivered straight to your inbox!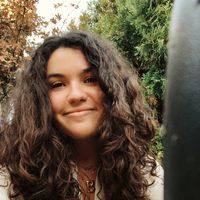 Bianca Rodriguez is the Fashion & Luxury Commerce Manager at Hearst Magazines, covering fashion, beauty, and more for Cosmopolitan, Elle, Esquire, Harper's BAZAAR, and Town & Country. She likes lounging about with a good book and thinks a closet without platform sneakers is a travesty.