The 2021 Book Releases to Order Now and Thank Yourself Later
New titles from Jennifer Weiner, Akwaeke Emezi, Sally Rooney, and more.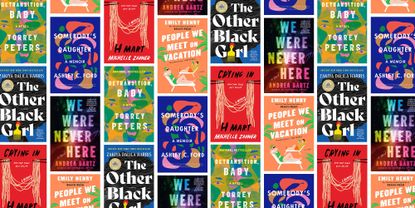 (Image credit: Design by Morgan McMullen)
2021 has given us some incredible books. While you're perusing through this year's top releases, expect a brilliant mix of fiction from bestselling authors like Morgan Jerkins and Sally Rooney, along with an invitation into the lives of prominent figures like Senator Mazie K. Hirono in Heart of Fire and Tarana Burke in Unbound. Ahead, our list of the best books of 2021 to order today and thank yourself later.
1/85
'The Push' by Ashley Audrain
If you're looking for a psychological drama about motherhood, Ashley Audrain's The Push takes readers inside the mind of main character Blythe who questions her relationship with her daughter when she's born, forcing her to eventually confront some truths about herself.
Available January 5, 2021
2/85
'One of the Good Ones' by Maika Moulite and Maritza Moulite
When teen activist Kezi Smith is killed after attending a social justice rally, her family is left to wonder what it actually means to be "one of the good ones."
Available January 5, 2021
3/85
'The Prophets' by Robert Jones, Jr.
Robert Jones, Jr.'s debut novel, The Prophets, is a queer love story centered on two enslaved men, Isaiah and Samuel, who live together on a plantation in the Deep South—forced to confront oppression, betrayal, and ultimately, the threat of their existence.
Available January 5, 2021
4/85
'Black Buck' by Mateo Askaripour
Twenty-two-year-old Darren seemingly goes from a Starbucks employee to a ruthless salesperson at an NYC tech startup overnight, becoming unrecognizable to his family. After tragedy strikes, he turns his grief into action by devising a plan to help young people of color enter America's salesforce and achieve the "American dream."
Available January 12, 2021
5/85
'Detransition, Baby' by Torrey Peters
When Reese's girlfriend Amy decides to detransition and become "Ames," Reese finds herself engaging in self-destructive behavior. Things get even more complicated when Ames impregnates his boss and lover, Katrina. Alas, it gives him a chance to decide whether this is an opportunity to have both Reese and Katrina in his life.
Available January 12, 2021
6/85
'Aftershocks' by Nadia Owusu
Nadia Owusu's gripping memoir helps readers struggling with their own identity feel seen through Owusu's recount of her unstable childhood, family secrets, and depression that eventually lead to her self-discovery.
Available January 12, 2021
7/85
You Have a Match' by Emma Lord
Tweet Cute author Emma Lord returns with You Have a Match, where main character Abby finds out that she has a secret sister who she decides to meet at summer camp. Expect some juicy drama to follow.

Available January 12, 2021
8/85
'Concrete Rose' by Angie Thomas
Fans of The Hate U Give will be excited to learn Angie Thomas' second book in the series, Concrete Rose, takes readers to Garden Heights 17 years before the events in the first novel.
Available January 12, 2021
9/85
'Run to Win' by Stephanie Schriock and Christina Reynolds
In Run to Win, EMILY's List President Stephanie Schriock and VP of Communications Christina Reynolds create a guide on how to run for office and win. It includes a foreword from Vice President Kamala Harris who knows a thing or two about winning.
Available January 12, 2021
10/85
'Shipped' by Angie Hockman
When a workaholic marketing manager and a remote social media manager (who are both up for the same promotion!) are forced to go on a company cruise together, they discover that their virtual love/hate relationship may not include much hate in real life after all.
Available January 19, 2021
11/85
'Let Me Tell You What I Mean' by Joan Didion
Readers who have been longing for new Joan Didion will be thrilled to learn she's publishing 12 previously uncollected essays in Let Me Tell You What I Mean.
Available January 26, 2021
12/85
'The Ex Talk' by Rachel Lynn Solomon
If you happen to love a good romance and NPR, look no further than Rachel Lynn Solomon's The Ex Talk.
Available January 26, 2021
13/85
'The Girls I've Been' by Tess Sharpe
Soon to be a Netflix film starring Millie Bobby Brown, The Girls I've Been centers on Nora, the daughter of a con woman, who is caught in a bank heist and determined to get herself, her girlfriend, and her ex/best friend out safely...no matter what it takes.
Available January 26, 2021
14/85
'Girl A' by Abigail Dean
Behold a psychological novel about a girl who escapes captivity, and later finds herself at the very place she escaped from—forced to confront her identity as "Girl A."
Available February 2, 2021
15/85
'Surviving the White Gaze' by Rebecca Carroll
In Surviving the White Gaze, cultural critic Rebecca Carroll reflects on her childhood growing up Black in a white rural New Hampshire town and how she forged her path as a Black woman in America.
Available February 2, 2021
16/85
'Milk Blood Heat' by Dantiel W. Moniz
If you're obsessed with Florida, Dantiel W. Moniz's Milk Blood Heat uses the state as a backdrop to tell compelling stories of ordinary people in this memorable debut.
Available February 2, 2021
17/85
'This Close to Okay' by Leesa Cross-Smith
In This Close to Okay, Leesa Cross-Smith tells the story of recently-divorced therapist Tallie Clark, who spots a man named Emmett on a bridge who's seemingly trying to end his life. As they learn more about each other (the book is told in alternating perspectives), Tallie chooses not to tell him she's a therapist. Instead, they have to learn the truth about each other—and themselves—the hard way.
Available February 2, 2021
18/85
'Fake Accounts' by Lauren Oyler
Allow Lauren Oyler to take you on a wild ride in Fake Accounts, where a woman discovers her boyfriend is an anonymous online conspiracy theorist. Believe it or not, that's only the beginning.
Available February 2, 2021
19/85
'My Year Abroad' by Chang-Rae Lee
When Pong Lou, a Chinese American entrepreneur, takes Tiller, an average American college student, with him on a trip across Asia, his perspective on life is forever changed.
Available February 2, 2021
20/85
'Do Better' by Rachel Ricketts