Meet Netflix's 'Bridgerton' Cast and Characters: The Lords, Ladies, and Gossip-Mongers
Including a royal surprise as the voice of the elusive Lady Whistledown.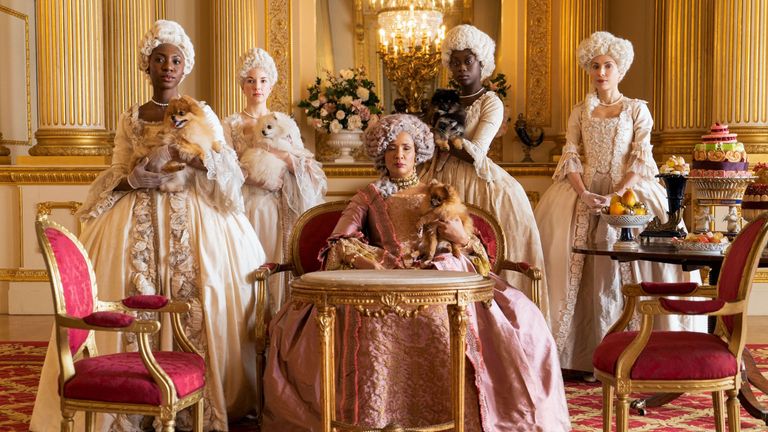 (Image credit: Netflix/Liam Daniel)
Fans of Jane Austen, Downton Abbey, Gossip Girl, and everything in between, lend me your ears. The time has come for you to stop watching Pride and Prejudice on repeat (I know, it's hard) and take a breather from your millionth Gossip Girl marathon to revel in what may well be the very steamy, extremely quick-witted period dramedy of your dreams: Bridgerton, Shonda Rhimes' first project as part of her jaw-dropping $150 million Netflix deal. The series is based on Julia Quinn's bestselling romance novels, with the first season, out Dec. 25, following the titular family's eldest daughter's quest for that rare love match that is both status-boosting and full of passion. Bridgerton basically combines all the best parts of period dramas—the dresses! the weirdly strict social rules!—and rom-coms—the meet-cutes! the falling in love with your pretend boyfriend! The story is set in the early 1800s but infused with a refreshingly modern take on gender roles, and is further enhanced by Rhimes' impeccable storytelling. Like I said, it's the period dramedy of your dreams. Here, get to know the cast of the show, from the social-climbing Featherington sisters to mysterious gossip columnist Lady Whistledown.
1/24
Julie Andrews as (the voice of) Lady Whistledown
Notorious gossiphound Lady Whistledown is voiced by Queen Clarisse herself, aka Julie Andrews. The illustrious Brit is three-quarters of the way to an EGOT (would you believe the acclaimed stage actress has yet to win a Tony?) and has worked almost exclusively as a voice actor since the early 2000s, with credits including Aquaman, Despicable Me, and three of the four Shrek films.
2/24
Lady Whistledown
Lady Whistledown narrates the show and serves as Regency London's most prominent gossip columnist. Her true identity isn't revealed until the final seconds of the show's first season, but she still makes quite the impact throughout all eight episodes.
3/24
Phoebe Dynevor as Daphne Bridgerton
You probably recognize Dynevor from her recurring role as Clare in Younger, the English actor's American debut. She got her start on BBC One drama Waterloo Road, followed by stints on Prisoners' Wives and Dickensian. She's basically British TV royalty, as the daughter of Sally Dynevor, longtime star of U.K. soap Coronation Street.
4/24
Daphne Bridgerton
After Lady Whistledown and the Queen label her the diamond of the social season, the pressure is on for Daphne to find the right husband. She conveniently lands directly in the arms of the Duke of Hastings, with whom she strikes up a fake relationship that (obviously) soon turns real.
5/24
Regé-Jean Page as Simon Basset, The Duke of Hastings
The aforementioned duke is played by Page, who last appeared in Roots and ABC's For the People. Page was born in Zimbabwe to a Zimbabwean mother and English father, with whom he moved to London at the age of 14. He studied at the Drama Centre London and, in addition to Bridgerton, is currently starring in another period drama, Sylvie's Love.
6/24
Simon Basset, The Duke of Hastings
Simon agrees to the "fake" betrothal to Daphne to get the town's ambitious mothers off his back and help Daphne prove that she is, indeed, an enviable match.
7/24
Jonathan Bailey as Anthony Bridgerton
U.K. native Bailey, who plays Daphne's oldest brother, has appeared in Broadchurch, Doctor Who, and Jack Ryan. Most recently, he had widely lauded turn in the West End revival of Company, for which he received the Laurence Olivier Award for Best Actor in a Supporting Role in a Musical.
8/24
Anthony Bridgerton
As the head of the Bridgerton household following his father's death, Anthony's main task in life is to find a suitable wife, help his sisters find suitable husbands, and, in general, honor his family name. Unfortunately for the traditionalists of early 19th-century England, he'd rather spend his time hooking up with someone decidedly outside of his social caste.
9/24
Claudia Jessie as Eloise Bridgerton
Jessie, a U.K. native, plays another of the Bridgerton children. She's been a near-constant fixture on British television screens for the better part of the last decade; you may recognize her from her appearances on Vanity Fair, Lovesick, or Doctor Who.
10/24
Eloise Bridgerton
Eloise is Daphne and Anthony's younger sister, who is on a mission to uncover the identity of Lady Whistledown and feels suffocated by the limiting expectations placed on her by Regency society. Same, girl.
11/24
Ruth Gemmell as Violet, Dowager Viscountess Bridgerton
The matriarch of the Bridgerton family is portrayed by Gemmell, who was born in Bristol and has been landing primo acting roles since the early '90s. Among these are a star turn across Colin Firth in Fever Pitch, and recurring roles in Home Fires, Utopia, and EastEnders.
12/24
Violet, Dowager Viscountess Bridgerton
Whether by doting upon her eight children or butting heads with her son, the new Viscount Bridgerton, over Daphne's potential love matches, Violet is shown to be a fiercely loving mother—even if she did leave out some crucial lessons about the birds and the bees.
13/24
Nicola Coughlan as Penelope Featherington
Coughlan, a true Galway girl, is perhaps best known for her role as Clare on Derry Girls. The Irish actor trained at the Oxford School of Drama and Birmingham School of Acting, and made her West End debut in The Prime of Miss Jean Brodie in 2018.
14/24
Penelope Featherington
Penelope, best friend to Eloise, is the youngest member and black sheep of the social-climbing Featherington family, preferring instead to spend her time cultivating her mind and—gasp—showing compassion for the people around her.
15/24
Polly Walker as Portia, Baroness Featherington
Penelope's mother is played by Walker, a British actress who began her acting career at the Drama Centre London and the Royal Shakespeare Company in the early '90s. Since then, she's appeared in the 1996 film adaptation of Jane Austen's Emma, Clash of the Titans, and Pennyworth, among her 30 years' worth of onscreen work.
16/24
Portia, Baroness Featherington
Between attempting to rein in her husband's gambling problem and marry off her three daughters, Portia has her hands full. Throw in the arrival of one Miss Marina Thompson, and you've got a proper English lady on the verge of a total breakdown.
17/24
Ruby Barker as Marina Thompson
Marina, the aforementioned wrench in Portia Featherington's already fraught plans, is played by Barker. The Brit can also be seen in Doctors, Wolfblood, and as the star of the upcoming film How to Stop a Recurring Dream.
18/24
Marina Thompson
Upon arriving in the "Ton" to stay with her distant cousins, the Featheringtons, Marina immediately embarks on a race against time to find a suitable husband before her mysterious "medical condition" worsens.
19/24
Freddie Stroma as Prince Friedrich of Prussia
No, that German accent isn't real—Prince Friedrich is played by British actor Stroma. He's best known for his roles as Cormac McLaggen in the later Harry Potter films and as Adam in Lifetime's UnReal. He's also popped up in Pitch Perfect, Game of Thrones, and Second Act.
20/24
Prince Friedrich of Prussia
Prince Friedrich, the queen's nephew, seen here presenting Daphne with a gorgeous diamond necklace, sets his sights on the eldest Bridgerton daughter almost immediately upon his arrival on the London social scene. Too bad she's got her sights on someone else entirely.
21/24
Golda Rosheuvel as Queen Charlotte
Her Royal Highness is played by Rosheuvel, who has 20 years of acting roles to her name, including appearances in Lady Macbeth, Luther, and EastEnders. The Londoner has also had a varied stage career, including credits in Romeo and Juliet, Jesus Christ Superstar, and Porgy and Bess.
22/24
Queen Charlotte
Queen Charlotte is usually content to sit back and watch the drama of the matchmaking season unfold before her, but, this time around, finds her favorite activity ruined by Lady Whistledown's scathing reports.
23/24
Adjoa Andoh as Lady Danbury
Andoh, too, has decades of film and TV roles under her belt, including recurring roles on Doctor Who, Casualty, and EastEnders. The Bristol-born actress has also won awards for narrating the audiobook versions of the long-running No. 1 Ladies Detective Agency book series, and has established an extensive theater career both on and off the West End.
24/24
Lady Danbury
Lady Danbury basically runs the social scene of Regency London and isn't afraid to wield her power as a dowager. She keeps an especially close eye on Simon, since his late mother was a close friend.